Local game stores—it's time to let you in on the secret.
Soon, the ultra-collectible Secret Lair series gets its own Wizards Play Network-focused imprint: Secret Lair: Ultimate Edition. The first drop comes on May 29—the five "enemy fetchlands" with all-new art, lovingly collected in a deluxe package available only in WPN member stores.
Fetchlands have been perfecting mana bases and breaking Brainstorm since they were first printed in the original Zendikar block. Secret Lair: Ultimate Edition represents one of only a handful of printings of the much-coveted "enemy-colored" fetches.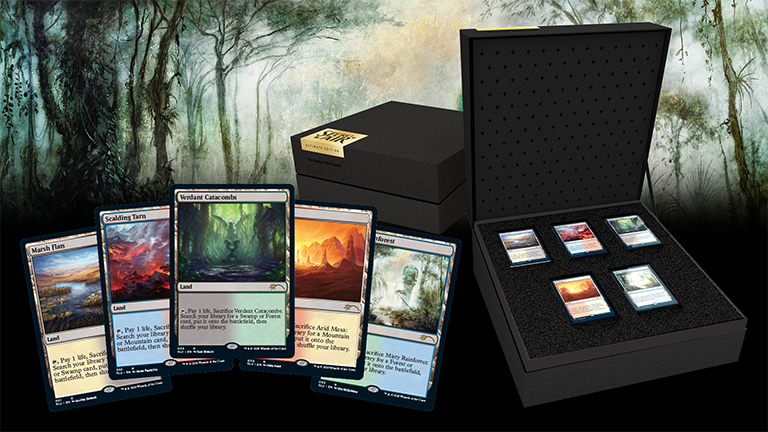 Secret Lair is a series of limited releases created by Magic fans for Magic fans. Curated with reverence and packaged with care, it's Magic's love letter to the community, and it's about to land where the community lives: the LGS. Check out previous drops at SecretLair.Wizards.com.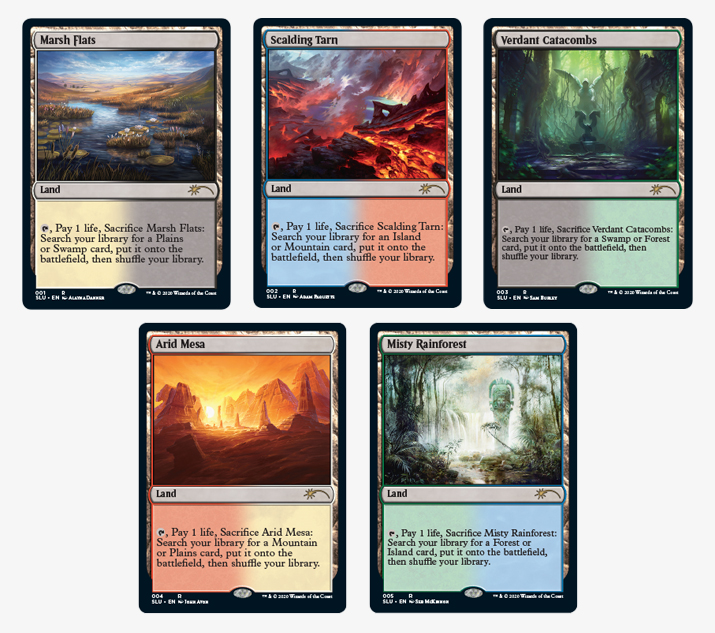 Secret Lair: Ultimate Edition is a one-and-done, now-or-never release. WPN members have access to it in quantities determined by Wizards and fulfilled by your preferred distributor. (Go here to change your preferred distributor if you chose to.) Supplies are super limited. Most stores will get three to five, around ten on the higher end—but there is a way to get more: reach WPN Premium.
Allocations will be in your inbox on March 30, and if you've been waiting for the right moment to cross the WPN Premium finish line, it's now: you can double your allocation by reaching WPN Premium by the deadline.
All WPN members will get an allocation, but we know that some stores go above and beyond with Magic. Some stores perform well beyond what their attendance metrics tell us. WPN Premium is a way to raise your hand and say "My store is one of them"—so that, when we do something special, we can make sure you get the support you need.
Secret Lair: Ultimate Edition
Secret Lair's WPN-focused imprint. It's our way of bringing the Secret Lair experience to the LGS.
5 "Enemy Fetchlands." Marsh Flats, Scalding Tarn, Verdant Catacombs, Arid Mesa, Misty Rainforest.
All-new art. Illustrated by some of Magic's most popular artists.
Releases May 29. Distributor selection cutoff is March 27, and you can double your allocation by reaching WPN Premium by then.
Limited availability. It'll only be printed once. Most stores will get three to five, around ten on the higher end.
Deluxe packaging. Made just for Secret Lair: Ultimate Edition.
Only available as a collection in WPN member stores. Individual cards are found in other products, including other Secret Lair products. We estimate that about 80% of these cards will be distributed via hobby game stores. Get more information on Magic.Wizards.com.
Then, just a month later comes another WPN-focused release: Signature Spellbook: Chandra. Like the Jace and Gideon installments, this one's got eight cards, plus one bonus foil, all featuring the incendiary planeswalker Chandra Nalaar.
Take a look at the first two preview cards: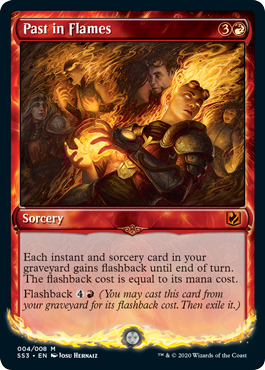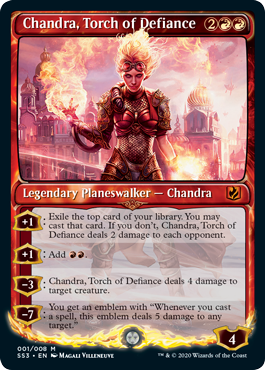 Distributor selection cutoff for this one is April 24.
Look out for your allocation numbers—they'll hit your inbox for Secret Lair on March 30, then Signature Spellbook: Chandra on around April 30. And if you're on the path to WPN Premium, now's the time to make that final push and double your Secret Lair: Ultimate Edition allocation.