Dominaria United Prerelease is September 2, less than two weeks away, and now is the time for you to solidify your Prerelease details ahead of the event. Whether this is your first time hosting Prerelease in-store or you're a seasoned Magic event runner, it never hurts to brush up on the basics. Here's how you can ensure this Dominaria United Prerelease is the smoothest one yet.
Split Your Efforts for Jumpstart Prerelease and Traditional Prerelease
Dominaria United Prerelease brings with it a new experience, Jumpstart Prerelease. Managing two events concurrently can be a challenge, so be sure to prepare your staff about key differences between the target player audience for each Prerelease experience.
For example, your staff will want to be prepared to answer more questions about how to play Magic at a Jumpstart Prerelease, as more of those players are more likely to be new to the game. However, at the traditional Dominaria United Prerelease, you'll want staff prepared to answer questions about building decks, or how certain card rules text behaves in-game.
Remember, Jumpstart Prerelease and traditional Prerelease allocations are determined separately, so be sure to report Jumpstart Prerelease players and traditional Prerelease players separately in Wizards EventLink.
Take Pre-registrations
Taking pre-registrations for Prerelease and Jumpstart Prerelease events helps you plan for maximum capacity for each event. As you reach your capacity levels, you can worry less about requesting sign-ups from players and reduce the number of customers that may try to sign up as your event is starting.
Pre-registrations help you start your event on time and give players the opportunity to lock in their spot, so they don't miss out on their first chance to engage with a new set release. Plus, taking separate pre-registrations for each Prerelease experience allows you to track the popularity of each event in your store.
Plan Opening Announcements
On the day of your event, before players get started, you'll want to share opening announcements. Plan what you'll say ahead of time and keep it as brief as possible.
Begin with any store-specific notes, such as:
Upcoming events


Food policy


Bathroom location


Sportsmanship reminders


Then, you'll want to give players a rundown of how the event works. Be sure to include:
Number of rounds


Prizes


A brief summary of the format


If you know your event has more new players than usual, you may take extra time at the beginning to explain the format. Otherwise, try to take note of anyone new in the crowd and be sure to check on them while players are deckbuilding to help them or answer any questions.
Don't forget to share the promos that are available to your players during the event, including three 30th Anniversary promos: Serra Angel, Ball Lightning, and Fyndhorn Elves. Use these promos to support your Prerelease event by handing them out to participants, awarding them to early pre-registrants, or just giving them out randomly on the day of the event.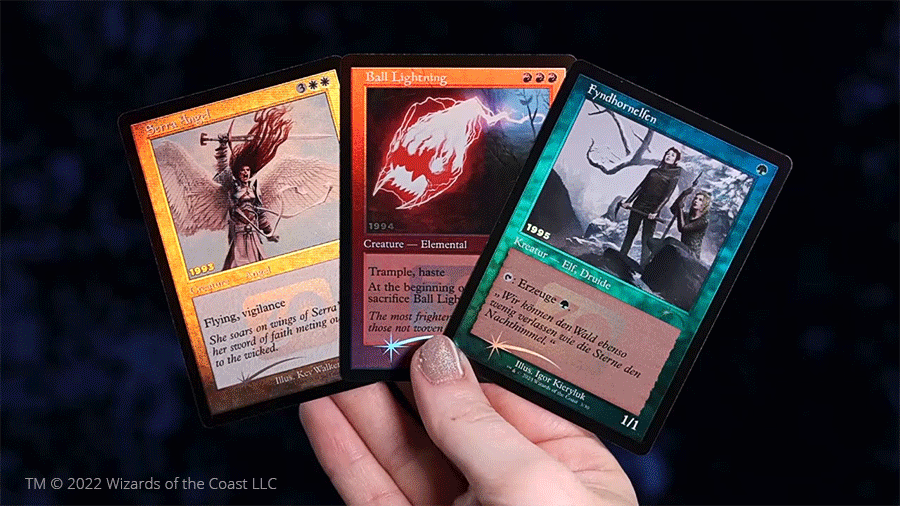 Be sure to read the details on how you may use these promos on the Promo Hub.
Manage Event Length
Traditional Prerelease is a Sealed event, which includes a period for deckbuilding before your players jump into games. If your event has 40 players, you may want to choose a match style that keeps the event short enough for everyone: consider a 3–4 round tournament, using points-based prizing over standings-based prizing.
If your players are really excited for the upcoming set or want to play a full day of Magic at your store, have them sign up for an evening event. That way, they get more time to play, and you have the opportunity to encourage additional sales.
Clean While Customers Play
While players are reading the new cards and building their decks, take some time to handle additional housekeeping, such as:
Clearing away pack wrappers


Setting up table numbers


Preparing event prizes


Doing this while the event is running can prevent delays, creating a smoother overall experience for your players!
Have Staff Prepared to Answer Questions
Prerelease may attract new players each season—after all, if someone is going to get a friend to play Magic, they might as well start at an event where the set contents are new to all attendees. With new players and new cards to contend with, you can anticipate players will have a lot of questions during deckbuilding and gameplay: make sure you have enough staff to handle it.
If your staff is less familiar with Magic, they can reference the Dominaria United Release Notes for questions about new mechanics once it is published to the WPN Rules and Documents page on August 26, 2022.
This is a great opportunity for your staff to engage with your players, checking on them during deckbuilding, answering questions as they arise, and further building a connection between your store and your community. If a new player has a positive experience at their first event, they're more likely to come back—or even bring friends.
Keep the Focus on the Fun
Some of the best Prereleases are those that focus on the fun: it's a social experience, and for new players, it may be their first sanctioned event. It can be nerve-wracking to try something new, so setting up a flat prize structure can help alleviate the pressure of winning.
If your players are enjoying themselves and want to explore more of the set, encourage them to purchase additional boosters once they're done playing. Point your most engaged players toward Collector Boosters: it's possible someone will open a pack with a Lost Legends card inside—an original card from the 1994 Legends set!
Overall, do what works best for your community, and don't be afraid to experiment to find new ways to make your in-store play experiences memorable.
As you run more Prerelease events, you'll learn more about what your community enjoys most—so make sure you run as many as you can! Use Wizards EventLink to schedule your Prerelease for Dominaria United and start preparing for the event today.