An adventure setting spanning the infinite realities of the Outer Planes releases on October 17—Planescape: Adventures in the Multiverse contains new settings for Dungeon Masters to explore, as well as new options for players who are eager to create a character geared up for exploring these distant realms.
The Outer Planes are brimming with celestials, fiends, gods, and the dead, and they're all merely a step away. Use some of the following strategies to help spark player interest in the release, or even encourage players to join an Adventurer's League at your store.
Grab Attention with Key Art Images
One way to get the word out to your community about Planescape: Adventures in the Multiverse is to post about it on social media; we've got a few downloadable marketing materials that you can use, featuring the key art for the release.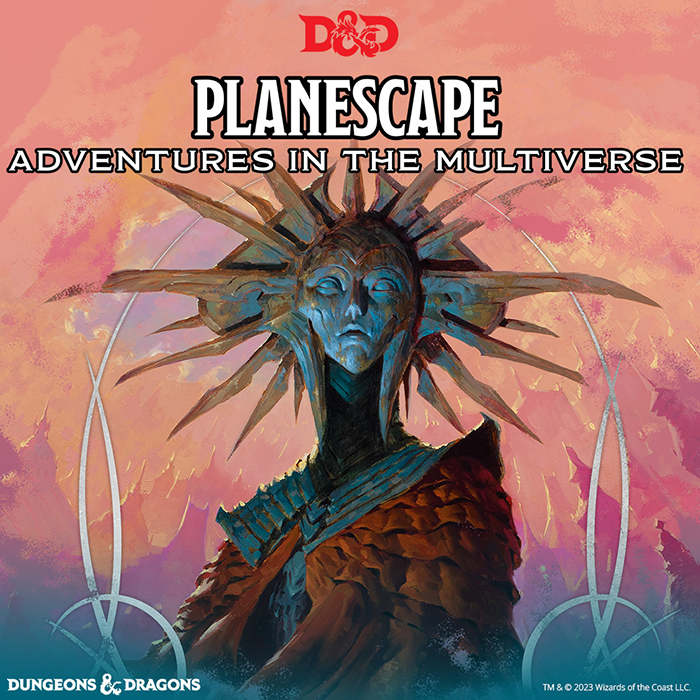 There are myriad ways you can caption images on your social media platforms—you can point interested parties right to a preorder link, share information about upcoming D&D events, or even just ask a question to start a conversation: what are players most excited for with these books? You may direct customers to preorder or register for events depending on their answers.
Start Conversations About Player Options
Beyond the realm of social media, you can start up conversations with interested TTRPG players in your store. In Planescape: Adventures in the Multiverse, the book Sigil and the Outlands contains background and feat information for players to create planar characters, as well as details about the City of Doors, descriptions of the Outlands and the gate-towns that lead to the Outer Planes, and more.
Dungeons & Dragons is a collaborative storytelling experience between players and their DM, so you can talk about adventures that players in your community want to go on based on details about the Planescape campaign setting. And if they're stumped, you can turn them to the inner pages of Turn of Fortune's Wheel, which is an adventure designed for players levels 3 through 10, with a dramatic leap to level 17 by the end.
If your community shows enough interest, you may even consider running scheduled D&D nights at your store themed around Planescape: Adventures in the Multiverse, with rewards of your choosing available to those who participate in repeat play.
Encourage DMs to Explore Campaign Settings: Sigil and the Outlands
Planescape: Adventures in the Multiverse has plenty for Dungeon Masters to love, including a double-sided poster of Sigil and the Outlands and a stunning DM screen. Morte's Planar Parade contains descriptions and game statistics for over 50 creatures from across the multiverse—including planar incarnates and time dragons.
Resources are plentiful for Dungeon Masters within this box set; the included poster can serve not only as a reference for adventure locations, but as a springboard for their D&D table to create new adventures across the multiverse.
As a set of three books plus a poster and a DM screen, Planescape: Adventures in the Multiverse makes a great gift. You may also use the conversations to encourage interested customers to pick up a copy of the alternate cover version for a friend.
Regardless of how you choose to market the upcoming Dungeons & Dragons release, know that you can use any available marketing materials to build up your marketing toolkit. And if you're interested in starting up an Adventurer's League at your store, you can schedule D&D events in Wizards EventLink today.