We're about one month away from the next adventure book release for Dungeons & Dragons which releases September 19. Phandelver and Below: The Shattered Obelisk, which takes place in the beloved town of Phandalin, beneath which lurks a malevolent entity.
Whether your D&D players are returning after the Lost Mine of Phandelver adventure or decide to play as a group of newcomers into town, this book contains fun for the whole party.
Share Key Book Details
Phandelver and Below: The Shattered Obelisk makes a fantastic addition to any Dungeon Master's adventure collection. Aside from the adventure itself, DMs can enjoy the bestiary with approximately two dozen new creatures and a magic appendix with new consumable items.
That's not all, of course—the book also contains a double-sided map with the Phandalin region on one side, and the town of Phandalin plus dungeons from the adventure on the other.
Sharing key book details with your community can help encourage players to pick up a copy, whether for themselves or for their favorite Dungeon Master.
Show Off the Alternate Art Cover
As you kick off your full slate of advertising efforts for this release, be sure to highlight the eye-catching alternate art cover, which further evokes the horror-tinged vibe of this adventure.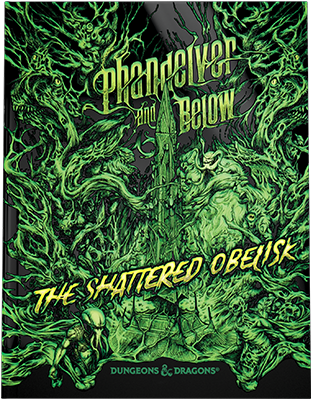 You can grab a full download of the product shots, plus other marketing materials like art and logos, from the marketing materials page.
Schedule D&D Events In-Store
One fun way to celebrate the launch of the next D&D book is to schedule a few D&D events at your store. If the appetite is great in your community, you can even kick off a bi-weekly or once-monthly D&D Night at your store, inviting players of all stripes to come in and tackle the next chapter of their dive into the depths below Phandalin.
Your events don't need to be about the new book, either—if you'd rather drum up initial interest in Dungeons & Dragons, you may consider hosting a Friend & Family event night, or a Learn-to-Play D&D event that might include a demo experience that introduces your community to the world's greatest roleplaying game.
If you plan to schedule events, don't delay—open Wizards EventLink right now and put your events on the books so D&D fans in your community can find you on the Store & Event Locator. For additional details about the book, check out the product page.