Kamigawa: Neon Dynasty promises a neon-dripped future that you won't want to look away from: every move is a finishing move, and every side is your good side. This video from Maria Bartholdi, Magic: The Gathering caster and content creator, will help unpack what's coming your way.
Retailers will receive their marketing kits beginning December 14 in North America and Latin America and February 7 in Asia-Pacific countries and Europe.
The yellow Neon Ink foil Promo—Hidetsugu, Devouring Chaos—is exclusive to WPN Premium stores. This showcase treatment is new for Kamigawa: Neon Dynasty and practically glows in-hand, making it a gorgeous addition in a set dripping with aesthetic appeal.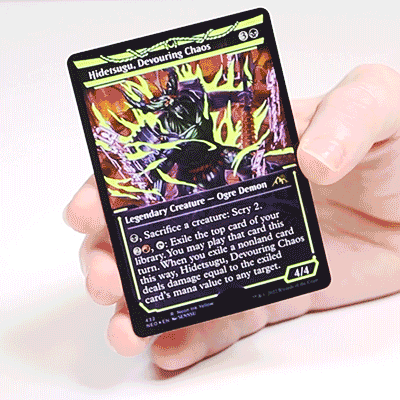 The final deadline to achieve WPN Premium is right around the corner—start your application for WPN Premium today to make sure you have this WPN Premium-exclusive card for your players!