In a 2013 retrospective, Magic: The Gathering was "the single most searched for game" on the popular streaming website Twitch.tv and has consistently been in the top 20 games viewed since.
This trend is likely to continue this weekend as we'll be streaming three Grand Prix events, featuring Modern Masters 2015 Edition, for the biggest Magic Premier Play weekend ever.
And you and your players can be part of the action! Here's how!
Host a Modern Masters Event and Stream It
Get your players involved in the epic Modern Masters Weekend event happening across the world with a Modern Masters 2015 Edition draft.
Then go above and beyond for your players by joining Grand Prix Las Vegas, GP Utrecht, and GP Chiba on Twitch.tv and streaming your in-store event.
Join the Conversation
When your event is streaming, tweet videos, photos, and fun quotes from your players to #MakeMagicHistory to join in the conversation!
The best selections may be featured during the weekend's coverage for all the world to see—yet another way Modern Masters Weekend could help grow your store!
How to Stream Your Event
Here's what you need to start streaming your events:
1. Video Camera or Webcam
Any camera or webcam that can connect and feed live video to your computer will do. A popular option for streamers is the Logitech HD Pro C920.
2. Camera Mount
You can get a jib arm or a tripod with an arm attachment to mount your camera over the feature match table. A popular camera angle is a top-down view directly overhead the middle of the match.
For a more permanent and sturdy solution, Hareruya Games mounts the camera in the ceiling of their feature match booth!
3. Computer with Broadcasting Software
You can find recommended computer specifications as well as free broadcasting software on Twitch's website.
4. Audio Recording Equipment
A shotgun microphone or any unidirectional mic with a USB connection will help capture audio at your feature match table and cancel out noise from the rest of the event space.
Ludogoya even has local players/staff commentate their feature match games on stream!
5. Feature Match Area
Mead Hall Games has a special feature match area that is closed off from the rest of the event and includes a unique playmat with their logo in the center and positioned correctly towards the overhead camera. They also use large spin-down D20 dice for life totals so that it's easy to follow the action.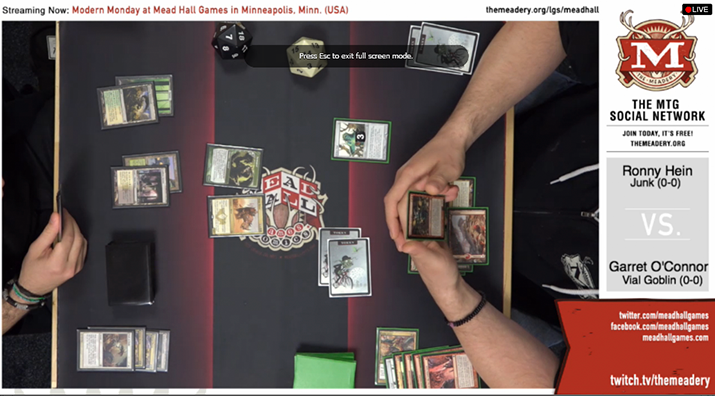 Both Hareruya Games and Ludogoya use a tablet with a Magic: The Gathering life-tracker app to keep track of life totals.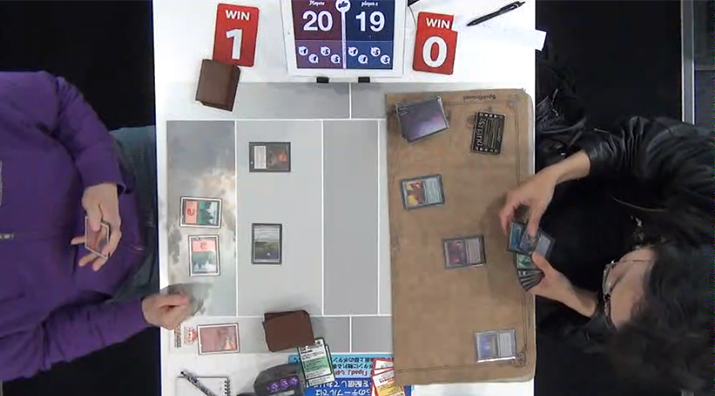 You can even have comfortable chairs that stand out from the rest to make your featured players feel that much more special.
6. Twitch Account
Once you've created a Twitch account, you can view your dashboard or channel page to enable your account for broadcasting. After that, you should be ready to start streaming!
Quick Tip
Ludogoya players briefly show their starting hands and periodically throughout their playtesting matches as well as the cards they draw each turn.
Don't wait! Start prepping your playspace today to stream events so that you, your store, and your players can all make Magic history during Modern Masters Weekend!