Every program on the WPN event calendar, from Prerelease to PPTQs, is designed with a specific goal in mind. With Ixalan, we're rolling out some changes to help give each event the best chance of accomplishing its goals.
Let's dive in:
FNM: Easier Scheduling, Better Promos, Revised Promo Quantities
To start, we're turning a few dials with Friday Night Magic:
First, scheduling will align with the same seasonal cadence as everything else. So you'll schedule all your Ixalan FNMs (From October to mid-January) in one go.
Second, we're shifting promo cards to double-sided foil tokens. Since we debuted double-sided tokens with Eldritch Moon Prerelease, we've received countless requests for more, and now players can get them at your store.
Sign up for FNM and you'll receive sets of three different double-sided tokens in these quantities, which have been revised to better focus our resources on the WPN's top performers:
Core level: 4 per week
Advanced level: 8 per week
Advanced Plus level: 16 per week
Standard Showdown: Flexible Scheduling + Foil Rebecca Guay Land in Every Booster
Thanks to your feedback, you may now schedule Standard Showdown any day of the week except Friday. (Events must recur on the same day each week.)
We've had success with land promos, so we're including a foil land in each Standard Showdown booster, featuring new or highly desirable art from Magic's history, including, for Ixalan, gorgeous Rebecca Guay lands, never before available in foil!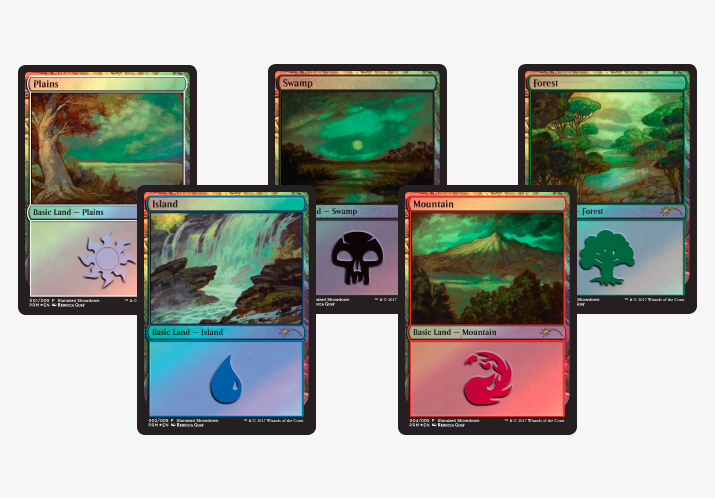 The rest of the prize packs will contain: 2 rare or mythic rares from a currently legal Standard set and 1 foil of any rarity from a currently legal Standard set.
Store Championship: The Grand Finale of Ixalan Season
If you logged into WER to schedule your Ixalan events today, you may have noticed something missing: Game Day. That's not a mistake. Instead, you'll see a replacement open for scheduling in the fall: Store Championship, with improved incentives for your players.
With Store Championships positioned after Standard Showdown, the season takes on a clearer story arc built to keep players engaged from start to finish. It's the climax of the season's competitive Magic narrative.
The event's inaugural run comes December 30–31, with scheduling to coincide with Rivals of Ixalan. You'll get a store champion playmat, exclusive deck boxes for the top 8, and foil full-art promo cards from Rivals—the first chance for players to get their hands on a new card from the next season's set.
Open House: First Chance at an Ixalan Card
The goal of Magic Open House is acquiring new players, but it relies on existing players—to help with tutorials, to invite interested friends, etc.—so we're upgrading the promo offering to help bring them in: a foil full-art card from Ixalan, the first chance to take home a piece of the new set.
League: More Rewards for More Matches
Magic League is designed to get new players into the habit of in-store Magic. To that end, we'll be sending out promo cards to all participating stores, earmarked for players who complete at least ten matches.
Don't miss out on the new stuff! Boot up WER and sign up for your events right away.