Ravnica Weekend round two is coming up on February 16, and you can log into WER and sign up for it right now.
Here's are three perks you'll get if you do:
1. A massive promo kit.
Ravnica Weekend will work a little different this time. For Ravnica Allegiance, your main event will be Standard, Draft, or Sealed. (You'll choose when you schedule it in WER.) You'll still do Guild Kit battles and D&D sessions, but, for the main event, the competition level will escalate a little.
Likewise, so will the promo kit.
Here's a look: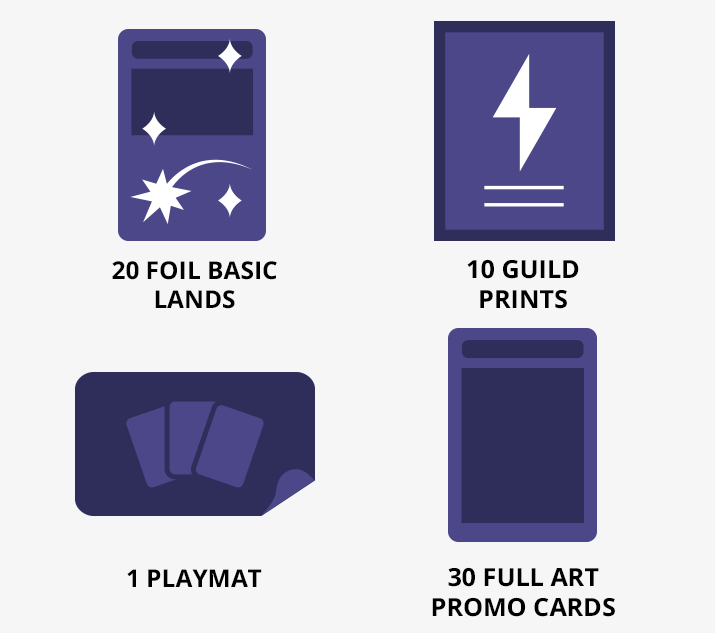 Sign up and all this will land in your store mid-January.
2. Store and Event Locator exposure.
All events scheduled in WER show up on the Store and Event Locator. But it's especially valuable for Wizards-supported events like Ravnica Weekend, and here's why:
It helps us drive players into your store.
That's a big part of why it's important to us that stores sign up, rather than run events without support from Wizards. If you run Ravnica Weekend, it's easier for us to help drive your attendance.
When we focus on a specific event—rather than, say, "Saturday Draft"—we can put our full weight behind it. We can hype it up our websites, social media, and more. We can give a simple message, and a decisive call to action, in every channel available to us: go play in Ravnica Weekend. It'll be fun.
Run Ravnica Weekend and you've got Wizards working behind you. Run anything else and you're on your own.
3. An opportunity to sell more Guild Kits.
And all those players? There's cool new stuff for them to pick up while they're in: a fresh batch of Guild Kits.
The first round of Guild Kits was full of welcome reprints, plus a load of legendary creatures in the legendary frame for the first time—a nod to the Commander crowd. Ravnica Allegiance picks up where those left off, completing the series with the five remaining guilds: Azorius (white/blue); Orzhov (white/black); Rakdos (black/red); Gruul (red/green); and Simic (green/blue).
And they land in stores just in time for Ravnica Weekend.
So Sign Up!
3907 stores have already signed up, and they'll all be getting these perks.
If you want them too, all you have to do is log into WER and sign up.