Last updated: October 11, 2021
Update for retailers in the United States and Canada: Due to unavoidable shipping and production delays, Set Boosters will not be available for the upcoming Innistrad: Crimson Vow Prerelease on November 12 in the United States and Canada. We have outlined the changes impacted by product availability in this article so you can adapt your planning.
Save the dates! You are cordially invited to begin planning your Innistrad: Crimson Vow program season. Now's the time to get a jumpstart on scheduling your events in Wizards EventLink.
Note that delivery dates are estimates; you may receive materials later than the indicated date based on regional or logistical constraints.
Innistrad: Crimson Vow Scheduling Opens:
Today, September 20
WPN Premium Kit Delivery:
Beginning September 24
Poster Delivery, North America and Latin America:
October 14
Digital Marketing Assets I (Product Shots, Sales Copy, Key Art, Posters, Flyers, Buy-a-Box Ads):
October 28
Digital Marketing Assets II (Oversized Posters/Banners, Commander Nights Ads/Achievements):
November 5
Digital Marketing Assets:
October 28 and November 5
Innistrad: Double Feature Distributor Selection Deadline:
November 5
Innistrad Double Feature Preview Event WPN Premium Deadline:
November 5
Promotional Poster Delivery, Europe and Asia Pacific:
November 9
Promos Delivery:
November 9
Innistrad: Crimson Vow Prerelease:
November 12 – 18
Innistrad: Crimson Vow Release:
November 19
Innistrad: Crimson Vow Launch Party:
November 19 – 21
Friday Night Magic:
November 19 – February 4
Commander Nights:
November 22 – February 10
Store Championship:
December 4 – 5
Innistrad: Midnight Hunt Promo Packs used through Innistrad: Crimson Vow Season

As a reminder, with Innistrad: Midnight Hunt, WPN members were sent enough Promo Packs to span both the Midnight Hunt and Crimson Vow seasons (22 weeks). We recommend you plan ahead for how you will apply your Promo Packs across events and programs through February 2022 as you will not be sent additional Promo Packs with Innistrad: Crimson Vow.
What's New for Welcome Boosters and Bring-a-Friend Promos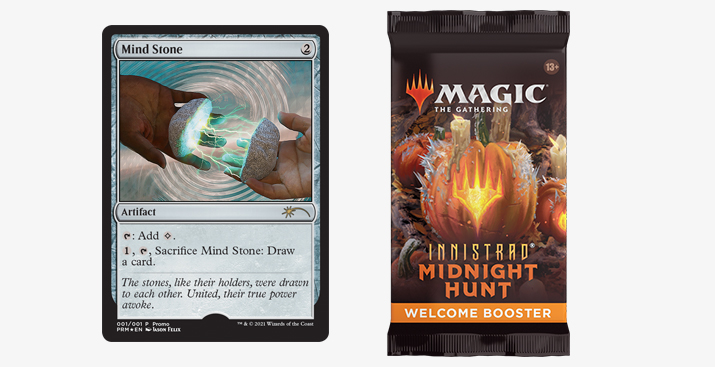 All WPN stores will be sent a new supply of Welcome Boosters and Bring-a-Friend promos to help bring new Planeswalkers into the fold.
Welcome Boosters will be refreshed for Innistrad: Crimson Vow in English. Other languages will receive a fresh supply of the Midnight Hunt version. Mind Stone will remain the Bring-a-Friend promo until the autumn or third quarter 2022 Standard set release.
As always, we encourage you to continue to give out Welcome Boosters to curious new players and Bring-a-Friend promos to existing players that bring a new player to your store or go out of their way to teach or mentor.
Encourage Magic Companion Adoption with Crimson Vow Play Promos
Along with your Welcome Boosters, Bring-a-Friend, and Buy-a-Box promos, you will receive a quantity of 3 different Innistrad: Crimson Vow play promos. These can be used at your discretion to support your events with one caveat: they should only be provided to players that register for an event using Magic Companion or a Wizards Account.
We'll be showing off these cards next month, so now's the time to encourage your players to download the Companion app and make registering for your events a snap.
Crown Your Store's Champion
This December WPN stores can host Store Championships for their community. These competitive events offer an opportunity for players to test their mettle and earn battle-worthy rewards.
While scheduling is not required to receive these materials, the earlier you schedule the more time your event will be advertised on the Store and Event Locator.
Give your players plenty of time to get excited about this pair of upcoming releases. Schedule your Innistrad: Crimson Vow program events in Wizards EventLink today.