Commander Parties are one-day events where your players are immersed in a story, and their actions throughout the game affect the entire event by activating in-game bonuses and guiding the narrative.
From September 30–October 2, qualifying WPN Premium stores will be kicking off Commander Party events, welcoming players to the Terisaire region to face off in unique Commander battles where players may use Phyrexian power to change the course of the game.
Make sure you have everything you need for your event to run smoothly, from your materials to a game plan to encourage repeat play from your community.
Review Your Commander Party Materials
WPN Premium locations will receive the following materials in their Commander Party kit:
1 Commander Party Poster


100 Commander Party Promos


100 Commander Party Faction Cards (1 variety)


1 set of Commander Party Instructions


Commander Party event materials are only available in English.
Your Commander Party poster will be used for your Commander Party events for Dominaria United, The Brothers' War, Phyrexia: All Will Be One, and March of the Machine. Each event has an interconnected storyline that your players will directly influence.
Before the event begins, read through the instructions alongside any staff members who will be helping you run the Commander Party. The instructions contain announcements for you to read aloud to players to help them understand how to use their Party Faction cards, and what conditions must be met to unveil hidden parts of the map.
As your players arrive, hand out the Phyrexian-language promo card Dismember and Commander Party faction cards while supplies last: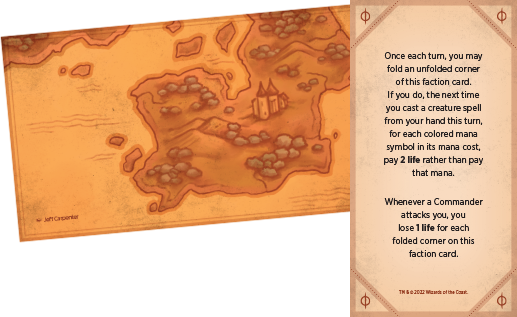 Once the party starts, be sure to check in with players who have questions and keep an eye on the time—expect each Commander game to run for 1–2 hours.
Encourage Future Event Sign-Ups
When your event wraps up, be sure to remind your players to sign up for your store's Commander Nights and encourage them to follow your store's social media so they'll know right away when pre-registration opens for future Commander Party events.
You can schedule your Commander Party for Dominaria United and The Brothers' War today—head over to Wizards EventLink and get the next party scheduled.