The upcoming Commander Masters release features both power and style in spades—and the fun begins August 4. If you haven't yet, be sure your Commander Launch Party event (or WPN Premium-exclusive Preview Event) is scheduled in Wizards EventLink before diving into the planning guide below.
Commander Draft Instructions Available to Download
Players at your event may not have experienced the newer Commander Draft format that some of your community enjoyed for Commander Legends: Battle for Baldur's Gate. The rules for a Commander Draft are simple:
Draft two cards per pick for each pack.
Select a Legendary Creature from your draft pool to serve as your commander (or two, if they are each monocolored).
Players may use The Prismatic Piper as one of their commanders without needing to have drafted it.
Build a 60-card deck. Players may include duplicate cards, as long as every card coincides with the chosen color identity of the commander(s).
To help keep this information top-of-mind for you, your players, and your staff, a Commander Masters Commander Draft Instructions sheet has been added to our marketing materials page for you to download and print—feel free to make a copy for every table, or project it on a screen in your play space.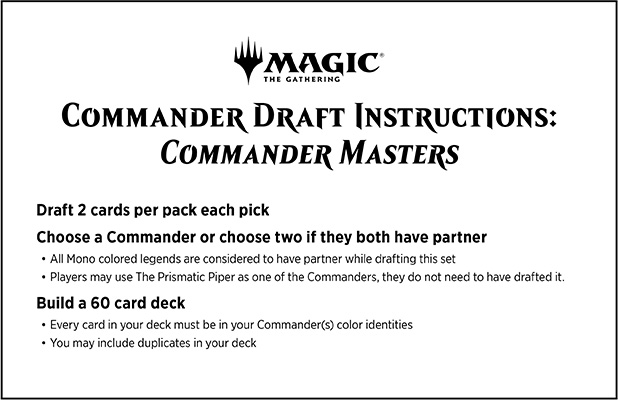 To help further support your Commander Masters Commander Decks, we've created a whole new downloadable marketing material, only available in English: a short video ad! You can play the ad alongside other videos in your store or use it as part of your digital advertising. Like all marketing materials, our WPN marketing material policy applies to your usage of the ad. Download the asset over on our marketing materials page.
Monocolored Partner Commanders at Commander Masters Draft
As you prepare your opening announcements, keep in mind that this set has a unique addition for the Draft environment: only during Commander Masters Commander Draft, all colorless and monocolored Legendary Creatures, as well as monocolored Planeswalkers that can be your commander, have the Partner ability.
The Partner ability allows a player to have two commanders, as long as each one has Partner. This information is not displayed anywhere on the product packaging, as it only applies during Commander Masters Commander Draft events. Be sure to keep the Commander Draft Instructions easily visible to players to remind them of this throughout the draft.
Allowing monocolored Legendary Creatures to have Partner in the Commander Draft environment allows players some flexibility while they draft, since in Commander, the cards in a deck must match the color identity of the chosen commander.
Participating Players Earn Disrupt Decorum
Players who participate in either Commander Masters program event—the WPN Premium Preview Event or the Launch Party—will earn a participation promo while supplies last: Disrupt Decorum. This promo card arrived with your The Lord of the Rings: Tales of Middle-earth™ promo kit.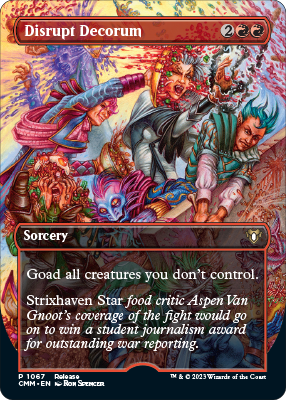 The participation promo is the same for both WPN Premium Preview Events and Launch Party events. You will have an allocation of Commander Masters Draft Boosters available through your distributor that should be just enough for you to run your events with.
If you plan to offer both pre-constructed Commander play and Commander Draft at your Commander Masters Launch Party, each format must be run and reported as its own event in Wizards EventLink. Regardless of the format you choose, the pairing method will automatically lock in as Player-List Only for every Launch Party event you run.
WPN Premium Preview Event Begins July 28
Stores that earned their WPN Premium designation before June 30 are eligible to run a WPN Premium Preview Event for Commander Masters, which kicks off July 28. You can run an epic Commander Draft event using the same rule about partners as above—and for participating in the Preview Event, players will earn a participation promo.
For your event, you'll have an additional allocation of Draft Boosters available from your distributor, separate from your Launch Party allocation; these Draft Boosters are only to be used for play and prizes until the Commander Masters release on August 4. After the set's release, your remaining Draft Boosters may be sold as normal.
WPN stores hosting a Launch Party will receive an allocation of Draft Boosters available from their distributors; like the above, these boosters must also only be used for play and prizing until Commander Masters releases on August 4.
Leading up to the Commander Masters launch, use all the tools at your disposal, from recent card reveals to downloadable marketing materials to stir up chatter about the set and the event in your community.