Alex Kirley and the two co-owners of The Devil's Bench in Ontario, Canada are first-time business owners with a passion for building a community around gaming.
So it just made sense to create a mecca for all things gaming-related in an area desperate for one.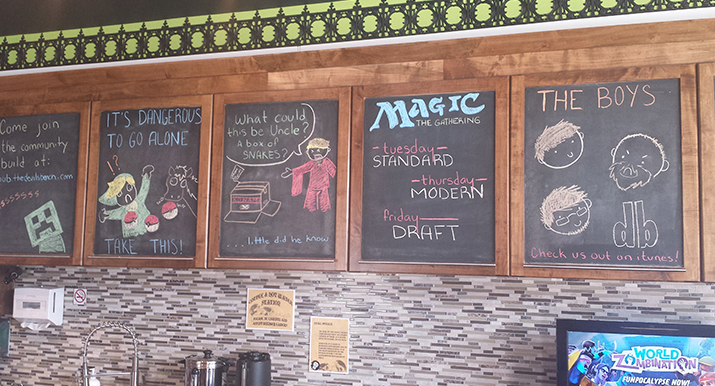 However, having passion isn't enough to run a successful hobby store, there's a lot more to it. Alex says, "Finding the right location is key!"
How Did You Choose a Location?
Alex and his co-owners started by searching for a storefront in a nearby town that lacked a game store.
They knew they wanted a fairly simple space that didn't require a lot of remodeling and renovation and also had washrooms already installed.
They prioritized finding a space that had heavy foot and vehicle traffic. As luck would have it, they found what they were looking for: a nice, prominent location on a main street in an eye-catching building with a corner entrance.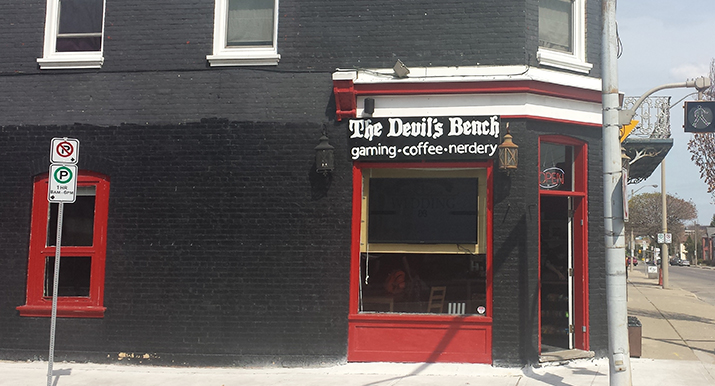 However, there was still a lot of work to do.
"[The empty store] looked like a scene out of Fallout 3. Dusty cobwebs, bugs skittering across the floor, live wires sticking out. It was a horror show!"
What Special Zoning, Permits, or Licenses Were Required?
First, the old building had to be inspected, brought up to code, and re-inspected before they could open.
Smoke alarms, room capacity, spacing, electrical hazards, and hundreds of other regulations all needed to be checked for safety.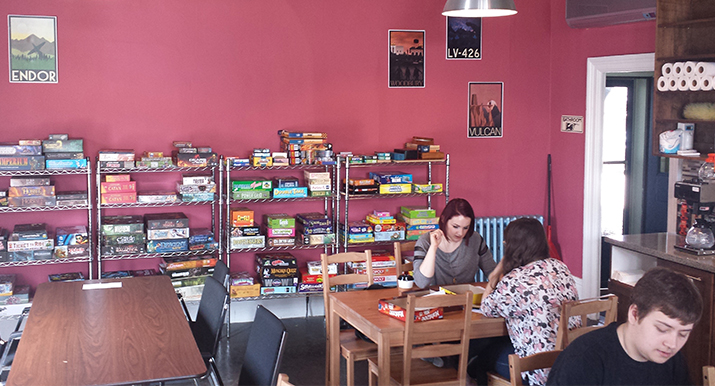 Then they had to pass a health and safety inspection and secure a food handling license.
Alex recalls the health inspector asking if the chocolate bars they plan on selling will be consumed in the store. "Yes, they will be." Alex answered. To which the health inspector replied, "Guess what, you're now a restaurant."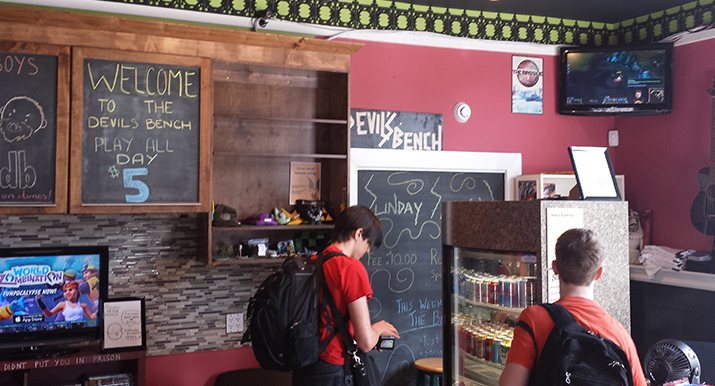 With those inspections out of the way, the next question came to mind.
How Much Space Should Be Devoted to the Café?
The Devil's Bench invites players to come in and play for as long as they want and play as many games as they want for just $5.00 per person. As such, they "devote about 90% of our space to the café" in order to provide a comfortable environment for their customers.
"We want a place that customers can stretch out and sit comfortably rather than be packed in like sardines, just to make an extra quick buck."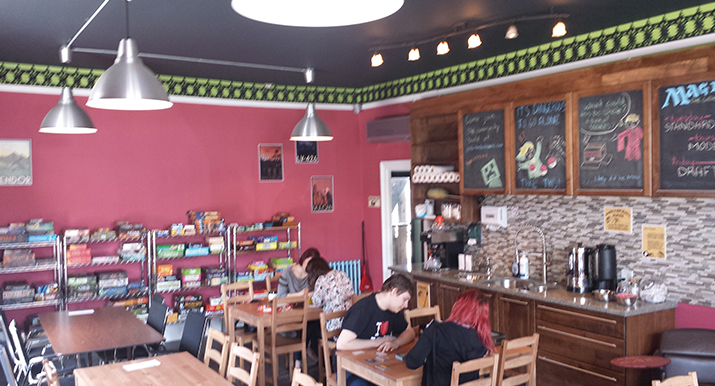 With a clean, comfortable, and aesthetically pleasing store, the Devil's Bench consistently has packed events! They also do strong business in snack and beverage sales.
What Advice Do You Have for Other Retailers?
"Be ready and willing to handle the unexpected. Flexibility is key, especially if you're a first time business owner."
Alex freely admits that it's scary being a first-time business owner. "It's important to have the safety net of friends and family to bolster you and fallback on when needed."
Luckily for Alex, he co-owns The Devil's Bench with his two close friends who are just as committed to the business as he is.
"Co-owning with friends keeps you accountable to them and they are accountable to you as well so everyone does their best for the business. The most important thing is that we can count on each other because there's a solid foundation of friendship and trust."
Lastly, "A good A/C unit and a sturdy coffee maker are imperative because they'll be running overtime!"