Dominaria United Prerelease kicks off next week, so now is the time to make your final advertising push and gather as many player sign-ups as you can before the big day.
When advertising Prerelease and Jumpstart Prerelease to your community, we encourage you to gear your efforts toward the specific player segments that each event appeals most toward. Marketing toward a specific audience will help you come up with posts that resonate; you may even encourage more event registrations.
We'll review some reminders you can share with your community at large, and dive into how to market each Prerelease event toward different player groups.
Share What You Can Sell at Dominaria United Prerelease
Prerelease for Dominaria United is set to be bigger than ever before for WPN stores in EMEA—we've defined a small allocation of all available products for each WPN store for you to sell during Prerelease Early Sales in addition to the product available for you to order through your preferred distributor.
Plus, WPN stores in EMEA will have the opportunity to sell single boosters as well as full booster displays during this period.
Below is the allocation we have defined for each store (available in your local language):
Set Boosters: 180


Draft Boosters: 216


Commander Decks: 4


Collector Boosters: 12


Set Jumpstart Boosters: 18


Bundles: 6


Your players won't want to miss this opportunity! Be sure to remind them regularly leading up to Prerelease while encouraging sign-ups for one or more of your Prerelease events.
Advertise Jumpstart Prerelease to New Players for Casual Fun
Dominaria United introduces set Jumpstart Boosters, and with them you can run a whole new type of event at Prerelease: Jumpstart Prerelease. Jumpstart Prerelease uses Jumpstart packs instead of Prerelease Packs, and players open two packs, shuffle the cards together, and they're ready to start playing.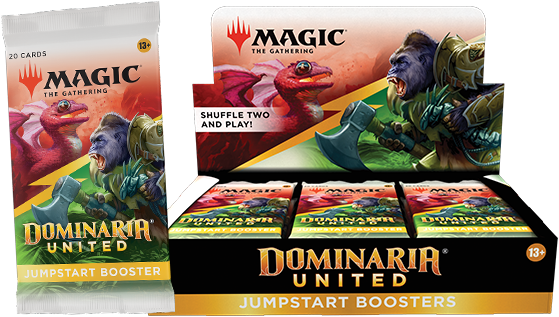 Since Jumpstart is one of the quickest ways to hop into a game of Magic, we encourage you to gear your advertising efforts toward newer players. When playing a round of Jumpstart, players can focus on understanding the selection of cards in their packs—and those cards often contain rules text right on the card itself.
Additionally, you may consider encouraging new players to bring their friends in for Jumpstart Prerelease—you may award them with Bring-a-Friend promos or promo packs at your discretion.
Download Jumpstart Prerelease ads from our marketing materials and schedule regular posts to your social media feeds up to the event.
Hype Up 30th Anniversary Promos and Dominaria United to Engaged Players
When advertising the Magic: The Gathering 30th Anniversary promos to your community, connect it to your Dominaria United Prerelease to capture as much of your engaged player base as possible. Players in your community who have been engaging with Magic for a long time may be more likely to stop scrolling and check out your post about the 30th Anniversary promos.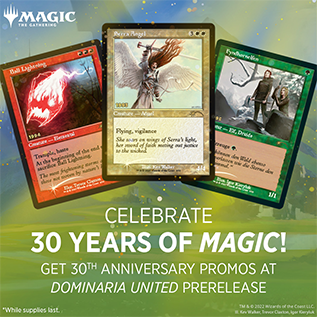 Plus, you can hype up the nostalgic angle in your posts about Dominaria United, as the story of the set brings players back to one of the most storied planes of Magic's history, Dominaria, to follow an epic journey of beloved heroes. We encourage you to send players right to your events in Wizards EventLink to convert as much eagerness into event sign-ups as you can.
Keep in mind that your future allocations for Jumpstart and traditional Prerelease are allocated based on play in prior events, so be sure to report your attendance for Jumpstart Prerelease and traditional Prerelease separately.
Use Downloadable Marketing Materials to Boost Advertising Efforts
As you ramp up to Prerelease, you'll want to make frequent posts on your social media to remind players of what they can look forward to at your event. You're likely to get better engagement on each post if you can attach relevant images to each—and you can use our marketing materials to support you.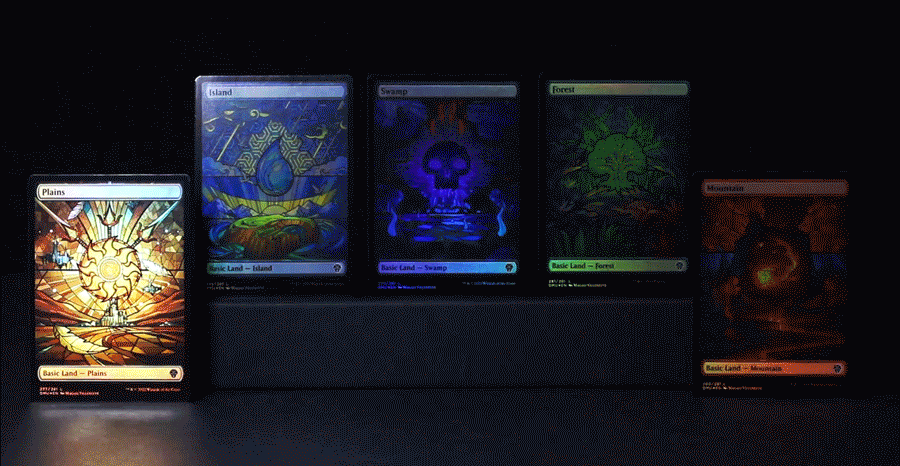 From event-specific posts for social media to GIFs featuring head-turning showcase treatments, we have free downloadable marketing materials that you can use to advertise your upcoming events. Head over to the marketing materials page to look through available assets and start putting your posts together today.