By Bill Stark, EventLink Product Manager
The journey to delivering the next generation of tournament management software, EventLink, continues. In our latest build we address bugs brought to our attention by you, our retailer community, talk about new features, and cover what's coming next.
With in-store play temporarily on hold in the United States and Latin America, a lot of TOs and retailers may find themselves leaning on EventLink more than they had been, since it's better equipped to run remote events than WER. So, I'm pleased to be talking about some new features that will help out.
Let's get started.
Introducing Our New User Experience
The request I hear most often from retailers is to know when late player registration and round rollback for fixing errors are coming. More on those features in a moment because, before we could implement them, we wanted a better way of making how they work clearer.
To do that we needed to re-examine the user experience for EventLink. That brings us to today. Here's how it looks when you access EventLink with our latest release: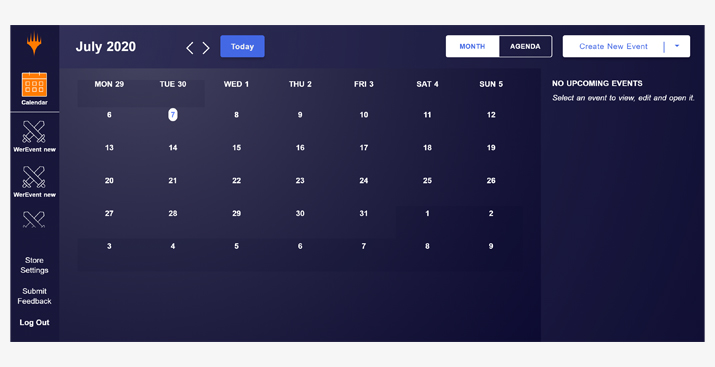 We've got a smoother "bread crumb" menu in the left-hand navigation that allows you to more easily maneuver around the functionality within EventLink. You can still use the "Calendar" and "Agenda" views you're used to while the new menu lets you quickly maneuver between active events and the key functionality available in EventLink.
A second navigation menu becomes available once you're in an event. Here's what that looks like: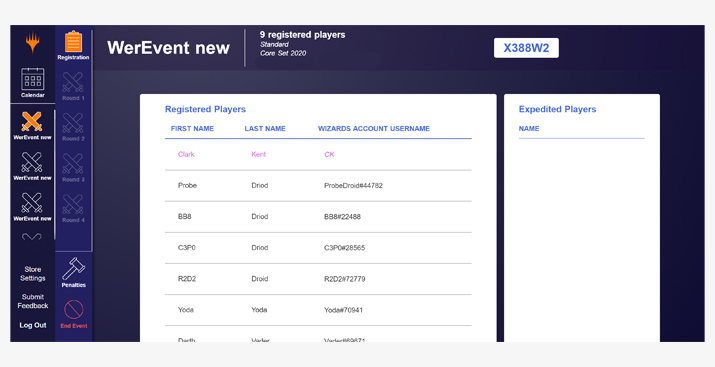 This navigation path gives you a trail through your event that lets you see what you've done, what's up next, and to move back and forth between phases.
During Player Registration you'll see the number of rounds in the event grow automatically to match the number of players you've added. This navigation makes running events much simpler and enables us to roll out those highly sought-after features—late player registration and round rollback. Speaking of which…
Round Rollback
By far the thing I'm most excited to bring you today is the first implementation of the round rollback.
While the Magic: The Gathering Companion app does allow players to input their own match results and verify their accuracy, not all players will adopt those tools and mistakes may happen. With round rollback you can now fix an error recorded in a match result up to one round after it occurs.
To roll the round back to make corrections, simply select this button: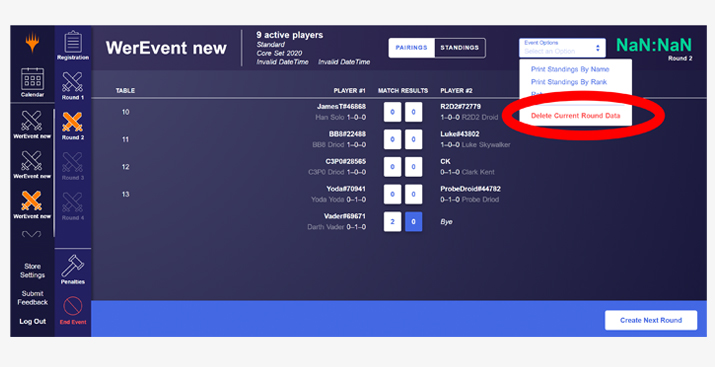 When you click that button, you'll get this warning message:
It's important to note that, once you roll a round back, you cannot undo it. Any pairings or match results from the round you're rolling back will be gone forever. This ensures data stays accurate in your event but also means you should carefully consider the impact on your players.
Also important: you can only go back one single round. Thankfully, all but a tiny number of errors get caught in the following round. So, rather than add functionality for the corner cases, we're focusing our development on new, powerful features that help serve your needs in the day-to-day.
Players Under 13 Joining Your Events
If you have a child under the age of 13 who would like to participate in your events using EventLink, they are now able to do so in one of two ways:
Using the "guest account" registration method in EventLink, which is already available to anyone running an event with EventLink
Signing up for a Wizards Account using the COPPA compliant application. They can do that in the Companion app or through the Wizards Account website here.
Players under 13 will need an adult to sign up for them. Verification of the adult is done through submission of an application for verification, which can take 1–2 days to complete. (It can also instantly validate the age of the adult for a 99¢ credit card charge.)
"Player Eliminated" from Companion Bug
Several Android users have reported errors in which the Magic: The Gathering Companion app mistakenly notified them that they were eliminated from events. While they're still able to be paired normally in EventLink, this can be distressing for your players who are using Companion.
If this happens to a player in your event, a simple work around has been found: have the user log out of their Wizards Account in Companion and then log back in. We believe we will have a fix for this issue soon, and it affects a very small percentage of Android users.
What We're Working on Next
Late registration is nearly ready for release. We expect to have it completed within the next two sprints (our two-week work cycles).
We have also completed design work on features that allow you to schedule many events at the same time, as well as no longer requiring a refresh for the latest match result reports while running tournaments.
Design has begun for features that will help expedite the registration of players during your events.
Finally, we're completing the ability to review events (but not make changes to them) after they've ended for retailers who may need to review standings for things like a league or to hand out prizes.
Thanks for your continued support in working to make EventLink the best experience it can be for you and your players. You can always submit feedback directly through the EventLink website. While we may not be able to personally respond to every single piece of feedback that comes in, we do read every single thing you write.