By Bill Stark, EventLink Product Manager
Recently, Commander Legends scheduling opened in EventLink as part of the Open Beta. (Find out more here. You still have time to sanction your events to double your Prerelease promos!)
We hoped that scheduling this event in EventLink would give us even more feedback from users, and you delivered! The feedback has been incredibly useful, giving us insight into retailers' needs and where EventLink has room for improvement.
Let's dive into how your feedback has already helped us re-shape the tool and what's coming next.
Improved Scheduling
By far the most frequent pain-point we've heard about from retailers has been creating new events—whether it's the manual effort of scheduling multiple events or a need for more clarity around the dates available for scheduling something like Commander Legends. We're addressing both these issues, one now and one soon.
As of today, EventLink will black out dates that are unavailable, focusing your choices on only the days eligible for scheduling these events. No more guessing and waiting for an error message to clue you in on the right timeframe!
As an example, Commander Legends At-Home Prereleases can be scheduled between October 30 and November 5. Here's what that looks like in EventLink with our latest release: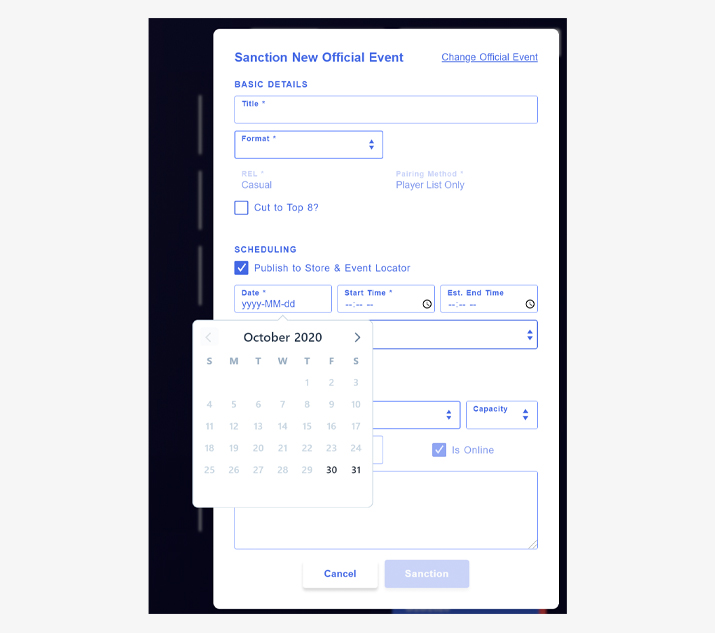 As you can see, all dates are grayed out until October 30, the first date you can schedule an event. No more guessing—just click from the eligible options and sanction your event!
Event Template Title Improvements
We also upgraded how titles work. Now, when using official event templates for creating events, titles can be partially or completely filled out for you. For example, "[Future Set] Prerelease" could be a title that is automatically filled in, leaving you free to focus on other details of your event.
If you prefer, you could adjust the title to, "[Future Set] Prerelease Hosted by [Store Name]" or something similar. The goal is to reduce work for you, while still giving you the flexibility to meet customer needs as you see fit.
Bug Fixes
We tackle bugs in every release to make sure EventLink remains a high-quality tool. Here are some of the most impactful bugs we knocked out over the last two weeks:
A bug that prevented users with certain characters in their email address, like "+", from using EventLink has been fixed.


A bug that allowed Companion users to overwrite others' scores has been fixed. Now only a single result can be submitted by Companion users for any match. Your staff can still fix any scores manually through EventLink, as needed.


A bug that caused table pairing numbers to appear incorrectly has been fixed. Tables now appear in cardinal order.
What's Next
The two biggest items we're working on are based on feedback we've received during Commander Legends registration.
Scheduling Recurring Events
The team is hard at work on a feature that will allow you to create a series of events all at once, then make changes to all or just one of them. This is a pretty large feature, so our timeline isn't hammered down just yet. But I expect that, within the next few sprints, you'll see this functionality become available in stages.
Cross-Pod or Within-Pod Drafting
Finally, improvements to draft functionality are on their way. Soon you'll be able to determine, event-by-event, whether your booster draft will allow cross-pod play or be entirely within the same pod.
As always, thanks to the many retailers who have taken the time to reach out with feedback on EventLink. While we may not be able to respond to every note individually, we do read them all.