Release Notes: July 20, 2021
By Bill Stark, EventLink Product Manager
Adventures in the Forgotten Realms is officially in the books! I'm happy to report we once again had 100 percent uptime for all our services and a smooth weekend. Because we don't release new code for EventLink and Companion during Prerelease week, this week's update features a few more items than we would normally announce. Let's get to it!
The New and Improved Event Options Menu
Event options allow you to take necessary actions during your event to ensure things run smoothly, like printing pairings or ending your event early. Our initial design of the menu for accessing these features has had several months of feedback from WPN retailers, and we've made some adjustments based on that feedback. The new menu has changed location and functionality slightly. Here's where you can find it after our latest release: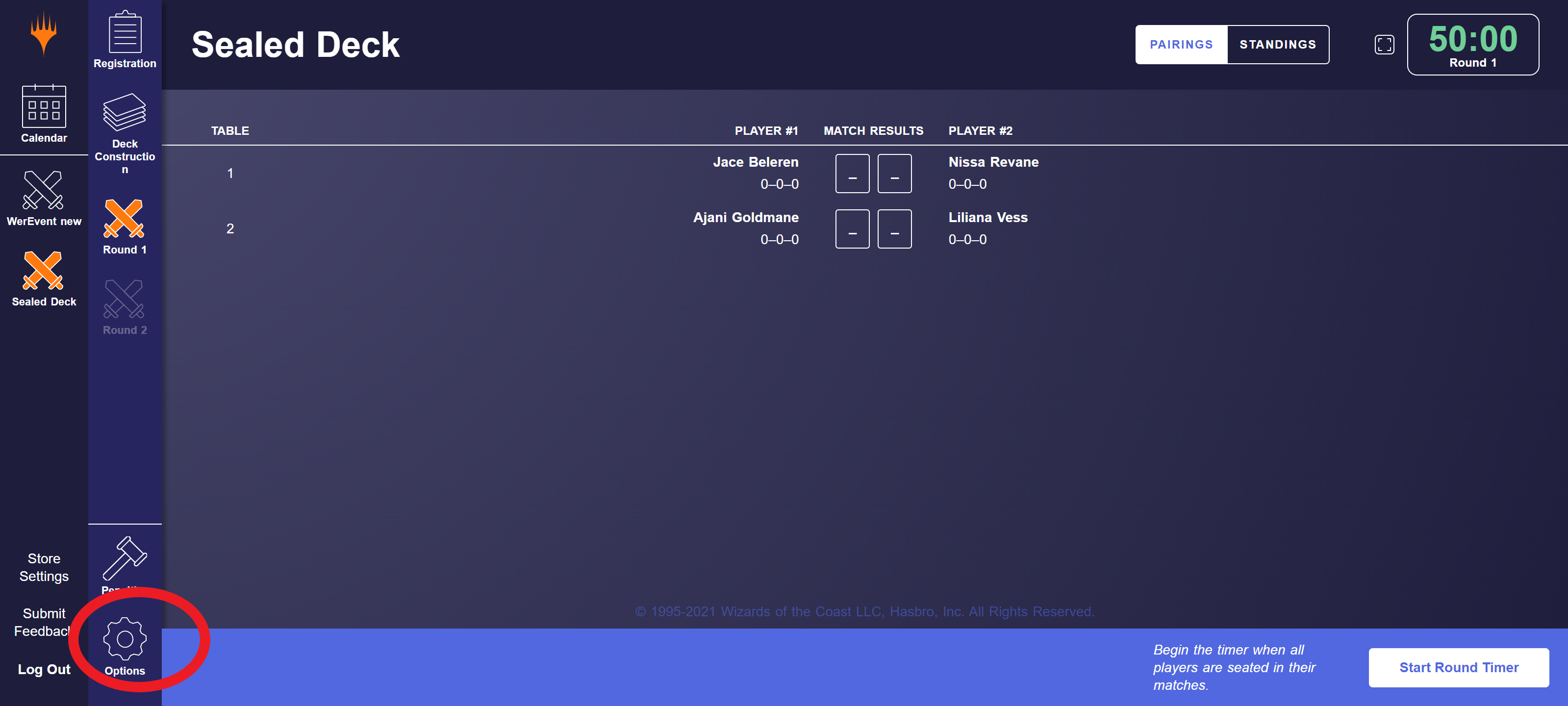 Click on the "Options" gear to expand the menu and see all the available actions for the phase of the event that you're in: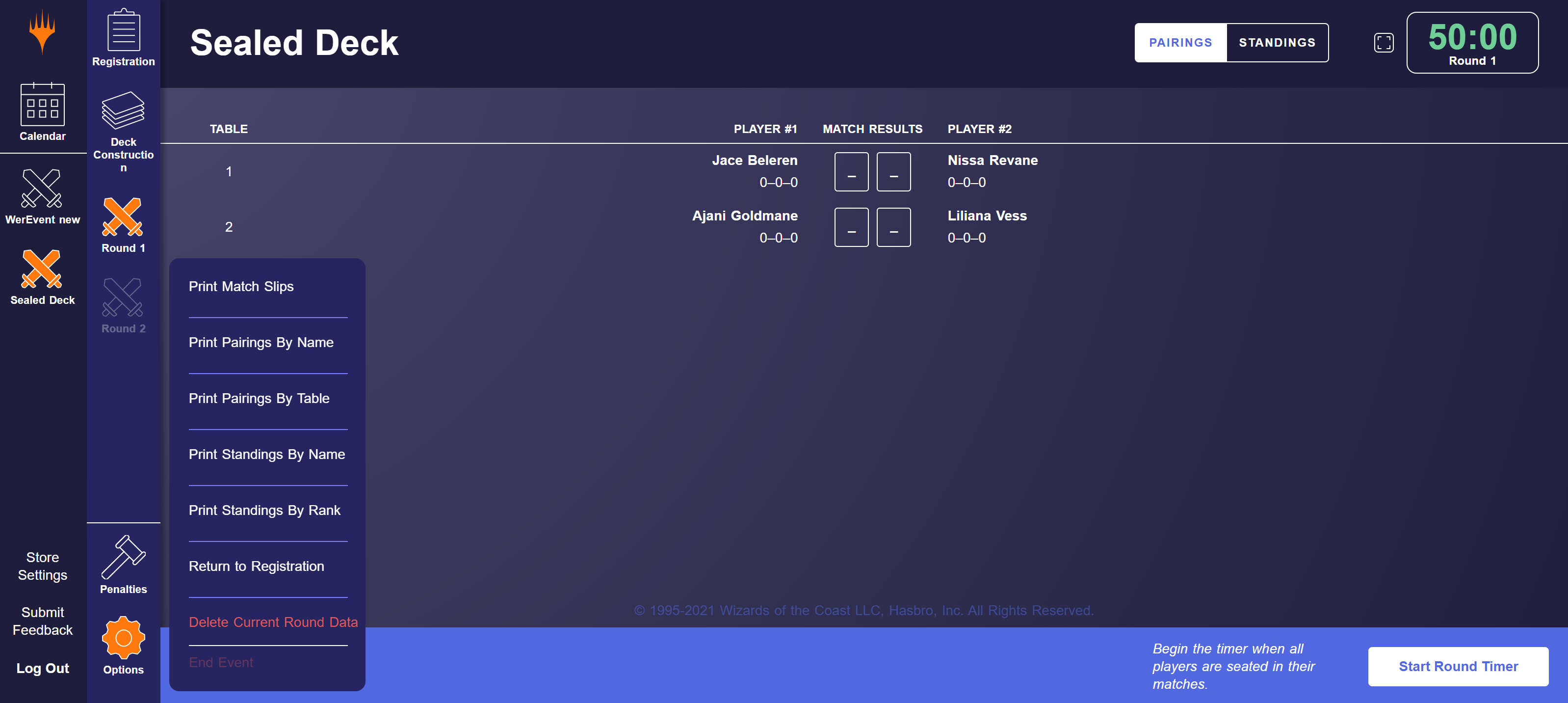 Options that are not enabled for the phase of the event you're currently in are not selectable, and the location of the menu makes it much easier to discover by users. Now, if you want to end your event early, you no longer must pair an additional round and end your event. Simply add the scores through your desired round, then select "End Event" from the Event Options menu during the Standings phase.
Introducing: The Standings Phase
You'll see a new phase in your events following the entry of match results: standings. This new phase allows retailers to solve two problems: mistakes in the reporting of match results, and a pause before the next round's pairings go out. Here's how this new feature helps you make sure your players and staff don't make mistakes in recording match results.
A player can verify they're reporting the result correctly at the time they report it


Players can double-check their result is accurate using the Companion app or by looking at EventLink Mirror at any time during the round


After the round ends, the standings phase will display for players showing them the results of the previous round, their current standings, and giving them a final chance to contest mistakes before the next round is paired
As the retailer, if at any step in that process someone in your event discovers a mistake, you can correct it. To fix an issue during the standings phase simply select "Edit match results." That moves you back to the results entry from the previous round, allowing you to make the correction before moving forward. If a player misses all their opportunities to catch a mistake and the next round is paired, you still have the choice as the retailer to roll the round back, fix the result, and move forward again.
Dropping Players
Sometimes players decide they don't want to stay and play in your event before play begins. While EventLink has always allowed you to drop players from registration or during match play, that option was missing during drafting and deckbuilding. As of our latest release you can now drop a player at any point during an active event.
Die Roller in Companion
Dice rolling takes on new importance with the release of Adventures in the Forgotten Realms and Companion can now help your players roll. The new die roller feature can be accessed through the lifetracker. To learn more about it, make sure to read our introduction of it here.
Bugs
In addition to these new features, here are the fixes to several bugs we also delivered.
Assigned seating now works in all phases of a Sealed Deck tournament
Table range is now applied to all phases of a Sealed Deck tournament
Up next
Our next big feature is underway! This new method for registering players will build on the ease of Companion and EventLink by allowing you to register your store regulars using their first and last name, provided they have a Wizards Account they've used to participate in your events before. Mobile implementation of the calendar screen is underway and will be delivered soon, as we begin rolling out our mobile designs for EventLink sprint by sprint. Finally, Two-Headed Giant is on the docket for completion later this year.