Game on! For the first time in four years, Game Day returns with Kamigawa: Neon Dynasty. For one day only, on either March 5 or 6, you can host this event to generate a fresh wave of energy around this bright, futuristic set.
Game Day is your opportunity to encourage players to test their mettle using the action-packed Ninja and Samurai from Kamigawa: Neon Dynasty. After all, when you play by the rule of cool, everybody wins.
How to Use Your Game Day Promos
In your Game Day kit, you'll receive three types of Promos: one for player participation, one for each of your Top 8 players, and one for the winner.
Participation Promo: Consider


Top 8 Promo: Fateful Absence
First Place Promo: Atsushi, The Blazing Sky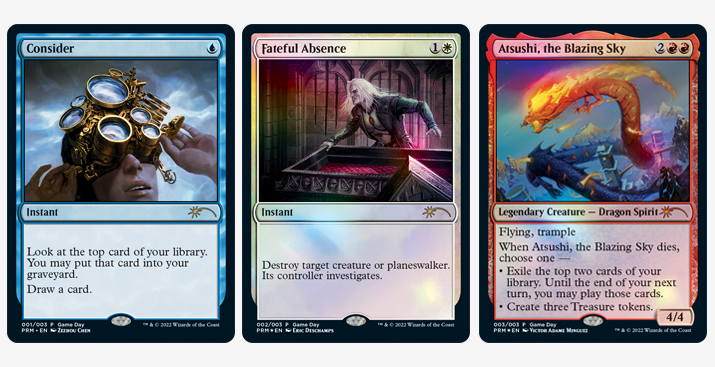 Magic: The Gathering caster and content creator Maria Bartholdi shares even more details in her latest video about Game Day and Kamigawa: Neon Dynasty.
Retailers can expect to receive their Game Day Promos beginning February 7 alongside their Kamigawa: Neon Dynasty marketing kits. Remember, the number of Participation Promos you receive will be calculated based on your store's metrics.
Three Tips to Run Game Day
If you've never hosted Game Day or just need a few reminders, the following tips will help make your Game Day a success.
Schedule early. Scheduling early leaves you more time for advertising and makes your store easily searchable in the Store Locator.


Run your community's favored format. Game Day can be run using Standard format, but if you use Kamigawa: Neon Dynasty product, you may also run Booster Draft or Sealed formats. Use what works best for your store.


Alter your prize structure to appeal to casual players. Do you have players hesitant to make the leap to competitive play? So did Geek Retreat in Glasgow, Scotland—their solution was to add booster packs as prizes for participation and individual wins.
Schedule Your One-Day Event in Wizards EventLink
Game Day scheduling is live now, so get your event on the calendar before the new year! Wizards EventLink also integrates with the Magic Companion App, making pair-offs and tournaments a breeze for you and your players.
Get your Game Day on the books: open Wizards EventLink and schedule yours today!