We're providing a way to access customizable, print-on-demand marketing materials for your store through a partnership with R.R. Donnelley—launching today. The WPN Custom Marketing Materials Portal launches first with a group of WPN Premium stores in the U.S. who achieved their designation before July 12. Don't delay on this opportunity; you'll want to place your order by August 19 to secure your marketing materials as a part of launch.
All you have to do is visit the website, log in with your Wizards Account, select your items and add customization! The available selection will have Wizards of the Coast branding and is tied to upcoming set releases for Magic: The Gathering.
After this initial phase, we will work to expand the project to all WPN retailers globally, transforming the support Wizards provides to WPN stores worldwide.
Customizable Materials Available Now
The catalog of marketing materials contains items available to redeem or purchase; starting today, WPN Premium retailers in the U.S. can redeem the following three items for free:
1 set art poster (24" x 36")


1 pop and lock display (20" x 60")


1 retractable banner (34" x 80")


Additionally, WPN Premium stores can purchase additional items in the storefront (up to 10 of each type available).
During the first phase, the following two items will be available in addition to the above:
Set art poster (18" x 24")


Set of 25 table tents (7" x 30")*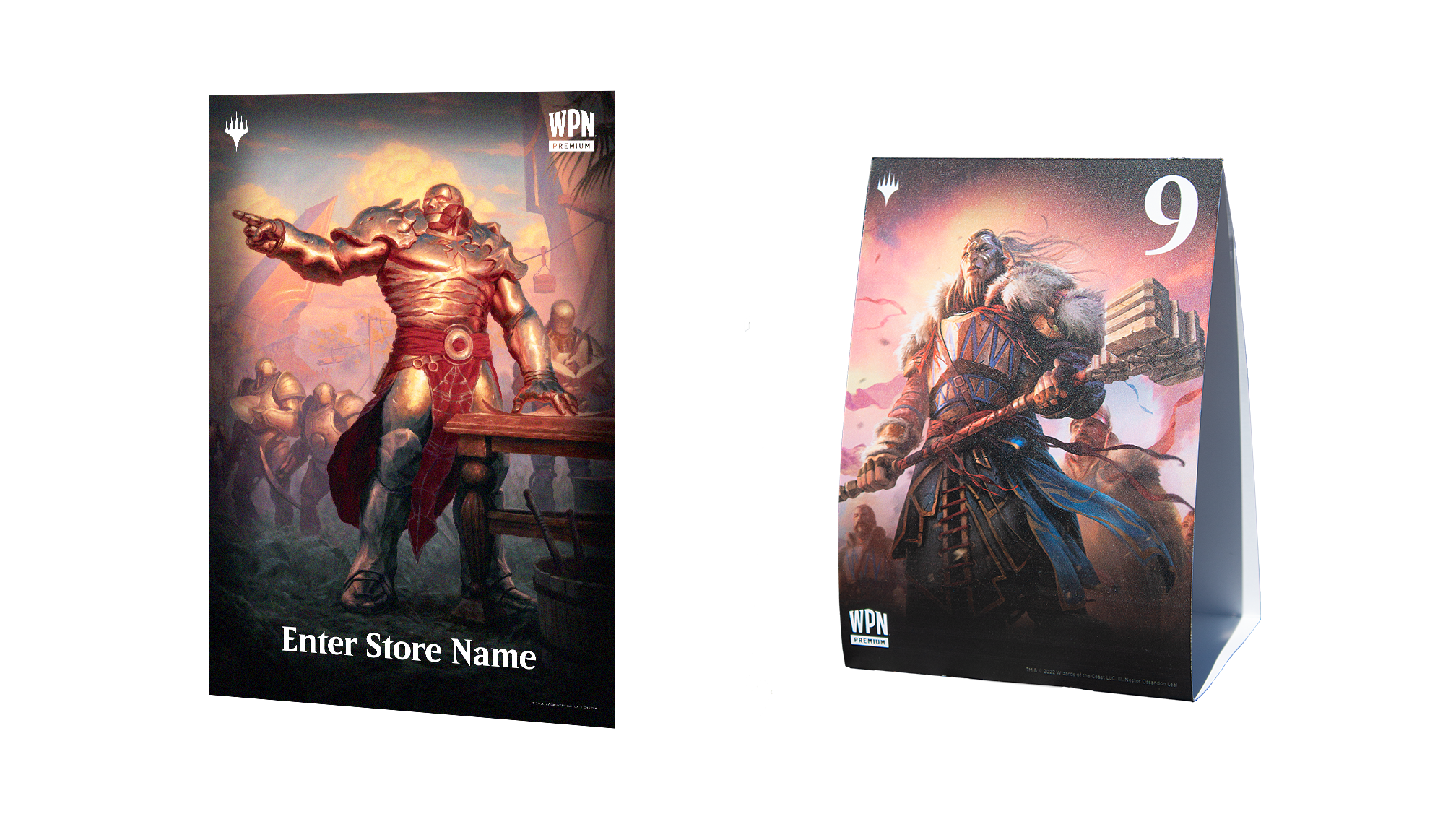 *Please note: the set of 25 table tents will not be customizable; they are the same set of tents numbered 1–50.
Many items have substantial customization options for retailers to select between, allowing you to choose the marketing materials that best suit the needs of your business. You can customize items in minutes by adding premade or custom text; plus, you can choose between different art options for your materials.
Place Your Order Now
You'll have just a week and a half to make your selection (through Friday, August 19), after which R.R. Donnelley will begin printing and shipping your items. While this ordering window will be short, future ordering windows will be longer and provide you with more time to make your selections. Once items have arrived, we will collect feedback and use that information to guide development for our next phase, which will include additional items available for redemption and purchase.
When ordering, complimentary and purchased materials orders cannot be combined; to make additional purchases after redeeming your complimentary materials, you must make a separate order on the site. Additionally, if you do not see item pricing in your cart, just click the "Update Cart" button.
If you are a current WPN Premium store owner located in the U.S., you can get started by heading over to the WPN Custom Marketing Materials Portal and signing in using your Wizards Account.