Regarding upcoming Commander Parties on January 28–30, WPN Premium stores may use provided materials to run the event at a later date of their choosing. When scheduling your future Commander Party in Wizards EventLink, use a non-templated Commander format event with "Commander Party" in the title.
In case you missed it, scheduling is open in Wizards EventLink for the first Commander Party, a new immersive play program exclusive to WPN Premium stores—just in time for Innistrad: Double Feature on January 28–30.
How do they work? Commander Parties are a narrative-based event where players are separated into four factions to experience a story set in the world of Innistrad. Players are welcome to bring any Commander Deck they want to the event; however, we recommend you also have some preconstructed decks on-hand for purchase.
When they're settled, players will begin playing in typical Commander Pods, starting a normal game of Commander. Then, you'll hand out faction cards to each player, and a video will take over, guiding the players through the story.
Players will be asked to raise their faction cards based on the number of a faction's resource they have. The faction with the most raised cards is allowed to advance along the game board, granting all the players in that faction an in-game bonus.
It's a collaborative gameplay style designed to immerse players in an in-store experience unlike any they've had before. Their actions will influence the course of the game and players may achieve one of multiple different endings.
What's Inside Your Commander Party Kit
WPN Premium stores will receive kits soon that include everything you need to host the event. The contents of your kit are only available in English.
Here's what you'll find inside:
Alt-art Conjurer's Closet cards


Pre-cut paper masks with strings pre-attached


Faction Cards: 25 of each faction (Vampire, Warlock, Werewolf, and Villager); cards are 3" by 6" with full art on one side and a description on the other


One 18" by 24" dry erase poster that is the event's gameboard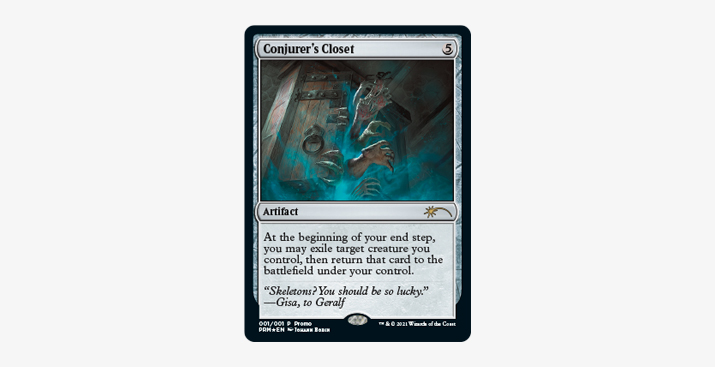 Your kit will also include the following digital items:
One 2-hour Event Video


Four short Ending Videos played after the Event Video concludes, depending on the winning faction


An instructional email for how the event is to be run


Digital Faction Cards for each faction (Vampire, Warlock, Werewolf, and Villager)


Digital Poster image of the gameboard used for the event
Prep for Your Commander Party
As a reminder, this is a WPN Premium-exclusive event—eligible stores can schedule an event easily via Wizards EventLink. Once you have your event set up, it's time to advertise: mention the event to players who visit in-store, but utilize social media, too.
Magic: The Gathering players around the world are itching to get back to stores and socialize with their communities as it becomes safe. Encourage your players to sign up for a Commander Party event online and in-store to make the most of this fully immersive experience!
Get started with your Commander Party prep today by scheduling the event in Wizards EventLink.