Every year, Wizards' Store and Event locator gets millions of hits. That's millions of times the tool has helped players find a store like yours to buy and play Magic. And it's about to get a lot easier for them to do so.
Today, we're very pleased to begin beta testing the new Event Locator.
Here's a peek at how it works, what it can do for your store, and how you can get priority in the search results.
It's an Event Locator first.
After looking at usage data and surveying users, we found that most people use the locator to find events—a specific format, on a specific day, and so on. The current tool (Locator.Wizards.com) is great at helping users find nearby stores, but finding events takes a few more clicks.
So, the new event locator returns events in the search results, not individual stores.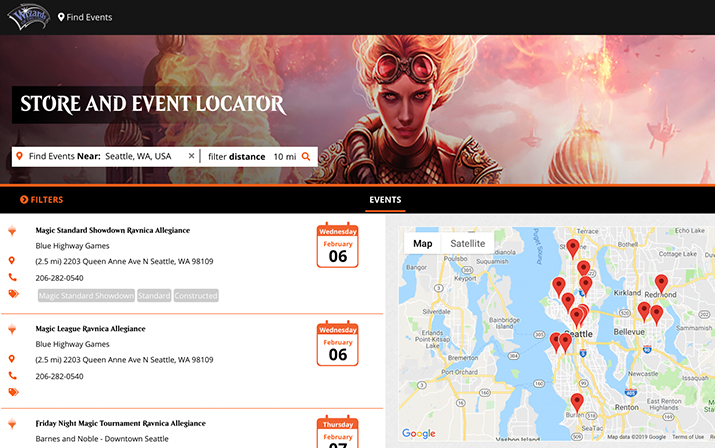 This makes finding local events a breeze, and the filters make it even easier. Say a player is looking to draft at Friday Night Magic. They'll just check those filters and get a list of all upcoming FNM Booster Draft events in their area.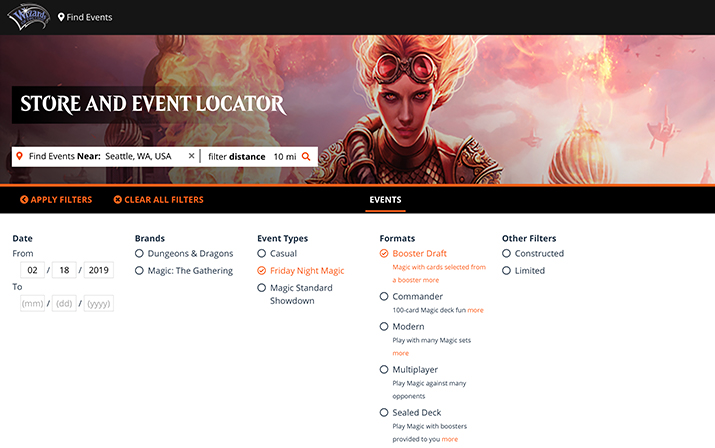 It's more informative.
One of the features you can expect to see soon: expanding the event details to help you inform players and set clearer expectations.
When you create an event in Wizards Event Reporter, the "Event Details" field will give you much more space, and those details will be much easier to find in your event listing. This will be a place to include things like registration time, start time, prize support, and so on. There will also be a brief description of the format by default.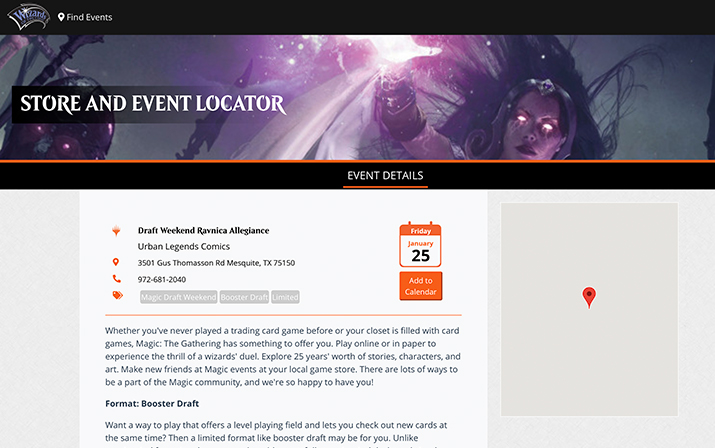 You may have also noticed the "Add to Calendar" button. Users can click to this to add the event directly to a calendar app of their choice, providing a reminder for the event and making it even more likely they'll attend.
It prioritizes Wizards-supported events.
By default, the locator will return Wizards-supported events like Prerelease and Magic Weekend ahead of events without support from Wizards.
So, if you've got Magic Weekend War of the Spark scheduled for May 25–26, not only will you get literally the biggest event kit of all time, but you'll also get priority in the event locator.
The locator sorts events according to these details, in this order:
Date
Distance
Premier Programs (Grand Prix, Mythic Qualifiers)
Wizards-sponsored events (Prerelease, FNM, Magic Weekend)
Events without support from Wizards
All the events you schedule now are already appearing the event locator. Take a look around, let us know what you think, then sign up for Magic Weekend War of the Spark and get priority in the search results.