When your customers know that your store will provide the exact Magic experience they want, they'll come back for more, which means more retained players, more sales, and a better understanding of what to provide for your community.
Download our new resource to help you do just that: the Magic Booster Selling Guide.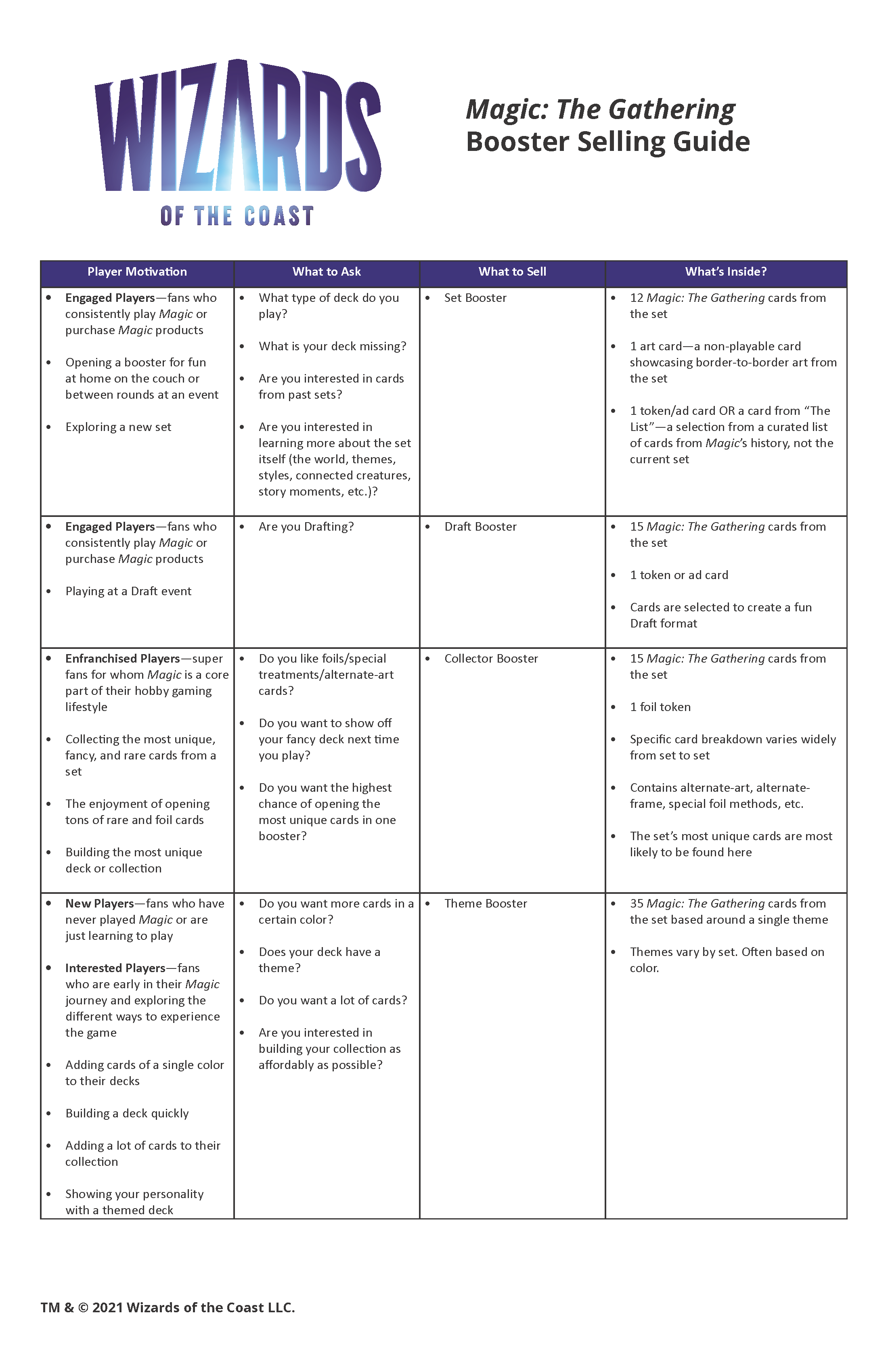 This selling guide pairs different types of customers with the boosters that best fit their needs. Understanding play patterns and knowing what to ask are the first steps to ensuring each customer gets the right booster to enhance their Magic experience.
Serving Your Players What They Want: How Each Booster Fits on Your Menu
Not everyone is always in the mood for the same thing—whether it's selecting what to have for lunch or buying the right Magic product—so having different options available means you can serve more customers.
Let's take a closer look at how different Magic booster offerings can satisfy every type of customer.
Set Boosters—The Seasonal Special
Considering something different and a little exclusive?
That's the Set Booster—more exciting than the usual fare with one guaranteed foil and the possibility of extra rare cards.
Players are feeling that extra excitement, too—survey data shows that player preference for Set Boosters to Draft Boosters is on the rise, increasing from Zendikar Rising to Kaldheim.
If your customers want to get a taste of everything new this season's set has to offer, whether they're grabbing a booster to crack between rounds or exploring the new set on their couch, point them towards a Set Booster.
Draft Boosters—The Classic
If you're seeking a classic, you know what you like and you want the guaranteed satisfaction of consistency. It's what keeps you coming back for more!
And that's the Draft Booster—the classic, just-like-you-remember-it Magic booster that's been a staple of the game for over two decades. Customers can count on a Draft Booster for a balanced Draft experience every time. There's nothing wrong with customers ordering their usual, but the menu has grown, and sometimes customers have a craving for something different. That's why all the other boosters were created—for all those times customers aren't craving a Draft.
Theme Boosters—The Special Order
Theme Boosters are like a favorite go-to made just the way you like it. They always hit the spot, and you're certain to walk away satisfied.
Theme Boosters are based on a single theme, typically a color, and are packed with 35 cards—more than double other boosters.
Customers who like to play a certain color will love Theme Boosters. The cards inside will be perfectly made-to-order to fix their color or themed deck.
Collector Boosters—The Chef's Choice
Anyone who asks for the chef's choice is seeking something even more unique.
Collector Boosters are just that—they show off all the amazing effects and art styles we can do with Magic, just like some of your customers want to do with their decks.
If you have a customer looking to build a distinct collection, always stuffing their decks with the coolest version of every card, and always flipping to the rare slot of their other boosters first, Collector Boosters are the perfect choice.
Understanding your customers' individual motivations does more than sell a single booster—it helps you get to know them and make sure they're returning to your store for every set. Download the Magic Booster Selling Guide for a quick reference sheet to point your customers towards their best Magic experience.