When your players are seeking power and style in their deck building, direct their excitement toward Double Masters 2022. Launching July 8, this is set is full of strong reprints and a pack-opening experience designed for double with the fun two foils and at least two rares or mythic rares in every Draft Booster.
Today, we cover promos coming your way that will carry your store through its summer events and key details about the WPN Premium Preview Event for Double Masters 2022.
Double Masters 2022 Marketing Kit Contents
Your kits will begin arriving in June, containing plenty of promos to help you run a summer full of play.
Double Masters 2022 Event Promos:
Bring to Light
Weathered Wayfarer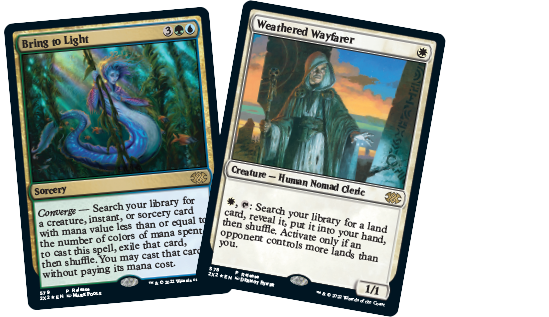 Love Your Local Game Store Promo
: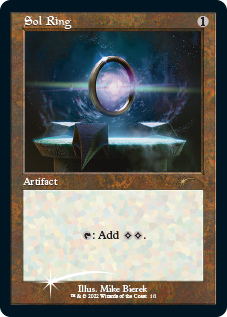 July 2022 Store Championship Promos
:
Participation: Flame Slash
Top 8: Archmage's Charm
First Place: Dark Confidant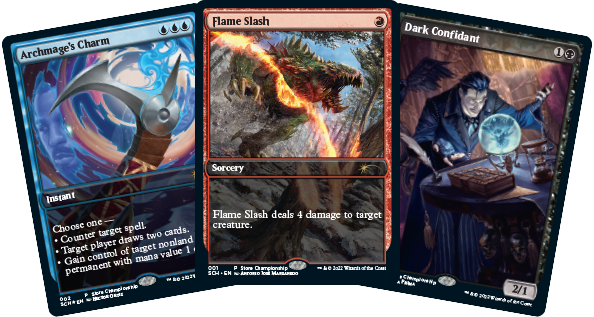 Please note that marketing kit delivery dates are subject to change. WPN Premium custom store name-printed promos for July 2022 Store Championships will ship separately.
As a reminder, promos are allocated to your store based on your store's play metrics, and all Magic events scheduled through Wizards EventLink will count toward your metrics. If you haven't started scheduling events, get started now!
Our Promo Usage and Policies Page has the run-down on how to use each of these promos, but here's a refresher to save you a click.
The LYLGS promo, Sol Ring, is only to be handed out to customers who purchase at least $50 USD in sealed Magic product. This promotion kicks off July 1 worldwide and runs while supplies last.
Your July 2022 Store Championship Promos include an allocation of Participation promos based on your play metrics, eight Top 8 promos, and one First Place promo.
Double Masters 2022 kicks the excitement up a notch with two different promos for you to hand out to your players at the Launch Party! Both Bring to Light and Weathered Wayfarer may be passed out to players that participate in your events at your discretion.
WPN Premium Preview Event Need-to-Knows
Stores that achieved a WPN Premium designation before April 22 will have the opportunity to share this set loaded with style in an exclusive WPN Premium Preview Event that runs from July 1–7. Players receive one of each of the promos above per entry.
Draft Boosters may only be used for play materials and prizing for WPN Premium Preview Events during this time, and your scheduled events must be Booster Draft or Sealed.
Plus, drafting Double Masters 2022 is twice as fun as a normal draft—players can pick two cards when they first open a pack, then pick one as they pass it around until the pack is empty. At the start of the next pack, players pick two cards again.
Don't miss the additional opportunity to encourage your players to support your store so they can earn the LYLGS promo on top of that!
There are loads of opportunities to ignite your store's community with play this summer—you won't want to miss a second. Head over to Wizards EventLink today and start scheduling and sharing your events with your players.