We're thrilled to finally reveal the three Companion Play promos stores will be able to give their players during the Innistrad: Crimson Vow season! You can award any player for signing up for one of your events by using the Magic Companion App or their Wizards Account.
Stores will receive packs of three different promo cards starting November 8.  As a reminder, promos are delayed in U.S. and Canada and will not be available for Prerelease. Affected stores will receive a tracking number via e-mail once these items are on their way. For all other regions, you can start handing them out as soon as the Innistrad: Crimson Vow Prerelease begins.
Dominating Vampire
Fell Stinger
Geistlight Snare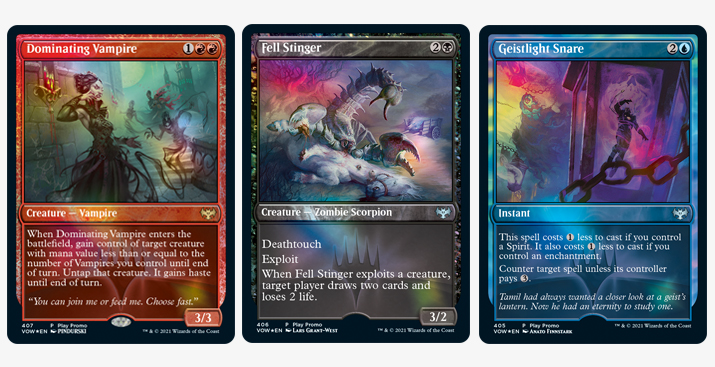 Each card has a beautiful traditional foil treatment, so your players won't want to miss out on these! Plan your distribution accordingly, as Dominating Vampire will come in packs of 5, while both Fell Stinger and Geistlight Snare will come in packs of 10.
These promos can be distributed regardless of whether a player has signed up for an in-store event of remote play through SpellTable—as long as they use the Companion App or their Wizards Account.
Of course, you can only hand out promos if your calendar is stacked with events! Head over to Wizards EventLink and throw the most lavish party Innistrad has ever seen.