There's no shortage of stunning content coming in Kamigawa: Neon Dynasty, but as Prerelease rapidly approaches, make sure your calendar is full of events to give your players more opportunities to see their neon-dripped decks in action.
Don't forget to schedule these pivotal events for the Kamigawa: Neon Dynasty season.
Regarding upcoming Commander Parties on January 28–30, WPN Premium stores may use provided materials to run the event at a later date of their choosing.
When scheduling your future Commander Party in Wizards EventLink, use a non-templated Commander format event with "Commander Party" in the title.
We will continue to monitor the situation and will communicate updates to future special events as needed.
Kamigawa: Neon Dynasty Prerelease: February 11–17
With less than a month until Prerelease, make sure you're using all the marketing materials at your disposal to encourage your players to sign up for in-store and at-home events!
Our Prerelease planning guide shows you what to amplify to players hoping to get the most out of Prerelease week.
Don't forget about the Promos you can hand out at events or for purchases, such as the Buy-a-Box Promo, Satoru Umezawa.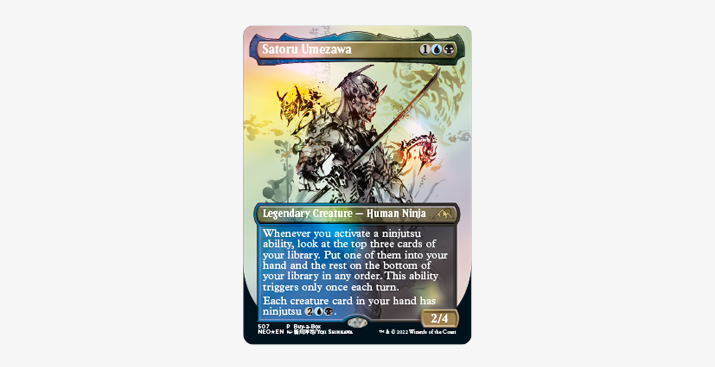 Game Day: February 26–March 6
Don't forget Game Day kicks off February 26 and runs through March 6: it's the perfect opportunity for your players to test their skills with sleek Samurai and high-tech Ninja!
As a reminder, here are the three Promos you can share with your players to encourage sign-ups and participation:
Participation Promo: Consider


Top 8 Promo: Fateful Absence


First Place Promo: Atsushi, The Blazing Sky
The number of Participation Promos you receive will be calculated based on your store's metrics.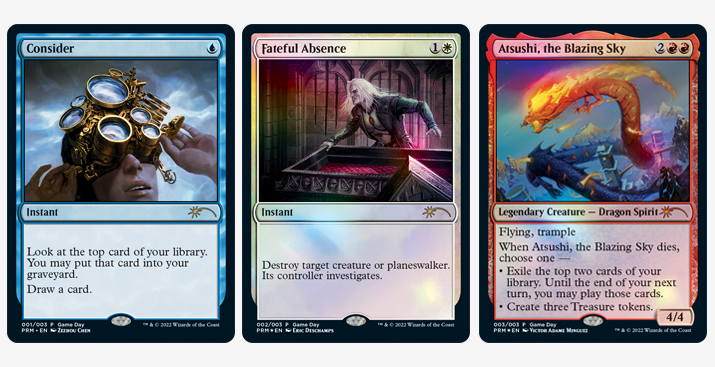 Commander Nights: February 28–April 28
Commander is a format that is rapidly growing in popularity, so it's only fair that Commander Nights return for the Kamigawa: Neon Dynasty season as well.
Your players earn achievements throughout the entire season, so make sure you have all your Commander Nights scheduled in advance. It's the easiest way to ensure your Commander players return to play week after week.
The Commanders of Kamigawa: Neon Dynasty lead action-packed red-green and white-blue decks, and your players can take both for a spin during weekly Commander Nights in-store or at home.
Glow up your event calendar with Kamigawa: Neon Dynasty events: open Wizards EventLink and start scheduling now!