This summer promises to be loaded with new releases for Magic: The Gathering, giving you and your players plenty to look forward to—from play opportunities and new promos to all-new sets and products to generate hype around. Get ready, because today we are diving into previews for a host of upcoming promos and products! We kick off with the Love Your Local Game Store promo returning this summer, followed by the July 2022 Store Championship Promo. Next, we check out the stylish Double Masters 2022 and the thrilling Warhammer 40,000 Commander product. Finally, you'll get a preview of Dominaria United products and events you can put on your calendar today.
Love Your Local Game Store Promo Returns
July 2022 Store Championship Promo
Store Championship: July 9–17, 2022
Double Masters 2022 – Product & Promo Preview
Set Release: July 8


WPN Premium Preview Event: July 1–7, 2022


Launch Party: July 8–10
Warhammer 40,000 – Product & Promo Preview
Set Release: October 7, 2022


Launch Party : October 7-9, 2022
Dominaria United – Events Preview
Distributor Lock Date: June 24, 2022


Set Release: September 9, 2022


Launch Party: September 9–11, 2022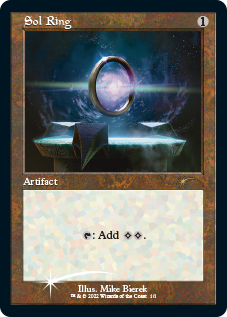 The Love Your Local Game Store Promotion is returning! Starting July 1, you can hand out the foil retro-frame promo Sol Ring for purchases of Magic product over 50 USD. The new LYLGS promo is available globally beginning July 1, so share this new promo with your players to encourage them to visit and support your store with sales—and while they're there, invite them to sign up for events you're running this summer. Keep handing out promos while supplies last—the promotion only ends when you hand out the final promo of your allocated amount.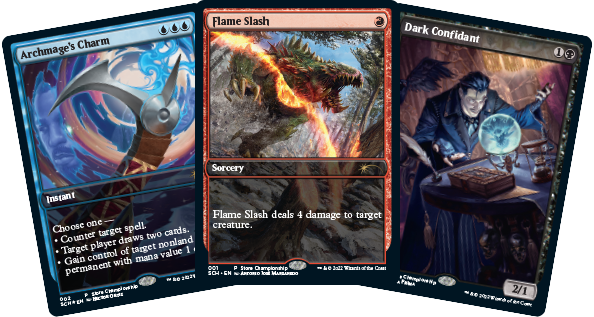 Speaking of promos, later this summer your players will have the chance to show their mettle and secure brag-worthy promos with the July 2022 Store Championship. The event runs July 9 to 17, and can be run using the following formats:
Draft


Sealed


Standard


Modern


Pioneer


Two-player Brawl
Store Championship uses Swiss rounds cutting to a top 8, and you'll have three different types of promos to hand out: the Participation Promo Flame Slash, the Top 8 Promo Archmage's Charm, and the First Place Promo Dark Confidant.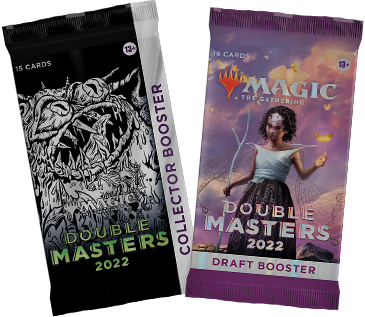 Make sure you have plenty of Draft events scheduled early in the season because drafting is even more exciting than usual with Double Masters 2022. Players will draft two cards instead of one with the first pack they open during a draft event.
If your store achieved WPN Premium before April 22, you'll be eligible to run an exclusive WPN Premium Preview Event from July 1–7.
You'll have a guaranteed allocation of Draft Boosters to purchase through your distributor meant for running events, plus you'll be able to purchase more at your distributor's discretion.
The event may be scheduled as Booster Draft or Sealed, and players will receive one copy of each promo per entry while supplies last: Bring to Light and Weathered Wayfarer.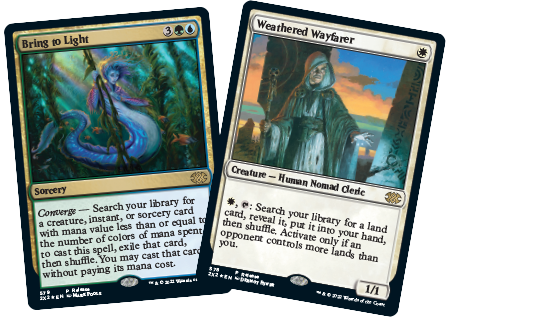 For additional previews of the cards coming to Double Masters 2022, head over to the Magic website.
Universes Beyond is coming to Magic to combine two of the most robust communities that visit your store: Magic: The Gathering and Warhammer 40,000. In this crossover of tabletop titans, players can collect a whole new kind of army to fight with—that may be led by one of the four face card Commanders arriving on the battlefield: Abaddon the Despoiler.
Commander decks are ready to play right out of the box, making this a perfect opportunity for Warhammer 40,000 fans to jump in and experience their favorite characters with the flair of Magic at their fingertips.
Your enfranchised Magic fans have plenty to look forward to: they can experience the grimdark world of Warhammer 40,000 with a suite of new art and cards. In fact, each deck has over 40 new cards to explore, and the cards feature both new and classic Warhammer 40,000 art.
The Warhammer 40,000 Commander Launch Party runs October 7-9, and for purchasing a Warhammer 40,000 Commander Deck for in-store play, players receive the exclusive promo Fabricate.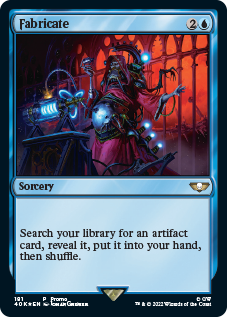 The Commander decks will come in both regular and collector's editions—the Collector's Edition is an all-foil version of the regular Commander deck and includes a special Universes Beyond laminate , Surge Foil. WPN stores will receive a limited allocation of Collector's Edition decks from their preferred distributor, with additional quantities available to purchase as usual. If you earn a WPN Premium designation before June 3, your store will receive a larger guaranteed allocation of Collector's Edition decks. Regular edition decks are available in English, Chinese Simplified, Chinese Traditional, German, French, Italian, Japanese, Portuguese, and Spanish. Collector's Edition decks are available only in English.
Head over to the Magic site for further product preview details.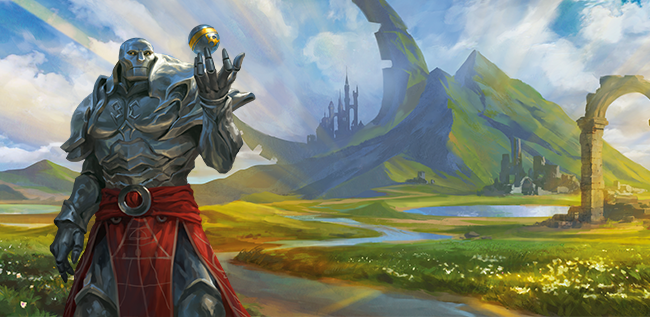 Coming this fall is Dominaria United, marking the return to one of the most storied planes in Magic's history to celebrate our 30th anniversary. You can find product information on the Dominaria United product page—one key addition to note is that starting with Dominaria United, each Standard set also includes themed Jumpstart packs.
Jumpstart packs make it easier for new players to pick up and play with the latest release. In addition, we've opened scheduling for you to start planning your events for the season. The following are fantastic events to schedule right away to get you set up for a successful event season:
Prerelease: September 2–8


Game Day: September 17–25, 2022


WPN Premium-Exclusive Commander Party: September 30–October 2, 2022


Store Championship: October 15–22, 2022
Stores that achieve a WPN Premium designation by July 1 will be eligible to host a WPN Premium-exclusive Commander Party event for Dominaria United from September 30–October 2. In addition, WPN Premium stores that received their designation before February 11, 2022 will have their store name printed on their promo cards.
Dominaria United marks the beginning of our 30th anniversary celebration—and we are eager to share more details about upcoming promos as we get closer to the fall. Keep your eyes on this space and DailyMTG for more details in the coming months.
Wizards Presents is a live presentation that shows off upcoming products for Magic: The Gathering and Dungeons & Dragons in 2023—and it's one you won't want to miss! The presentation kicks off August 18, so set a reminder and keep an eye on DailyMTG for more details.
That wraps it up—we hope you're ready to give your players a summer to remember, filled with Magic set releases. Be sure to schedule your events in advance and start sharing your summer plans as soon as possible to encourage more sign-ups from your community.