Earlier this year, we promised that more Premium perks were on the way—in addition to the great exposure, expanded marketing materials, and other great benefits that already come with Premium.
Today we're thrilled to announce three new perks for Premium stores with Ikoria: an exclusive event with a killer prize, some of the most unique and collectible cards in Magic, and a thank-you for providing players an excellent first in-store experience.
Here are all the details.
Premium Championship: Ikoria is a Premium-exclusive Standard tournament featuring a pretty incredible grand prize: a full non-foil set of Ikoria: Lair of Behemoths*.

Theros Beyond Death invigorated Standard in a major way, and we couldn't be more enthusiastic about where it's headed—we think this prize shows just how much so.
Full sets will ship to Premium stores automatically, shortly before the event. Make Premium by April 7 and it's yours. We'll have more information to share soon, so stay tuned and start working towards Premium!
*Full sets include regular-art cards found in Draft Boosters. Alternate treatments and ancillary cards like the Buy-a-Box promo are not included.
That April 7 deadline is an important one: make Premium by April 7 and you'll be eligible to receive one copy of select Secret Lair drops to land in WPN Premium stores.
If you're unfamiliar with Secret Lair, they're ultra-collectible, lovingly-curated releases featuring some of the most exciting artists working today.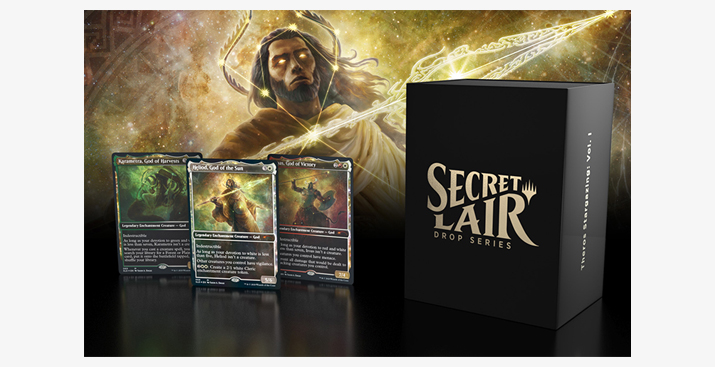 Each drop is available for a very limited time, so you have to act fast to make sure you get one—unless you're Premium. Starting soon, WPN Premium stores who qualify by April 7 will receive one copy of select 2020 Secret Lair releases shipped right to them, no signup required.
We'll tell you what the first drop is when we get closer to the release (it's called Secret Lair for a reason), but for now, just know that the deadline is April 7 to get in on it.
Prerelease Parties are a great beginner-friendly Prerelease experience and the perfect opportunity to grow your community and welcome new players. And, starting with Ikoria, they're also a great chance for Premium stores to boost future Prerelease allocations.
We want to point players toward the best possible experience for their first in-store event—that way, they'll keep coming back for more. And where better to have a great in-store experience than one of the best game stores in the world?
We tested this out with Theros Beyond Death, and we liked the results. Reach Premium before Ikoria Prerelease (April 17) to have your Prerelease Party metrics count towards your next allocations.
As of this writing, more than 150 WPN members are already getting these benefits. If you want to join them, now's the time: apply for Premium today.
| | |
| --- | --- |
| |  To Earn This Reward |
|  March 16 |  Sell displays of Ikoria Collector Boosters at Prerelease |
|  April 7 |  Run Premium Championship: Ikoria |
|  April 7 |  Get one copy of select Secret Lair drops |
|  April 17 |  Prerelease Party metrics count towards your next allocations |
|  July 3 |  All-foil Commander Collection: Green |