Starting April 14, your players can take a last stand against the Phyrexians at Prerelease for March of the Machine. Keep the following reminders top of mind as you prepare for an incredible event.
Prepare Your Play Space & Staff
Prerelease draws customers and players to your store, all equally eager to get their hands on the new set right away. It's important that you and your staff are fully prepared to run your smoothest Prerelease yet—and we've shared some tips previously to help guide you leading up to the event.
As you put together your Prerelease plans, keep these top tips in mind:
Plan your opening announcements in advance
Ensure your tables and chairs are accessibly spaced to accommodate all players
Manage event length based on pre-registrations
Clean while players build decks and play
Prepare your staff to answer gameplay questions
Most importantly: keep the focus on the fun. If players have a good experience at your store, they'll be all the more likely to return again and again.
Show Off Mechanically Unique Prerelease Promos
In addition to the year-stamped foil promo, your players will unwrap another card in their Prerelease Packs: one of three mechanically unique promo cards! While the promos are not legal for Prerelease, players can take their card and add it to their collection or use it in an epic Commander deck.
There are three possible cards for players to obtain:
Goro-Goro and Satoru
Katilda and Lier
Slimefoot and Squee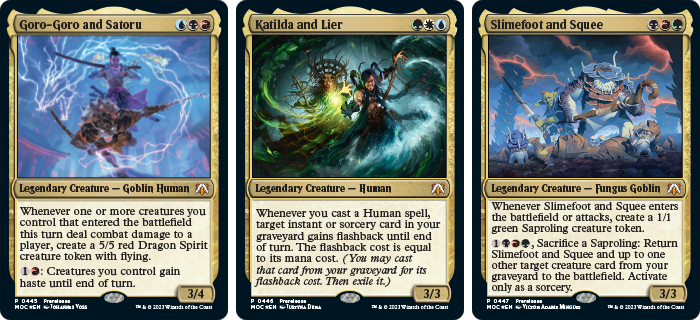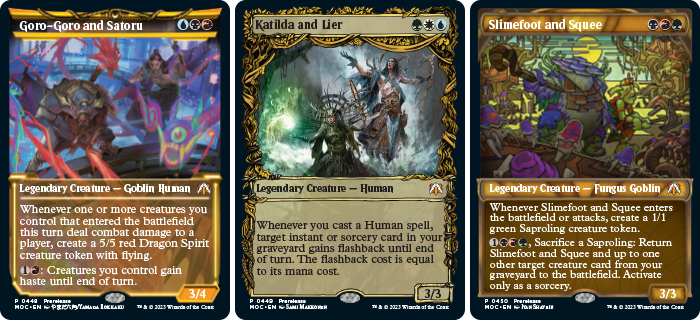 Each of these Prerelease promo cards may be found in nonfoil or foil, with the regular border or the appropriate Multiverse showcase treatment per card—which are from the planes of Kamigawa, Innistrad, and Dominaria, respectively.
Boost Event Sign-up Using 30th Anniversary Promos
Our 30th anniversary celebration continues, and WPN stores will receive the following promos to celebrate Prerelease for March of the Machine:
Eternal Witness
Chord of Calling (printed in Portuguese)
Niv-Mizzet, the Firemind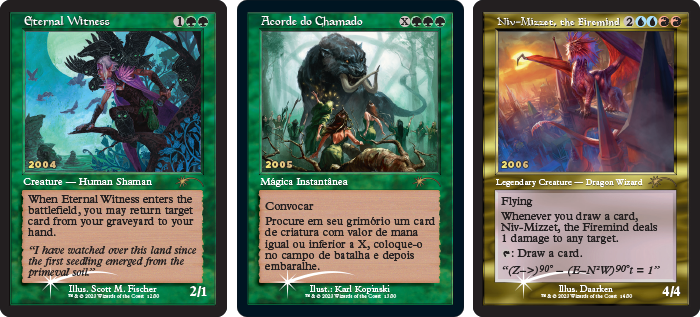 There are numerous ways you can utilize these promos to entice players to register for your Prerelease, but you should always stick with what works best for your community.
For full details about upcoming promos, check out the Promo Usage and Policies Hub.
Drive Display Sales with the Buy-a-Box Promo
The March of the Machine Buy-a-Box promo, Omnath, Locus of All, may be a long-awaited 5-color version of Omnath for some players in your community—and they'll be eager to add it to their collection.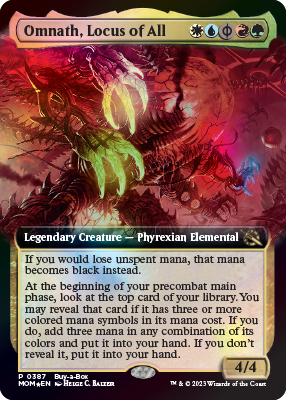 Players can receive a Buy-a-Box promos for an in-store purchase of the following sealed products:
Draft Boosters
Set Boosters
Jumpstart Boosters
Collector Boosters
Starting with The Brothers' War, all products are available to purchase at Prerelease in any quantity, meaning your players can get their hands on this promo as soon as April 14. Please note that only in-store purchases or product pick-ups qualify for the Buy-a-Box promo; it should not be included in shipped orders.
Keep the Product Overview Handy
From oversized Planechase cards in Commander Decks to a multitude of Multiverse booster fun treatments, you'll want to keep our product overview handy as you direct customers to the products best suited to their interests.
For full details on the product lineup for any set, you may also visit the product page for March of the Machine.
Prerelease is a mere week away—keep this guide handy as you make event preparations, and if you haven't yet, head to Wizards EventLink today to make sure your Prerelease is on the books!