The Phyrexians are here—it's almost time for your players to bring the fight to Magic's greatest villains before it's too late. Prerelease kicks off February 3, and now is the time for you to prepare to host your greatest Prerelease event yet.
Review the following reminders and tips to help you keep the momentum from your awe-inspiring Prerelease going all season long.
Upcoming Policy Changes for ONE
As you get your preparations underway, there are two policy changes we want to be sure you're caught up on that kickoff with Phyrexia: All Will Be One.
First, your allocation of free Set Booster prize support can be used to support Booster Draft and Jumpstart Prerelease events during the week of Prerelease. However, your future prize allocations will be based solely on reported Sealed Prerelease events that use the official scheduling template in Wizards EventLink.
Additionally, we recently announced a slight change to our view on card legality: once your players have their cards in-hand at Prerelease, they are legal for tournament play in applicable formats.
Decorate to (Phyrexian) Perfection
Whether your aim is to attract new players or build player loyalty to your store, adding decorations for Prerelease can be a hit. Phyrexia: All Will Be One Prerelease is an awesome time to consider thematic decorations since it goes hand-in-hand with the overarching theme of a Phyrexian invasion.
Plus, one out of every 15 Prerelease Packs will have a special Phyrexianized Spindown die instead of one of the five mana-colored Spindowns, giving you even more opportunity to add decorations to your event.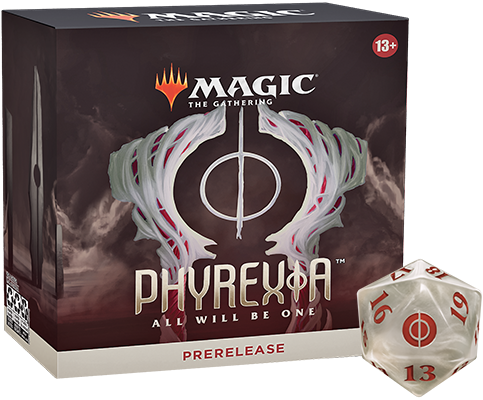 If your community enjoys it, you may want to tap into the biomechanical horror aesthetic of New Phyrexia; to gather some ideas, try to match the colors on the packaging or draw inspiration from the glorious Panorama Basic Land card art.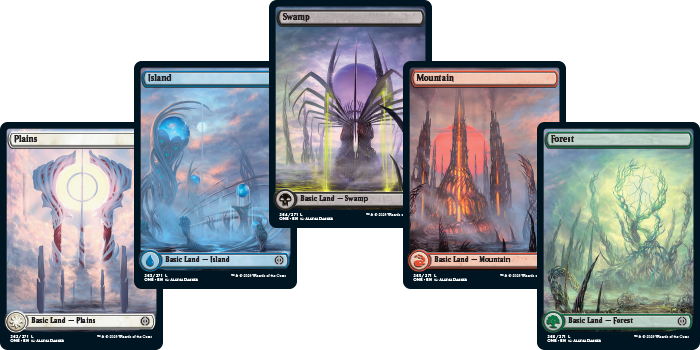 If your store offers snacks or drinks on-site, you can always make Prerelease special with a few Phyrexianized treats. No matter what direction you choose to go, adding something special to your Prerelease event will help make it more memorable for your players.
Prepare Your Promos
You may have already received your promo kit for Phyrexia: All Will Be One, which includes your 30th Anniversary promos:


Kor Haven


Vindicate (printed in Italian)


Exalted Angel


Temple of the False God


Both Kor Haven and the Italian-language printed Vindicate will arrive in lower print quantities than the other 30th anniversary promos in your kit. For your lower-quantity promos, you may want to get creative with how you hand them out to players to make each promo feel extra special.
There's one other factor to keep in mind as you prepare your promo distribution for the season. As a result of the updated change to the release date for Phyrexia: All Will Be One, your store will have one week of additional promo packs for the Phyrexia: All Will Be One season. Promo packs are an awesome thrill for players to open at your store, so be sure to plan how you want to hand them out at each event, starting with your Launch Party.
Share the Phyrexian Click-wheel Promotion
Prerelease is the perfect time to advertise the upcoming Phyrexian Click-wheel Promotion, beginning alongside the release of the Bundle: Compleat Edition on March 3. With your promo kit, you should have received a number of Phyrexian Click-wheels based on your store's metrics.
While you must hold on to the Click-wheels until the promotion begins, you should still take the time at Prerelease to share how the promotion works to your players. All they need to do is pick up $75 USD (or the equivalent in local currency) in sealed Magic: The Gathering product to earn a Phyrexian Click-wheel.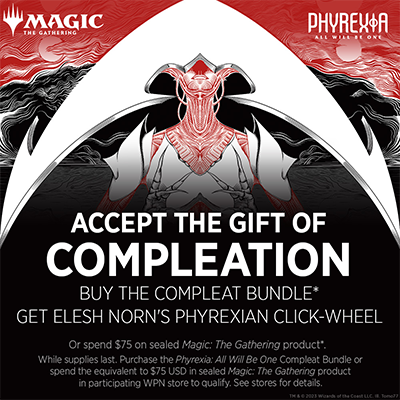 Ahead of your Phyrexia: All Will Be One Prerelease, download additional social media posts and in-store signage; putting up a few posters around your play space or at your point of sale can spark a conversation that may lead to players returning to your store.
Prerelease is just the beginning of an incredible event season for your store. Continue your marketing efforts to draw players of all stripes to your store's events—and if you haven't yet, be sure to visit Wizards EventLink to get your calendar stocked with can't-miss events for your community.