Gather your Modern players to shuffle up their decks—Store Championship is coming up soon! Store Championship is a structured in-store tournament that follows many Magic releases, and The Lord of the Rings: Tales of Middle-earth™ is no different.
Your Store Championship can be a taste of competitive play for your community, leading into larger events like Regional Championship Qualifiers. You can hold one Store Championship event in your store between August 5 – 13; when you're in Wizards EventLink, be sure to use the Store Championship template.
Store Championship events run as Booster Draft or Sealed must use Draft Boosters from the most recently released set; in this case, The Lord of the Rings: Tales of Middle-earth™. Otherwise, the event must be run using the Modern format. The format for Store Championship rotates with each season.
Store Championship Promos
At your event, you'll pass out the following promos to players:
Participation: Gifted Aetherborn (nonfoil)
Top 8: Eidolon of the Great Revel (Traditional Foil)
First Place: Saruman of Many Colors (Traditional Foil)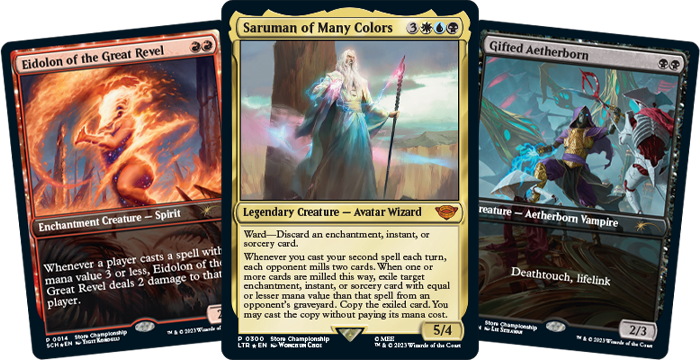 WPN Premium stores receive an extra set of the Top-8 and Winner promos in non-foil with their store's name printed on the card. Both versions of each should be provided to qualifying players.
Running Your Store Championship
As you prepare to get your Store Championship up and running at your store, there are a few additional details you may want to keep in mind.
The first is about choosing the Rules Enforcement Level of your event, or REL. Store Championship is considered a taste of competitive play for your community, but you can run the event at Regular or Competitive REL. Regardless of which REL you choose to run your Store Championship, you do not need a judge to be present. However, you may choose to hire one if you like; you can consult the Judge Academy website for details.
If you run your event at Competitive REL, your players will be required to register their deck checklists in advance. Players can download the The Lord of the Rings: Tales of Middle-earth™ Deck Checklist from the Rules and Documents page.
When running Store Championship events, you also don't need to worry about playoffs—if you don't have enough players in your event to cut to Top 8, you may run Swiss rounds and provide prizes based on standings. If your event does not fire or you have surplus promos after the event is over, the surplus promo policy applies.
As the Store Championship date approaches, make sure you're advertising across all your available channels to encourage your community to register for the event. And if you haven't already, make sure you schedule your Store Championship in Wizards EventLink.