Step right up—the most illustrious galactotainment in the Multiverse is landing in your stores on October 7. Unfinity, the fourth Un-set in Magic , brings lighthearted and unpredictable gameplay with zany new mechanics to give players the most unique experience Magic has to offer.
With heaps of hilarity on the horizon, now is the time to plan your out-of-this-world release event.
Share Product Details and Shocklands
Unfinity includes Draft Boosters and Collector Boosters, available globally and only in English. Every card in Unfinity Collector Boosters is foil. Plus, at least three foils in every Collector Booster are galaxy foils that help your players' decks sparkle like the stars in space.
If breathtaking, sparkly cards aren't enough, both Draft and Collector Booster Displays include one of ten shocklands from Ravnica sets in traditional foil as a box topper.


A selection of cards from Unfinity will be legal in Commander and Legacy formats. Cards with an oval stamp (or no security stamp at lower rarities) are legal in Eternal formats: Commander, Legacy, and Vintage.
Let your players know that cards with an acorn stamp, like Assembled Ensemble and Killer Cosplay, are allowed only in casual play. Encourage your players to pick up some packs for the opportunity to add an off-the-wall twist to their decks.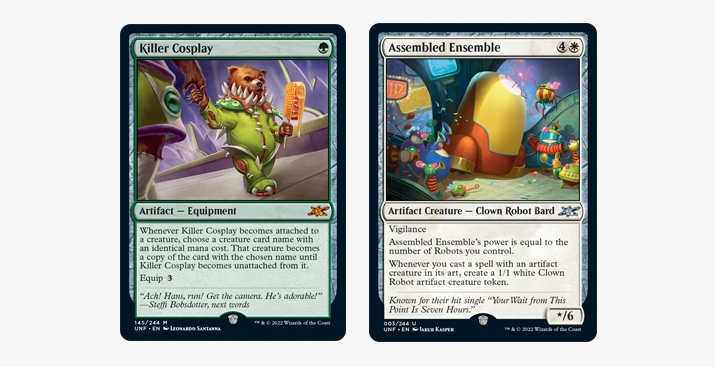 Advertise Unfinity with Downloadable Social Graphics
We've uploaded a suite of new downloadable marketing materials for you to use as you continue advertising for your Launch Party event, including banners and posts showing off the participation promo, Water Gun Balloon Game.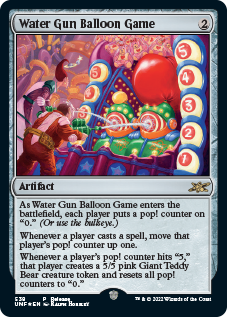 Share these social media graphics as often as possible across your channels—the more awareness players have of your events, the more likely they are to preregister. Plus, you can use promo packs and other incentives to drive repeat play to events in your store.
Schedule Your Launch Party in Wizards EventLink
Your Unfinity Launch Party can be a celebration of everything the new Un-set has to offer, from outrageously hilarious gameplay to stunning card treatments.
If you haven't scheduled your Unfinity Launch Party yet, don't wait a second longer! Head over to Wizards EventLink to get your interstellar Launch Party event off the ground.