With the return of the Pro Tour just announced, your community may be seeking additional opportunities to test their skills with competitive play. Game Day is the perfect event to facilitate that need—and Game Day for Streets of New Capenna is just a month away!
From May 7 to 15, you can host Game Day in your store to engage your competitive players with the opportunity for bragging rights and prizes worthy of the golden age.
Game Day Promos: Participation, Top 8, Winners
The Promos coming with Game Day this season feature a returning frame that will be familiar to your long-time fans of the event.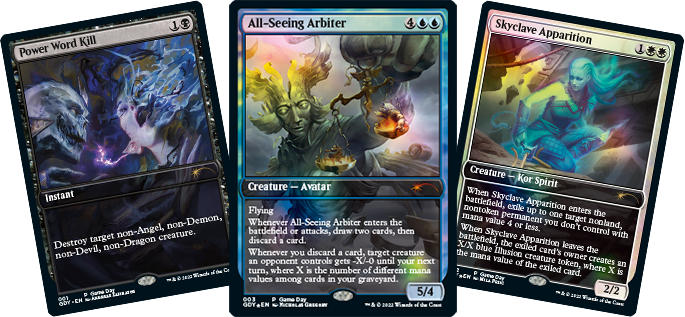 Additionally, the winner Promo, All-Seeing Arbiter, is a new mythic rare card from the Streets of New Capenna set—show off the cards and iconic frame treatment as you market your event to generate more excitement among your community.
You'll receive three types of Promos in your Game Day kit: for participation, each of your Top 8 players, and one for the winner.
Participation Promo: Power Word Kill


Top 8 Promo: Skyclave Apparition


First Place Promo: All-Seeing Arbiter
Remember, the amount of participation Promos you receive will depend on your community size, and you'll receive eight Top 8 Promos and one First Place Promo.
Game Day Formats
You can host Game Day using the following formats:
Draft


Sealed


Standard


Two-Player Brawl
Remember, you can only run Booster Draft or Sealed events if you use Streets of New Capenna Draft Boosters for the event. Game Day is run using Swiss rounds that cut to a top 8.
Tips for Hosting Game Day In-Store
In case you missed it, here's a video by Maria Bartholdi that quickly explains all the need-to-knows for hosting Game Day at your store. Be sure to give it a look if you need a refresher.
Whether you're a Game Day veteran or hosting one for the first time, there are two additional tips to keep top-of-mind:
Run your players' preferred format. It's easier for you to generate excitement for players if you're able to advertise a format they love to play. Always run what works best for your community.
Consider your prize structure in advance. If you want to take the opportunity to entice more casual players to join in the Game Day festivities, you may consider adding additional booster packs as prizes for participation and individual wins.
Schedule Using Wizards EventLink
Scheduling early using Wizards EventLink affords you the maximum amount of time to advertise your event to interested players across your own social media platforms. It also allows these players more time to find you through the Store & Event Locator.
Putting your Game Day on the books in Wizards EventLink should only take a few clicks—so be sure to head over and start scheduling today!