In case you missed it, the countdown to Kamigawa: Neon Dynasty Prerelease is on! Make sure you're ready to help your players understand and discover all that this set has to offer.
Enfranchised players can appreciate the smooth integration of tech with traditional magic from Kamigawa, and new players will love the action-packed finishing moves around every corner.
Many more features about this dazzling set will be revealed soon, but here are five can't-miss things about Kamigawa: Neon Dynasty you can hype now to get your customers excited for what's coming up on February 11.
1. Foil Set Poster
WPN stores in North America and Latin America should already have this poster in-hand, and we hope you use it to spark conversations about your upcoming events! Display this poster front and center to maximize visibility to players.
Asia-Pacific and European stores can expect this poster to arrive with their marketing kits beginning February 7.
2. Buy-a-Box Promo: Satoru Umezawa
Last month we unveiled the Buy-a-Box Promo as our holiday surprise: Satoru Umezawa! Share this showstopping art—which is exclusive to the Promo version—to get players to your store to grab one of the following:
Set Booster Display


Draft Booster Display


Collector Booster Display


6 Prerelease Packs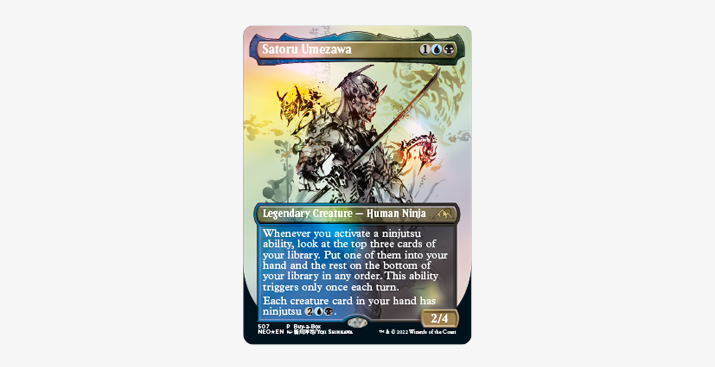 You can find additional marketing materials to show off Satoru Umezawa on our marketing materials page.
3. Neon Ink Foil Treatments
Your players will be able to glow up their decks—literally—with how vibrant the Neon Ink Foil showcase treatment is on Hidetsugu, Devouring Chaos. With four color variants, this eye-popping treatment will amp up the aesthetic for your biggest collectors.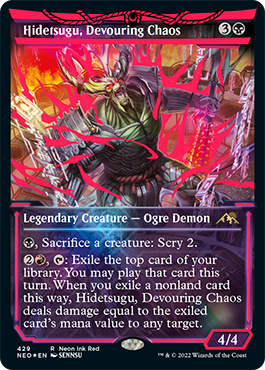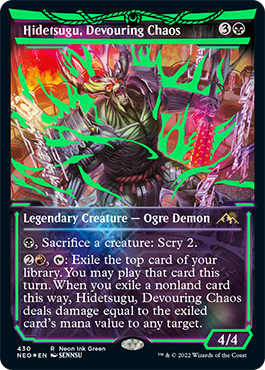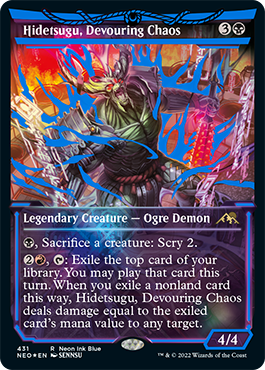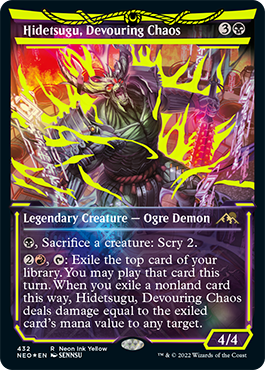 WPN Premium stores will receive 10 copies of their exclusive yellow version of the Neon Ink Foil Promo Hidetsugu, Devouring Chaos, beginning the week of February 14.
Schedule plenty of events and share the Promo with your players to keep the hype alive until it arrives.
Make sure you have enough events scheduled to give plenty of opportunity for your players to get their hands on a copy.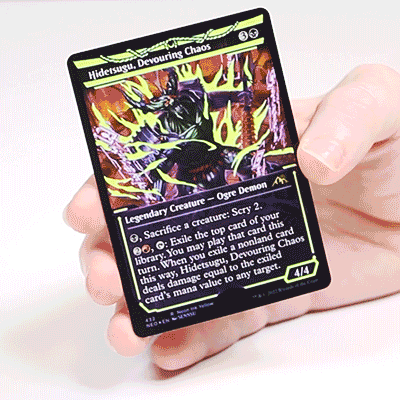 4. Ukiyo-e Basic Lands
Adding to the beautiful booster fun, your players will find full-art Ukiyo-e basic lands in Draft, Set, and Collector Boosters, in both foil and nonfoil versions.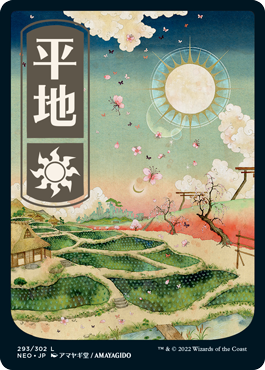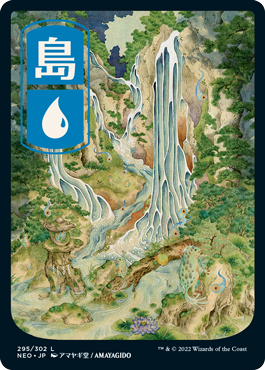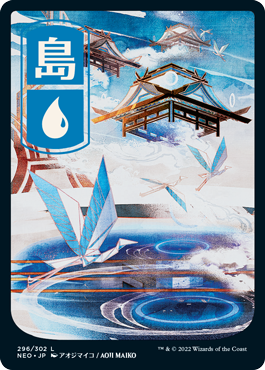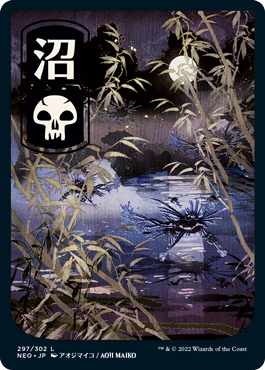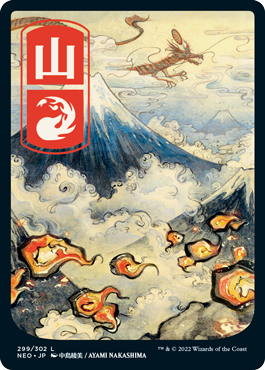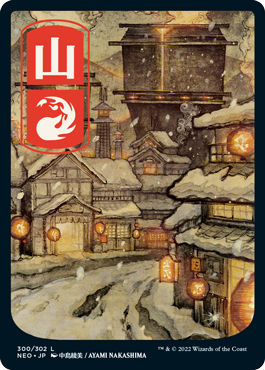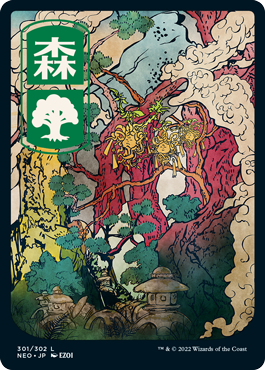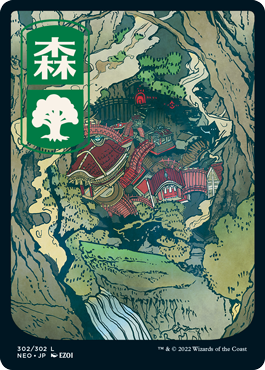 The art for each land is a stunning homage to traditional Japanese woodblock printing, and each card will feature the corresponding Kanji and mana symbol for each basic land type.
5. New In-Store AR Experience
There's even more exciting NEO news, just for retailers. Starting January 21, WPN stores will be the center of a special web-based augmented reality experience. Players who visit your store can step into a bustling market street in Kamigawa with a simple scan of a QR code from their mobile device.
After players scan the QR code, they can access exclusive animated preview cards among other unique experiences within the environment. The event runs for nearly four full weeks, with additional encounters added as the event progresses.
Your QR codes will arrive soon as a brilliant hot pink sticker (or flyer)! They will ship separately from your other Kamigawa: Neon Dynasty promotional materials and are expected to arrive starting January 17.
Check back here next week for more details and a how-to guide for optimizing this unforgettable in-store (and in-world) experience for your customers.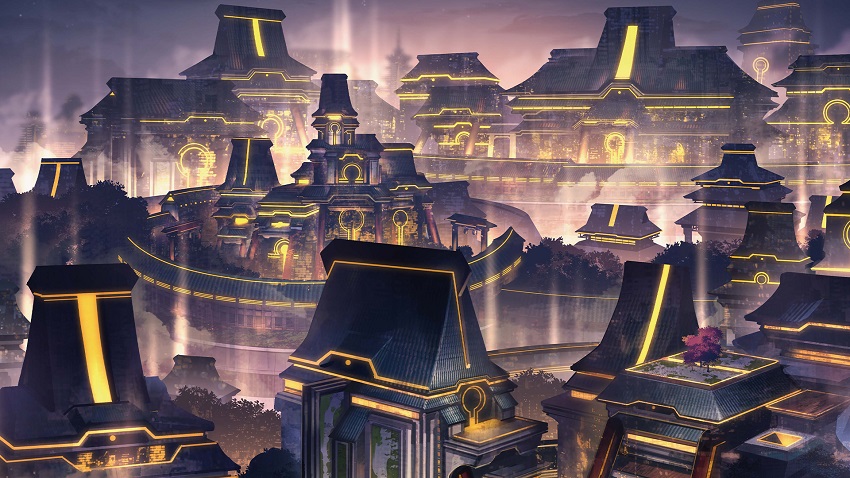 The future is bright: don't miss a beat! Use everything you can to amplify the action coming in Kamigawa: Neon Dynasty's cyberpunk future, from the marketing materials to product shots and Promo images.
Schedule your Kamigawa: Neon Dynasty events and activities now—it's the best way for players to find your store and sign up.