Step right up—Magic's most unbelievable space carnival launches globally October 7. The fourth Un-set will be bringing out-of-this world cards and mechanics to create unforgettable moments within your community.
Your Unfinity Launch Party will be supported by the promo Water Gun Balloon Game. Hand one out to each player who participates in your Launch Party event while supplies last.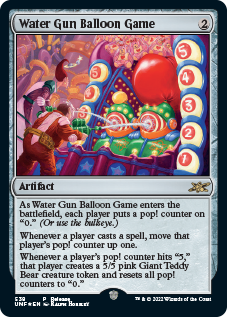 The set includes Draft Boosters and—for the first time in an Un-set—Collector Boosters, both only in English. Draft Booster and Collector Booster displays include a unique box topper: one of ten shocklands from Ravnica sets.


Plus, every card inside Unfinity Collector Boosters is a foil, because your players' intergalactic decks deserve to sparkle like the stars. The fun doesn't stop there—a selection of cards in the set will have an oval stamp, indicating legality in Commander, Legacy, and Vintage formats, which is another first for Un-sets! Additionally, cards with an acorn stamp will indicate that they are legal for players to use in casual play.
Your community has so much to look forward to with the launch of Unfinity, and this is just the beginning. Keep an eye out for future previews of cards and special treatments as we get closer to liftoff.