Larger-than-life mechs will clash in The Brothers' War as players follow heroes back in time to witness a historic battle. This set is all about artifacts, constructs, and robot battles of epic proportions.
As you begin marketing and event preparations, you can take advantage of new reveals and event promos to draw community interest in your events for The Brothers' War season, which kicks off on November 11.
Show Off Retro Artifacts to Collectors
The Brothers' War continues to hit nostalgic tones for your enfranchised fans and long-time collectors—Retro Artifacts are iconic artifact cards from Magic's history, reprinted in a retro frame that emphasizes the time travel element of the set's story.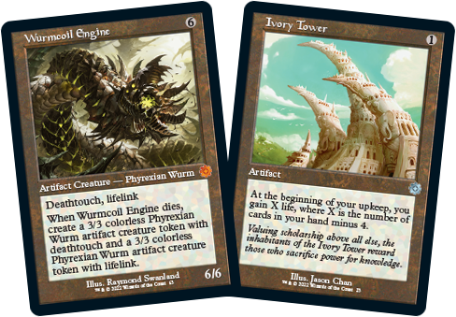 Customers can find Retro Artifacts in Draft, Set, and Collector Boosters in both traditional foil and nonfoil. Use these cards to generate conversation with your enfranchised players and encourage them to preorder products with your store.
Players may also find the Schematic treatment version of each artifact in the set when opening Draft, Set, and Collector Boosters. Schematic Artifacts show off a mock blueprint of each artifact, pulling players further into the story by giving them a look at how these powerful objects were constructed.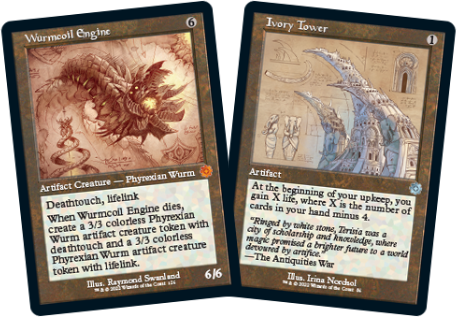 Plus, a selection of each Schematic Artifact will be Serialized—a first for any Magic set. Serialized Schematic Artifacts are found only in Collector Boosters and will show a number on the card out of the total number of that card printed: for example, 1/500 . This means your players who open Serialized cards will be the only player in the world with that specific number.
Your biggest collectors won't want to miss this opportunity: share these cards as often as you can to build engagement around the set.
Share the Buy-a-Box Promo to Drive Sales
We previously announced a big change for The Brothers' War Prerelease Early Sales, you can sell the full lineup of products for The Brothers' War—in any quantity. So, whether your customers are looking to try opening a Collector Booster for the first time or want to dive in with a full display of Set Boosters, you can connect them with the product they want.
To encourage more customers to pick up a full display of Boosters during the Prerelease Early Sales period, you can show off the Buy-a-Box promo, Mishra's Foundry. This promo is also printed in a retro frame, to match the rest of the set's historic theming!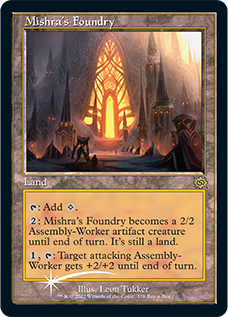 You can offer the Buy-a-Box promo for sales of the following:
Draft Booster Display


Set Booster Display


Collector Booster Display


Jumpstart Booster Display


Bring Players to Prerelease with 30th Anniversary Promos
We're supporting Prereleases in a huge way for Magic's 30th anniversary — by sending you 30 promos across eight Magic Prereleases, one for each year of Magic's history! Use the promos sent with each Prerelease to drive preregistrations and promote a positive environment in your store.
For The Brothers' War Prerelease, you'll receive Wood Elves, Wall of Roots, Windfall, and a very limited amount of the Chinese (Simplified)-language version of Loyal Retainers.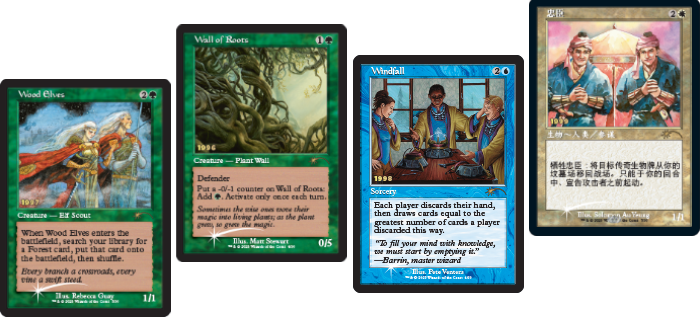 You can use these promos to advertise Prerelease and incentivize players to sign up in advance and earn themselves a copy of one of the promos.
Boost Event Preregistration Using Game Day Promos
Game Day gives you the opportunity to generate a fresh wave of excitement after a set releases, with Standard-legal promos that encourage players to build competitive decks and battle it out for the top prize.
The Game Day promos for The Brothers' War are the following:
First Place promo: Surge Engine


Top 8 promo: Braids, Arisen Nightmare


Participation promo: Recruitment Officer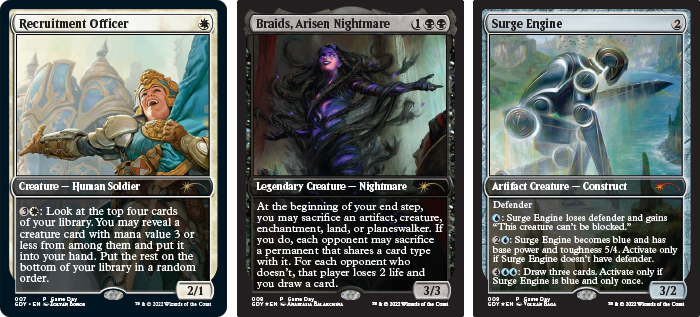 You'll receive Game Day promos with your promo kit for The Brothers' War. The event runs one night only, and you can schedule yours to be anywhere from December 3–11.
Between retro artifacts and the suite of promos to support your events, The Brothers' War season is shaping up to be your biggest Prerelease yet. Start scheduling your events in Wizards EventLink today to give yourself the greatest opportunity to boost player preregistrations.