Wilds of Eldraine Prerelease begins later this week, and the return to Eldraine is shaping up to be a fantastical adventure for your players. Once they get their hands on the latest cards, you'll want to invite them back to Open House—and tell them to bring their friends and family.
Open House is a new-player friendly event combining Jumpstart games and Starter Kit play to give a variety of options for new players to learn the ropes of Magic. The event takes the place of Launch Party beginning with Wilds of Eldraine, and today, we'll run you through your checklist to ensure the event goes off without a hitch.
Schedule the Event in Wizards EventLink
If you've yet to schedule your Open House event in EventLink, you're running out of time—take a moment before you prepare any materials to get your event scheduled so players can find you on the Store & Event Locator and pre-register.
To boost pre-registration sign-ups, be sure to advertise your Open House event during Prerelease opening announcements. Invite your regulars to show up and guide the next generation of Magic players—or just bring their friends to teach them to play. Direct interested players to your website or staff members to learn more about how they can sign up ahead of Open House.
Prepare Your Promos and Promotional Items
You received the following as part of your Wilds of Eldraine promo kit:

Participation promo, Drown in the Loch (quantity based on community size)
Magic: The Gathering sticker sheets (1 pack of 50 sheets)
Bring-a-Friend promo, Cultivate (quantity based on community size)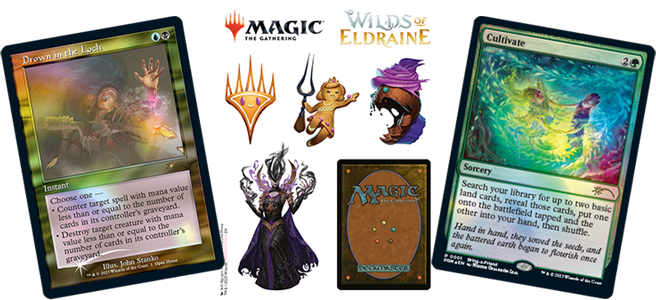 All participating players will receive one copy of Drown in the Loch and a sticker sheet while supplies last. If your players bring a new friend along to play, both players receive two copies of Drown in the Loch and one sticker sheet, while supplies last.
The sticker sheet features characters found in the Wilds of Eldraine set, so be sure to encourage interested participants to pick up some product before they go home to keep the fun going!
Review the Event Details with Your Staff
At some point leading up to the event, we encourage you to touch base with your event organizers so they know how the Open House event works leading up to the big day.
During Open House, you'll pair off experienced players with their new-to-Magic friends to play games of Two-Headed Giant using Jumpstart product; we recommend using Jumpstart 2022, but any Jumpstart product you have on hand will work. In addition, volunteers or members of your staff can run demo games using the Magic: The Gathering Starter Kit 2023 or other Starter Kits you have on-hand.
Your staff should be prepared to answer questions on how to play Magic, especially from newer players who don't have an experienced friend to guide them in how to play the game. However, you should additionally encourage more enfranchised players to take a mentorship role if they're interested.
Open House is a key opportunity for you to build repeat play habits for your engaged players after Prerelease, and to welcome new players into the fold. Take these final days leading up to the event to make your final advertising push and bring your community together for an incredible event.