Innistrad: Midnight Hunt Prerelease is right around the corner, kicking off on September 17. Here's how to create a howling good time for your community. Whether you've already hit the ground running with in-store play or are not quite ready to invite players back into your store for events, Wizards EventLink has a Prerelease scheduling option for everyone.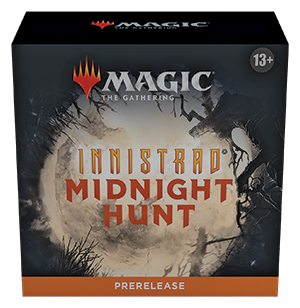 So get planning! The earlier you schedule your events, the longer they will be advertised on your store's Store and Event Locator listing.
As a reminder, the following event types will count towards your future Prerelease allocations equivalently:
In-Store – Traditional structured Prerelease tournaments as well as unstructured Player-List Only Prereleases hosted at your store (not available in regions where in-store play is suspended).
At-Home – Provide Prerelease Packs to players for casual matches with friends outside your store.
Webcam – A structured webcam tournament hosted by your store. You sell the Prerelease Pack and organize the event online and players play each other via SpellTable Beta—the official Magic: The Gathering webcam tool.
We've also enacted several discretionary event policies, including the option to host private events, so you can run safe and compliant events.
Get Your Community Primed with Magic Companion
Encouraging customers to download the Magic Companion App offers the best player experience and makes participating in events a breeze.
Take advantage of the Magic Companion marketing assets in your Prerelease promotion to link players directly to the download page.
Amplify Prerelease Early Sales Product
During Prerelease you can sell full displays of boosters from your Prerelease Early Sales allocation. In most regions, this will be a split of Set and Draft Boosters. You can find the ratio of Set and Draft Boosters available to you in your final allocation email.
WPN Premium stores also have access to a limited quantity of Collector Boosters for full display sales.
Commander Dueling will not be available at Prerelease for Innistrad: Midnight Hunt—but you can count on this offering returning for future Prereleases.
Prize Your Event with Set Boosters
Set Boosters are the ideal booster product for players looking to simply crack open their packs and explore the set, which is exactly what most players are looking to do at Prerelease. To better serve that purpose, Set Boosters will replace Draft Boosters for Prerelease prizing in most regions. So that prize support allocations align with Prerelease Pack case quantities, Prerelease Packs will now come in multiples of 15.
ICYMI: Metrics Count Again in Select Regions
With Innistrad: Midnight Hunt Prerelease, we're expanding the list of regions that can grow their play metrics by reporting events. As of September 17, all play reported in Wizards EventLink (including At-Home and Player List Only events) will count toward both Tickets and Engaged Players in the following regions:
United States
Canada
Africa
Middle East
China
All events reported in Wizards EventLink will count towards your play metrics, so even if you're not ready to host in-store events you can still grow your metrics.
And that's everything you need to know to host Innistrad: Midnight Hunt Prerelease! If you haven't yet, now is the time to schedule your events in EventLink.