As a token of appreciation for everything that you do—and for your continued support this year—we're sending WPN stores an exclusive holiday promo. You can expect to receive Last-Minute Chopping beginning November 22.
As usual, our holiday promos are made especially for WPN retailers: it is a unique card that doesn't exist as a part of any other released Magic: The Gathering set!
The holiday promo is available in English only and may be used at your discretion. Feel free to hand it out as a prize, sell it, or keep it for your collection.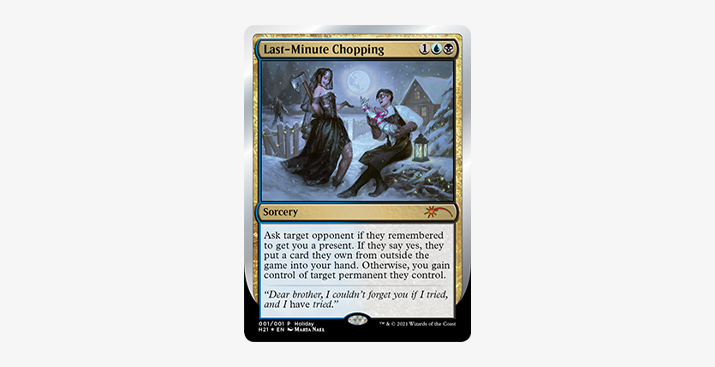 Last-Minute Chopping is a sorcery spell of Mythic rarity—if your opponent remembered to get you a present, they'll put a card from outside the game into your hand. If they didn't, you'll gain control of a target permanent your opponent controls.
Think of the holiday promo as a celebration of your time with the WPN—maybe you'll want to frame your card as a keepsake. We're thankful for you and your support and look forward to hearing about how you decide to use your promo.
From all of us at Wizards of the Coast, we hope you enjoy a safe and happy holiday season.