Geocaching: What to Do With Your Trackable
August 30, 2017
|
2 min to read
The Ixalan treasure hunt has begun!
For those of you who joined our upcoming Geocaching promotion, trackables are en route and should arrive by September 1. For those of you who missed out, trackables are all spoken for, but there are still ways for you to get involved.
We're brand new at Geocaching and we know you might be too. Here's what you need to know.
What should I do with my trackable?
The moment your trackable arrives, take these three steps:
First, make a Geocaching account. Do that here.
Second, activate your trackable. Do that here.
Third, get the trackable out into the wild. You could give it to a player (perhaps add it to your prize pool), create a cache, or deposit in an existing cache nearby. You can find caches in your area with the Geocaching app or at Geocaching.com.
Once the trackable is activated, it will appear on this page, where Geocachers can hunt it down.
What is a trackable?
Trackables are unique objects that players move from cache to cache and track at Geocaching.com.
Here's the Ixalan trackable: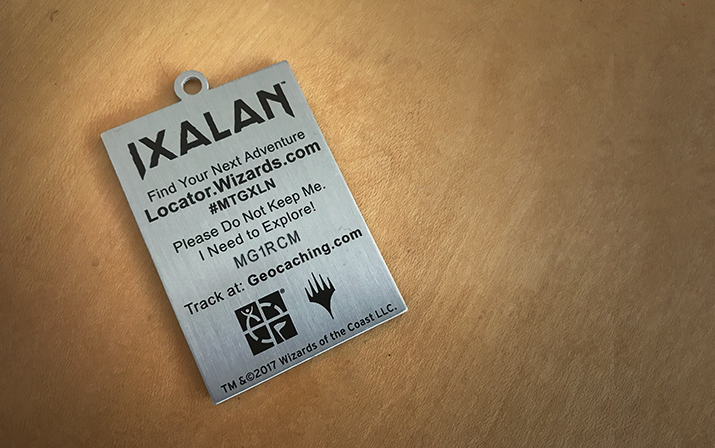 And here's some more info:
Click the Settings icon to choose your preferred language.
How does Geocaching work?
Geocaching is a real-world treasure hunting game. Players hide and search for hidden treasures called "caches," which usually contain trinkets that players can swap with something else.
Watch this video for the basics:
How can I participate without trackable?
Anyone can participate by hunting and moving trackables. Wizards will reveal preview cards once trackables have traveled certain distances.
Here's what to do when you find one:
Beyond that, you could create your own cache, with or without a trackable. There are lots Magic-themed caches in the world. You can see a few here.
And here are some tips for creating and hiding your own cache:
If you have any other questions, we're here to help. Reach out to us on social media, our Retailer Facebook group, or by contacting support.