With the holiday season in full swing, we wanted to take a moment to express our thanks to our partners—you—for another wonderful year of making Magic experiences for players. Local game stores remain the core of the Magic community. You provide players with events and experiences they cannot get anywhere else, and we remain passionate about continued support for all stores across the WPN.
"Our partnership with the owners and players in our Wizards Play Network is a critical foundation of our success and our identity as a business that seeks to build communities and create joy around the globe," said Cynthia Williams, President of Wizards of the Coast and Hasbro Digital Gaming. "We are thrilled that so many stores are seeing continued engagement through the return of their organized play programs. We are dedicated to continuing our partnership and supporting the passion of these incredible small business owners."
We couldn't simply do with a simple thank you: the partnership of our WPN stores worldwide means more than we can put into words, so we're delivering our annual Holiday Promo to you for 2022: Chaos Wrap!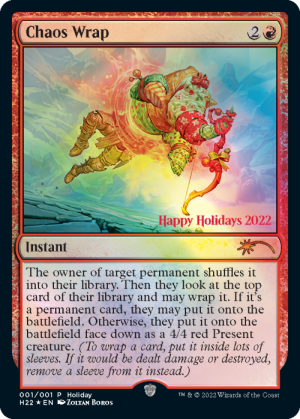 Chaos Wrap is an Instant spell that allows you to "wrap" a permanent-type card by putting it inside lots of sleeves, then onto the battlefield. Sleeves act a bit like shield counters, where if the card would be dealt damage or destroyed, you remove a sleeve from it instead.
This promo is printed in English only and will be shipped to every store in the WPN worldwide. It's not a part of any previously released Magic set, which makes it even more special.
Like previous years, you may use this promo at your discretion: you can use it as a prize for an event, sell it, or add it to your personal collection. The Holiday Promo is our gift to you, and we cannot wait to hear about how you're choosing to use it this year.
The Wizards Play Network team is hard at work year-round to support you and your business, and we are eager to continue working to help you strengthen your community and bring more people together under a love of games. We hope you enjoy a safe and happy holiday season.