Magic Origins Prerelease is just a few weeks away and now's the time to start preparing your store for the event.
Strengthen your Magic community and re-ignite the spark of veteran players by following along with the origin story theme at your Prerelease events.
Here's how:
1. Encourage Cosplay
Invite your players to come to the Prerelease dressed as their favorite Planeswalker, creature, or card art from Magic to help liven up the event and create a welcoming and memorable experience for new and old players alike!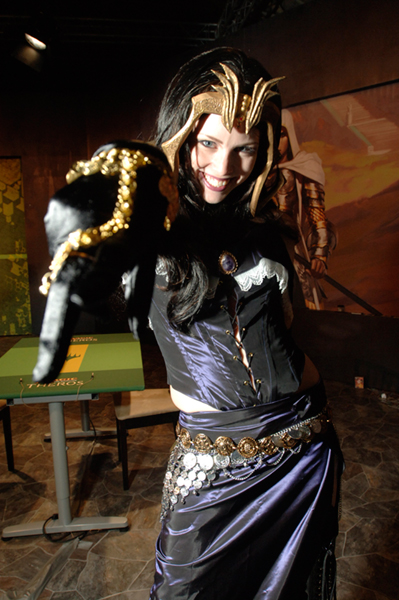 Consider hosting a cosplay contest and provide a themed reward for the best dressed.
2. Share Origin Stories Online
Bring out your players' nostalgic memories of what Magic and your store means to them.
In the weeks leading up to Prerelease, share your best Magic memories on your social media channels, along with your favorite photos of fantastic past events. Then encourage your community to chime in with their own stories.
Spur conversation by posting questions, such as:
What's your greatest memory of playing Magic at our store?
What was the coolest thing you've done in Magic?
If you could date a Planeswalker, who would it be?
This conversation will help showcase what a great community you have reminding lapsed regulars of the fun they've had at your store.
3. Share Origin Stories In Store
Bring the conversation into your store. Clear a section of your playspace wall and set out a stack of post-it notes nearby. Encourage customers to jot down their great experiences with Magic at your store, in the weeks leading up to Prerelease or even between rounds during the event.
Share the best stories on your social media channels, including a photo of the player, if possible, and a relevant hashtag, like #mtgmemory.
4. Start Preparing Today
Don't wait until the last minute to start planning and promoting your Magic Origins Prerelease!
Begin promoting the Prerelease by hanging up the Magic Origins posters and window clings in a prominent place as soon as you receive your kit.
Give attendees advanced notice of the theme, food, and any additional activities you plan on hosting.
Start taking preregistration to save you and your players' time on the day of the Prerelease.
And don't forget to use the marketing materials found on the WPN website to advertise your events on your website, social media channels, and around your community. 
Have a great experience planned? Tell us about it! Send your photos and stories to WPNStories@wizards.com.