Due to shipping delay, the Love Your Local Game Store promotional materials are due to arrive in North America in mid-June. Most other regions will receive them in late June/Early July. Asia-Pacific is unaffected. Your allocation is based on your locked play metrics. Your Mystery Booster Relief Allocation will also arrive with this shipment.
Magic players continue to love their local game stores and their communities, and no matter what's going on in the world, they want to show their support to the place that has become a second home.
That's why we're creating new ways to help players continue to support their local stores by doing things they already love—getting amazing promo cards (including one we're confident is our best Buy-a-Box promo card ever) and enjoying new events with their community.
So, we combined those two player favorites into one promotion. Introducing the Love Your Local Game Store promotion, designed to celebrate the moment you're able to reopen your doors.
Here's what you need to know.
What's in the Love Your Local Game Store Kit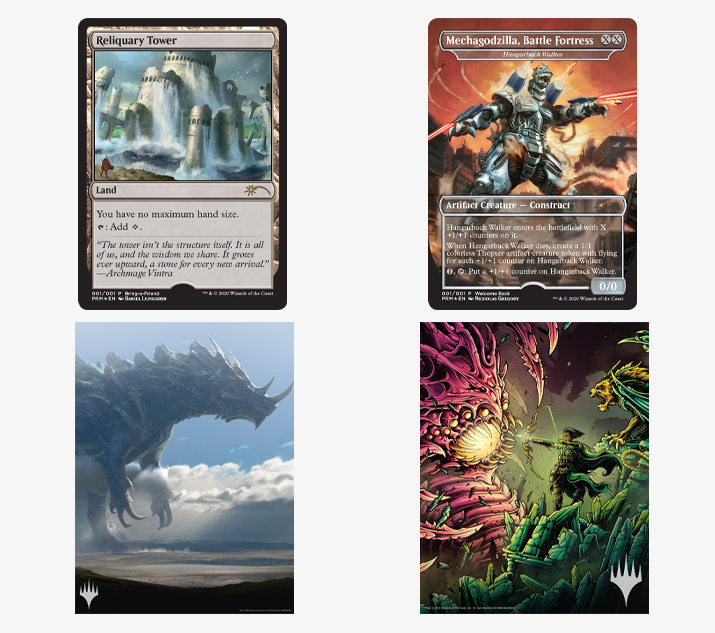 Ikoria: Lair of Behemoths art prints


Reliquary Tower promos


Mechagodzilla/Hangarback Walker promos
You'll be getting all this alongside your Mystery Booster relief allocation. Your promo card allocation is based on a "snapshot" we took of your Tickets and Engaged Players back in February.
And, in case you haven't heard, thanks to so many WPN members coming together to provide online sales and play opportunities for their communities, we were able to double our initial projection and ship $10MM worth of Mystery Boosters. Check your email for your allocation.
Love Your LGS Promotion: 5 Common Questions
1. For the Reliquary Tower promo, what counts as "any Magic purchase"?
Give out a Reliquary Tower promo card for any purchase of a sealed Magic product.
2. Can I limit which sets count for the "Buy-A-Box" promo card?
Give out a Mechagodzilla/Hangarback Walker promo card for purchase of any sealed Magic booster box. (Note that this includes Collector Booster boxes.) This way, you can make sure you're in line with expectations set by Wizards' advertising.
3. Do I have to run a Sealed event?
No. This promotion focuses on sales incentives, with an optional play component for those retailers who choose to participate. If you opt out of the Sealed event, use your art prints as a sale incentive.
4. Do sales have to occur in my store?
No. Our hope is that you can use this promotion make an occasion of your physical reopening, but if using these promos to incentivize online sales can help you drive additional revenue, by all means do it.
5. When does this event take place?
This is up to you. For most of the world, the first available date is June 13 (varies by region), but your promotional materials may be used for this event any time after that.
Using Your Love Your Local Game Store Promos
Because in-store play is still in an uncertain space for most of the world, Love Your Local Game Store focuses on sales incentives. There's a play component, but we wanted to home in on rewarding players for making a purchase. So, here's how to do just that.
Hand out a Reliquary Tower promo with any Magic purchase or any paid Magic event entry (one per customer).
Mechagodzilla is a Buy-Any-Box promo card—players who buy any full box on or after your Love Your Local Game Store event (we'll get to event specifics next) receive this promo card. It's a great way to put that Mystery Booster reprint to use, and there's no limit to how many players can earn.
As our first Buy-Any-Box promo, and a reskin of multi-format powerhouse Hangarback Walker, this is more than a good contender for best Buy-a-Box Promo card ever—make sure your players know they can get it from you!
Finally, the art prints are rewarded to participants in the Love Your Local Game Store event. Let's break down how that event works now.
Hosting the Love Your Local Game Store Event
Due to different circumstances across regions, the Love Your Local Game Store event doesn't have a set date (the first available event date varies by region).
Once you've received your event kit, you can host your event any time you're safely able to do so in your region (just don't schedule it on Core Set 2021 Prerelease Weekend).
When you're able to host in-store play, we recommend running a Chaos Sealed League or Tournament. It's the first official Chaos Sealed event available to all WPN stores!
Use up to six Ikoria Draft Boosters, Mystery Boosters, or any other Magic boosters you have available for each player when you host your event. As mentioned above, all players who enter get an Ikoria art print while your supplies last.
Let your players continue to support you by advertising the Love Your Local Game Store promo cards and the Sealed event to your community!