Commander Legends Release has been rescheduled for 11/20. Prerelease events will now run from 11/13–11/19.
It's almost here—Magic's very first Commander-focused set is less than a month away! On November 13, players get to crack open and draft with boosters designed just for Commander.
Here's everything you need to know about Commander Legends Prerelease.
Commander Legends Prerelease runs from November 13 through November 19
Buy-a-Box Promo: Mana Confluence
Participation Promo: Sengir, the Dark Baron
US, LATAM, Europe, and Russia: At-Home Prerelease Only
Prerelease Event: How to Draft Commander
Commander Legends Prerelease runs from November 13 through November 19
Like some previous sets this year, Commander Legends Prerelease will run for a full week, and there's no cap on the number of Prerelease events you can run. Host as many as you'd like from November 13 through November 19.
Stores will be able to schedule In-Store (in regions outside USA, LATAM, Europe), At-Home, and Webcam Prerelease Events all as separate events in Wizards EventLink.
Note that any in-store Prerelease events still start at 3:00 PM local time on November 13.
Buy-a-Box Promo: Mana Confluence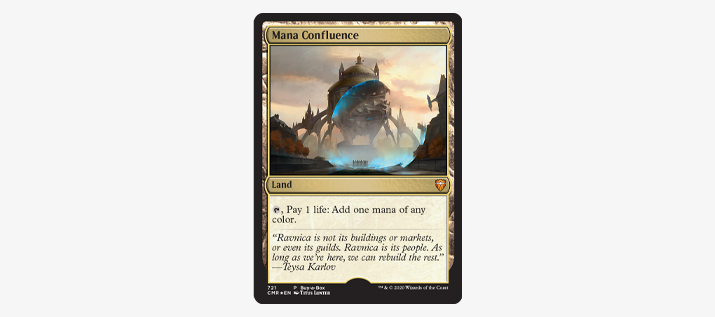 Players that purchase a full display of Commander Legends Draft or Collector Boosters get a Buy-a-Box promo—Mana Confluence, not found in boosters!—while supplies last.
We heard your feedback about how allocating the Buy-a-Box promo across different booster boxes would be helpful, both to manage Draft Booster supply during Prerelease and to encourage players to pick up the product that they really want.
So, we're updating the Buy-a-Box Promo policy to include Buy-a-Box Promo allocation guidelines:
Provide one (1) Buy-a-Box Promo card to each customer who purchases a full display box of any Magic: The Gathering booster packs of the associated set.
You are free to allocate the Buy-a-Box promos between different booster box types as you see fit. If you choose to do so, we suggest a split of 40% for Draft Booster Boxes, 40% for Set Booster Boxes, and 20% for Collector Booster Boxes.
(Note that this is a general policy change for all releases with a Buy-a-Box promotion; Commander Legends does not have Set Boosters associated with it.)
In the case of Commander Legends, that means you can hold on to Buy-a-Box promos and hand them out when Collector Boosters release on November 20 if you'd like—how many promos you allocate for those boxes is up to you!
Participation Promo: Sengir, the Dark Baron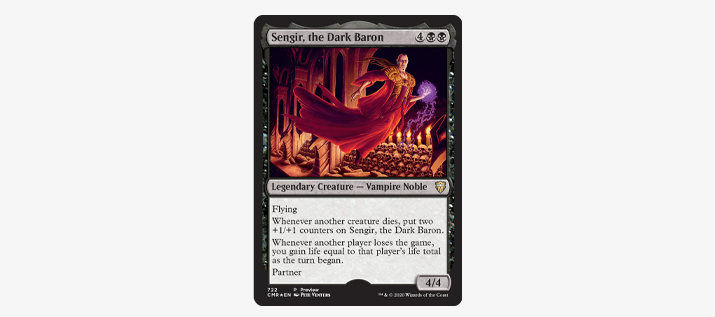 Players that enroll in any Commander Legends Prerelease event using Magic Companion (or just a Wizards Account—meaning, not entered into EventLink as a guest) earn the participation promo while supplies last.
Sengir, the Dark Baron is found for the first time in Commander Legends—you'll find the card in boosters, but this foil, alternate-art version is only available as a participation promo.
If you scheduled your Prerelease in EventLink by September 4, this is the promo that's getting doubled!
Expect both your Buy-a-Box and Participation Promos to arrive between November 6 and November 12.
US, LATAM, and Europe, including Russia: At-Home Prerelease Options Only
Before the official release date, Prerelease materials (in this case, Commander Legends Draft Boosters) can only be used by WPN stores for official Prerelease events (as event materials or prizing) or the Prerelease Early Sale Promotion (sales of full Draft Booster displays).
Note that this means WPN members in the United States, Latin America, Europe (including Russia) may offer At-Home Prerelease options only—official in-store play is suspended in those regions, and all Prerelease events must be official in order to avoid violating street date.
How to Draft Commander Legends
Players break into pods of eight (or as close as possible) and each player drafts three Commander Legends Booster Packs. Players select two cards at a time, every pick of the draft.
When building their decks, players must select the legend or legends they are using as their Commander. Every player also has access to a special card they may use as their Commander: The Prismatic Piper.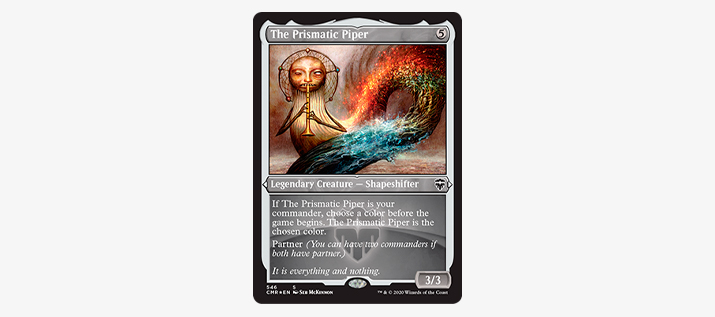 Once players have selected their Commanders, they build a 60-card deck made of cards that match the Commander's color identity, determined by the mana symbols in the casting cost and ability costs of the Commander.
Unlike in other forms of Commander, players can draft and play as many copies of the same card as they want.
After decks are built, players break into multiplayer pods, and the battle begins! Commander Legends Draft has been tuned to play well with as few as four players, and EventLink only requires two players in an event for it to launch.
Commander Legends was designed for an amazing Booster Draft format, but we understand that players may not want to handle each other's cards right now or are looking for a more traditional Prerelease experience, so Sealed is also available for the Commander Legends Prerelease.
If you haven't scheduled Commander Legends Prerelease yet, now is the time! Schedule in EventLink today.