Both Game Night: Free-for-All and Pioneer Challenger Decks 2022 will be releasing on October 14, 2022. Today, we're sharing more details about each product and how to market them to capture interest from players in your store.
These two upcoming products will help make it even easier to get new players started with Magic: The Gathering in two ways.
First, new players can learn how to play with Game Night: Free-for-All. Second, get your players to hop aboard the world of competitive Pioneer play with new Pioneer Challenger Decks 2022.
Game Night: Free-for-All Brings Magic to Board Game Night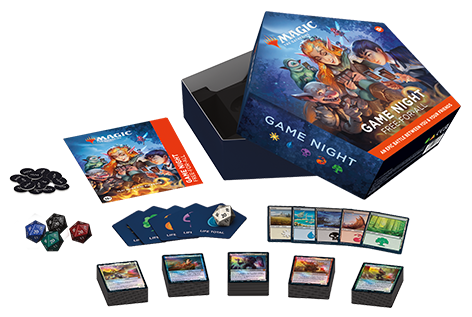 Many Magic fans love to introduce the game to their family and friends, and it's possible you're already running several events to incentivize players to bring in their friends to your store. Game Night: Free-for-All adds more opportunities for players to introduce the game in the familiar format of a board game.
Game Night: Free-for-All includes five 60-card Magic decks—one for each mana color—with one traditional foil card in each deck. The box contains additional supplies to make gameplay seamless, including a rulebook and five reference cards.
If your store already has board games on the shelves, don't miss the opportunity to add Game Night: Free-for-All to the lineup. You may even choose to market it for players to purchase during learn to play nights in-store.
Pioneer Challenger Decks Ramp Up the Competition

The Pioneer format serves as a middle ground between Standard and Modern: it's ideal for players hoping to keep playing with their favorite cards after they've rotated out of Standard without making the leap to Modern. Pioneer Challenger Decks are a straightforward way to introduce players to the format, as each 60-card deck is ready to play out of the box.
Plus, each of these four new Pioneer Challenger Decks is coming to the table to win—they've been designed to be powerful enough to hold their own in competitive Pioneer play. Decks also include 15-card sideboards, so each player can customize their strategy.
Pioneer is one of the eligible formats for Regional Championship Qualifiers in the Pro Tour, and with the buzz of competition in the air, it'll be a great time to introduce new players to competitive Pioneer.
Don't miss this opportunity to introduce these products to your players—check out their product pages and be sure to select your preferred distributor as early as possible.