Dominaria United (DMU) brings players back to Magic's most storied plane, kicking off the beginning of a year-long story arc that promises heroism and bravery, and we're supporting your events with a suite of promos unlike anything we've done before.
Dive in and learn all about the upcoming promo support you'll receive with this video from Maria Bartholdi.
Use each of these promos in your marketing to encourage more players to sign up for all your Dominaria United events.
Legends Retold Box Toppers
On top of the Buy-a-Box Promo, players can look forward to a new type of foil box topper with the purchase of every Set, Draft, and Collector Booster Display: Legends Retold.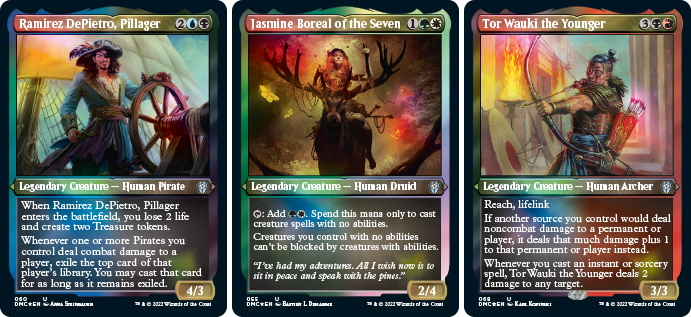 There are 20 possible box toppers, each one a new card design inspired by the original 1994 Legends set.
Lost Legends Cards in Collector Boosters
Speaking of the 1994 Legends set, Dominaria United is bringing another jaw-dropping feature to the table: one in 33 Dominaria United Collector Boosters contain an original card from the 1994 Legends set. That's right—each of these cards is not a reprint, but a card from the original print run. Lost Legends cards will only be found in Dominaria United Collector Boosters, so be sure to hype this opportunity to your players as a great way to kick off Magic's 30th Anniversary!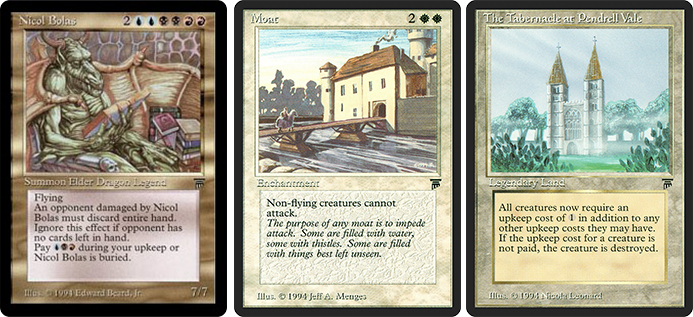 Magic's 30th Anniversary Promos
To celebrate Magic: The Gathering's 30th anniversary, we are releasing 30 promos across the next eight Magic Prereleases, one for each year of Magic's history. These additional promos are meant to help you support your Prerelease events through early 2024.
The promos will be released in chronological order, so for Dominaria United, you'll be receiving additional promos that celebrate 1993, 1994, and 1995 with Serra Angel, Ball Lightning, and Fyndhorn Elves.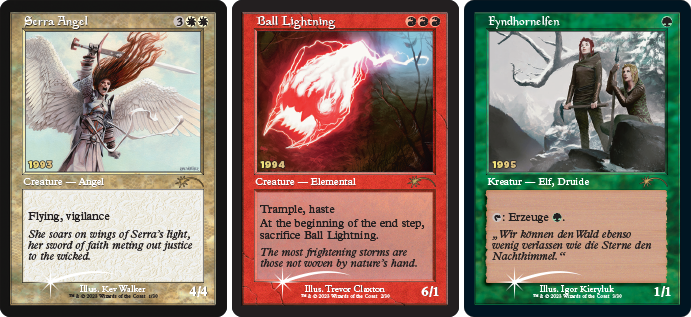 Fyndhorn Elves appears in German in all regions and is the first of just seven of these 30th Anniversary promos that are printed in another language to further celebrate Magic fans across the globe.
Reward these promos to players that participate in Prerelease however you see fit. Give priority to players that preregister for your events. The surplus promo policy does apply to all Magic 30th Anniversary Promos.
We can hardly wait to show you more of the promos coming with Magic's 30th anniversary. Again, we will be debuting new promos with the next eight Magic Prereleases, so keep your eyes on this space for more details!
Buy-a-Box Promo Llanowar Loamspeaker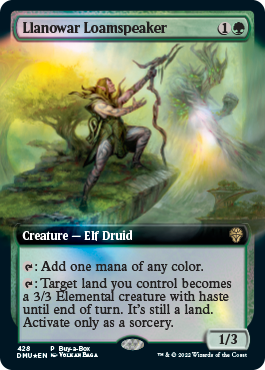 Pass out the Buy-a-Box Promo for Dominaria United, Llanowar Loamspeaker, to customers who purchase one of the following:
Draft Booster Display


Set Booster Display


Collector Booster Display


Jumpstart Draft Booster Display


6 Prerelease Packs


Your Dominaria United marketing kit is full of incredible promo support, and includes everything mentioned so far plus the following:
Promo Packs


Welcome Boosters


Bring-a-Friend Promo – Thought Vessel


Game Day Promos – Touch the Spirit Realm, Workshop Warchief, and Shivan Devastator


Store Championship Promos – Spell Pierce, Omnath, Locus of Creation, and Gilded Goose


Unfinity Participation Promo – Water Gun Balloon Game


Warhammer 40,000 Promo – Fabricate


Visit the Promo Hub for more details on how you can use each promo to support your events.
A story 30 years in the making is coming up fast: make sure you have your Dominaria United events scheduled and continue to encourage player sign-ups well in advance.