This week at San Diego Comic Con, Wizards was thrilled to announce the next Magic set: Throne of Eldraine (ELD).
Think Camelot meets Grimms' Fairy Tales. It's a high-fantasy medieval world filled with knights and castles along with Magic's take on the genre of fairy tales.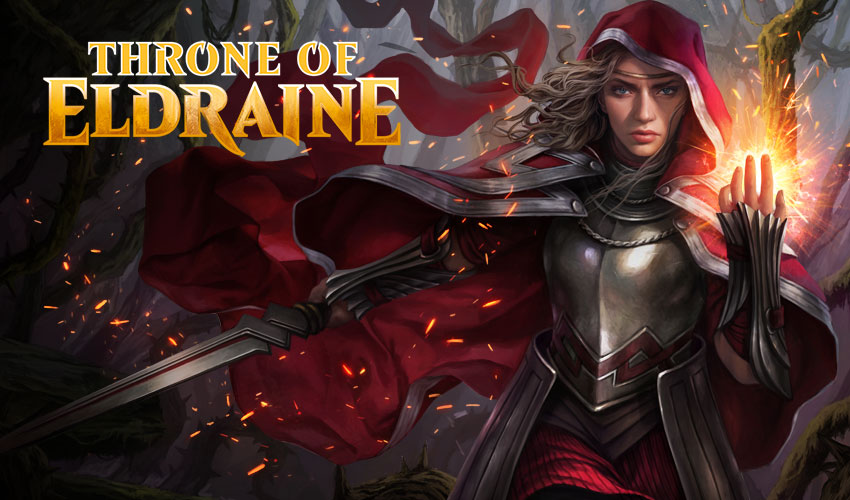 ELD launches October 4 with a new plane and new characters, plus new products and promotions. Look out for scheduling in WER starting July 22 (sign up for Prerelease!) and go here to see what's new—including how you can deliver a special new product one week early.
As members of the WPN team talk with retailers on store visits, on the phone, and online, we're constantly collecting feedback on how to simplify things for you—steps we can eliminate, information we can provide, and so on.
One piece of feedback we consistently receive is to provide a concise seasonal timeline, as early as we can.
So, without further ado, here's every key date for the season:
Throne of Eldraine Key Dates
7.22.19
Scheduling Window Opens
7.22.19
Digital Marketing Assets Wave 1: Key Art, Logo, Booster Box Product Shot
7.23.19
Initial Allocation Email
8.2.19
Prerelease Allocation and Preferred Distributor Locked (8.9 in the EU)
Promo Pack Allocation Locked
8.8.19
Final Allocation Email
9.9.19
Previews Begin
9.9.19
Digital Marketing Assets Wave 2: Product Shots, Web & Social Media Assets, Posters
9.9.19–9.13.19
Marketing Kit Delivery (Some regions will receive this the following week.)
9.16.19
Digital Marketing Assets Wave 3: Deck Checklist, Additional Web & Social Assets
9.20.19–9.27.19
Promo Pack and Buy-a-Box Delivery
9.27.19–9.29.19
Prerelease
10.4.19
Release
10.5.19–10.6.19
Draft Weekend
10.12.19–10.13.19
Open House (WPN Premium Only)
10.26.19–10.27.19
Magic Weekend
1.17.20–1.19.20
Winter Set Prerelease
A few quick callouts:
Season Length: 16 Weeks
Throne of Eldraine season runs from the set's release on October 4, 2019 to January 23, 2020. Make sure to ration your Promo Packs to last all sixteen weeks.
For example, if you store has an allocation of eight promo packs per week, you'll receive 128 total promo packs at the onset of the season.
Calendar Reminders
You'll find that a few of the dates above include a link, so you can drop them into your calendar. These events link to our team's Google Calendar, and don't contain any event information. They're just a reminder, and we don't recommend sharing them with players.
Scheduling Window
While you can schedule your events up to the day of the event, we recommend scheduling as early as possible (July 22 in this case).
At the very latest, get your events on the calendar about a month before Prerelease—traffic on the Store and Event locator spikes around then, and if you haven't scheduled, players won't see your events and your store in the system.
Scheduling early can have a real impact on your business. The new system allows you to edit events easily, so don't delay. Schedule early, and change later as needed.
The scheduling window opens on July 22, so put a reminder in your calendar. While you're there, make sure to drop reminders for all our key seasonal events, from Prerelease to Magic Weekend: Brawl!