On the Path to WPN Premium, Retail Development Specialists often emphasize the importance of widespread and consistent retail store branding. Chris Lahaie, President and CEO of Event Horizon Hobbies, agrees: he believes a strong store brand goes hand in hand with building a game community.
"Our journey to WPN Premium was the perfect opportunity to take what we had started with our branding and really dial it up to 11," Lahaie explains. Their Retail Development Specialist helped them use their branding as the main driving force for growth.
Here's how they did it.
Be More Creative Than the Competition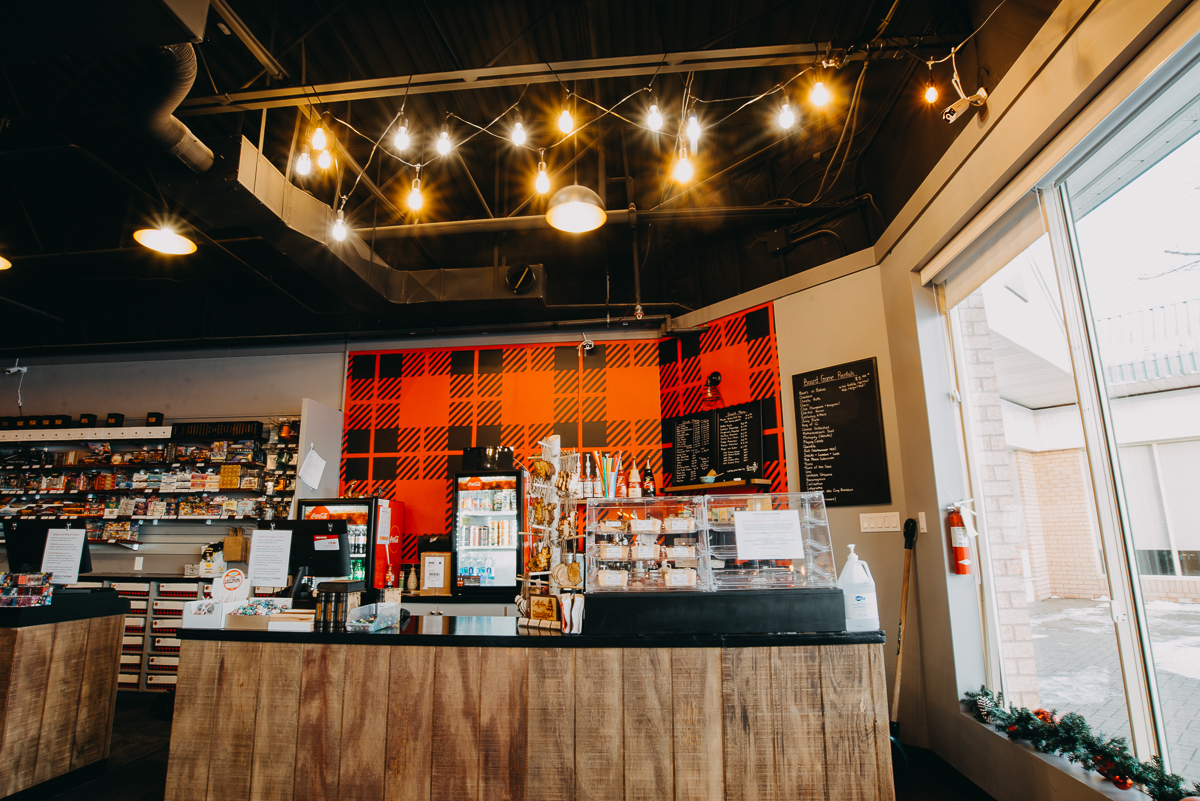 Before opening their doors, Event Horizon Hobbies devised a 2-year strategy, researching their local market to develop a business plan that would set them apart from competition.
"Effective store branding isn't always subtle. Having a very strong Canadian identity was important to us right from the beginning. We doubled down on what that meant to us and our community and focused on being truly Canadian, ehh!"—Chris Lahaie
Honing their brand messaging helped them spend time highlighting their community's values and priorities. "Your brand shows them your willingness to put that level of time and effort into creating the best customer experience possible," Lahaie emphasizes.
Use Mascots to Make Personal Connections
Something unexpected for Event Horizon Hobbies was how quickly their community embraced and claimed ownership of the unique cast of characters they designed. "Initially we saw them simply as part of our marketing and brand strategy, but we have since expanded to make merch of them."
Their characters attach iconic Canadian animals to various hobbies and games they offer in-store: for example, their café is paired with a snowy owl, while they have a TCG-playing Canadian goose.
"These characters not only reinforce our Canadian vibe, but allow us to further personalize our calendars, marketing, and event advertising in a varied way that supports our themes of inclusivity while adding some playfulness," Chris Lahaie explains.
Their customers' instant gravitation to a favorite mascot further connects them to the store's brand in a personal way, which helps keep Event Horizon Hobbies the first choice for these players when picking events.
Lean into Color and Texture to Build Atmosphere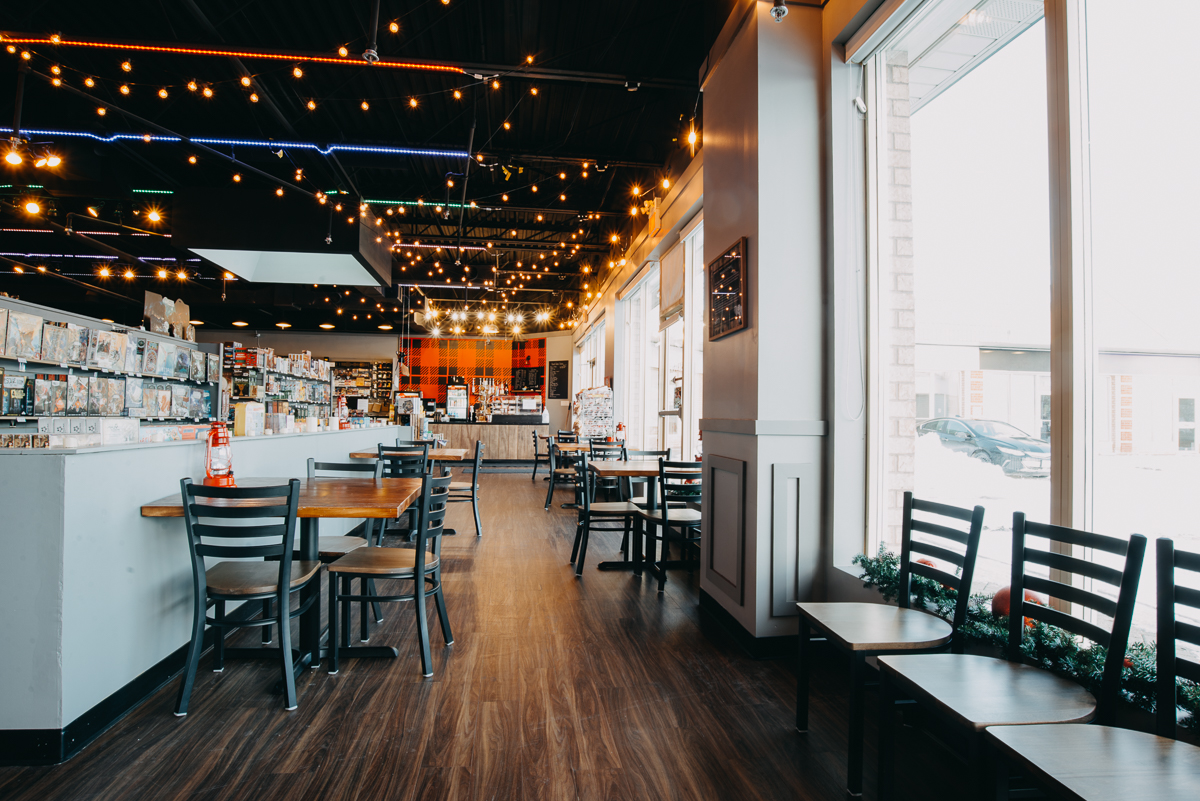 Implementing their branding meant designing a warm, welcoming atmosphere that would draw in and comfort customers. Event Horizon Hobbies utilizes color and textures to incorporate a typically Canadian Buffalo plaid and rustic wood grain aesthetic throughout the store.
For example, their café's plaid accent wall is used on their storage boxes for Magic: The Gathering singles. Their employees even don Buffalo plaid button-downs as a uniform.
To further strive for consistency, they use specific fonts across their signage and in-store documentation, like their Sales and Return Policies and Code of Conduct.
Create an Inviting In-store Customer Path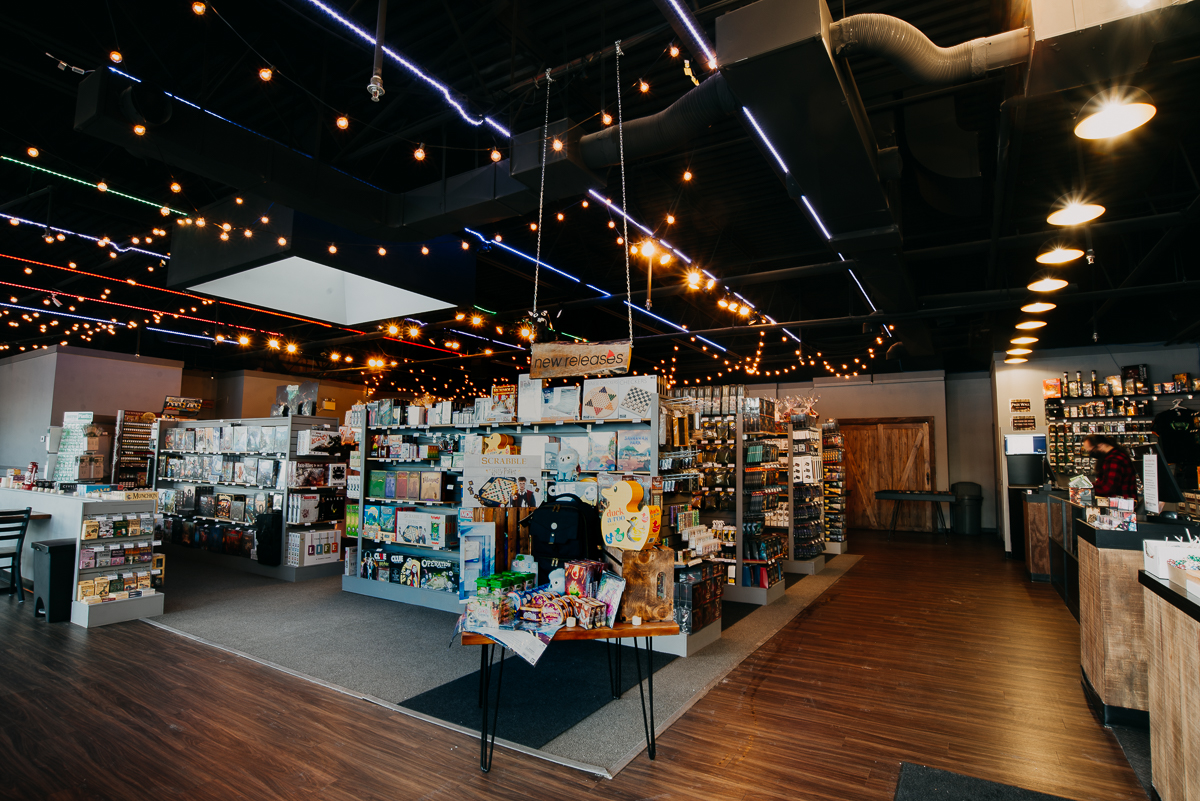 Event Horizon Hobbies carefully considered the way they wanted customers to navigate their store. They stacked their first few aisles full of product with the broadest range of appeal and brand recognition, such as board games.
"We purposely used our café as the decompression zone, offering familiar sights and smells like coffee and snacks that draw a wide variety of customers in," Lahaie explains. "As you're drawn further into the store the aisles become more hobby-specific, culminating with the actual game space reserved at the back."
Thinking strategically about the customer's path through your store allows you to create logical, streamlined merchandising that targets specific interests and serves your overall store goals.
Leverage Elevated Brand to Help Achieve WPN Premium
When taking their store branding to the next level along the Path to WPN Premium, Lahaie notes that "being able to lean on the feedback and support of a much more established and experienced company like Wizards was key." With personalized feedback every step of the way, the store achieved WPN Premium in five months.
Event Horizon Hobbies played to their unique strengths and crafted a strong, memorable brand identity that paved the way for their community and business growth. Use our WPN Premium Toolkit as a resource and talk with your Retail Development Specialist about kicking off your Path to WPN Premium today.