With in-store play on the rise again, it's time to make your play space the best it can be. A good play space supports your players' needs; a great play space makes unforgettable memories. Use these four tips to get you started with taking your play space to the next level.
1. Add Branding to Your Code of Conduct and Calendar
For a quick, easy upgrade, focus on two basic items: your calendar and your Code of Conduct. A WPN Premium Designation requires both, and the WPN Premium Aesthetics Committee will expect that these key pieces of your store align to your brand's vision.
While your calendar doesn't need to be in your play space, having it visible while players are enjoying an event gives them the opportunity to glance up and see what's coming. Your calendar should be clean, easy-to-read, and accessible for all your store patrons. Take your calendar to the next level by stylizing it based on your store's brand—whether that means a bright flash of color and bold font choice, or by bringing in a local artist to add an element showcasing a store mascot or monthly theme.
A Code of Conduct shows your patrons your store's core values and how players should abide by them. We have a Code of Conduct you may use, but when you're on the Path to WPN Premium, your specialist will encourage you to make it your own. Matching the voice and design of your Code of Conduct with the rest of your store's vision is a small tweak that goes a long way for brand recognition.
Event Horizon Hobbies provides a great example of how their store's mascots helped players make a personal connection—be sure to check out their story for additional inspiration.
2. Customize Your Tables
Regardless of the size of your play space, having table numbers helps keep players organized and reduces confusion. Customized playmats for your store are a fantastic way to take this concept to the next level, with the added benefit that newer players don't need to worry about borrowing supplies.
Gamelot, a WPN Premium store in Colombia, designed custom playmats with their brand's logo and included table numbers. They took the concept one step further and got each playmat printed in foil, adding an unforgettable flair to a functional piece for their store.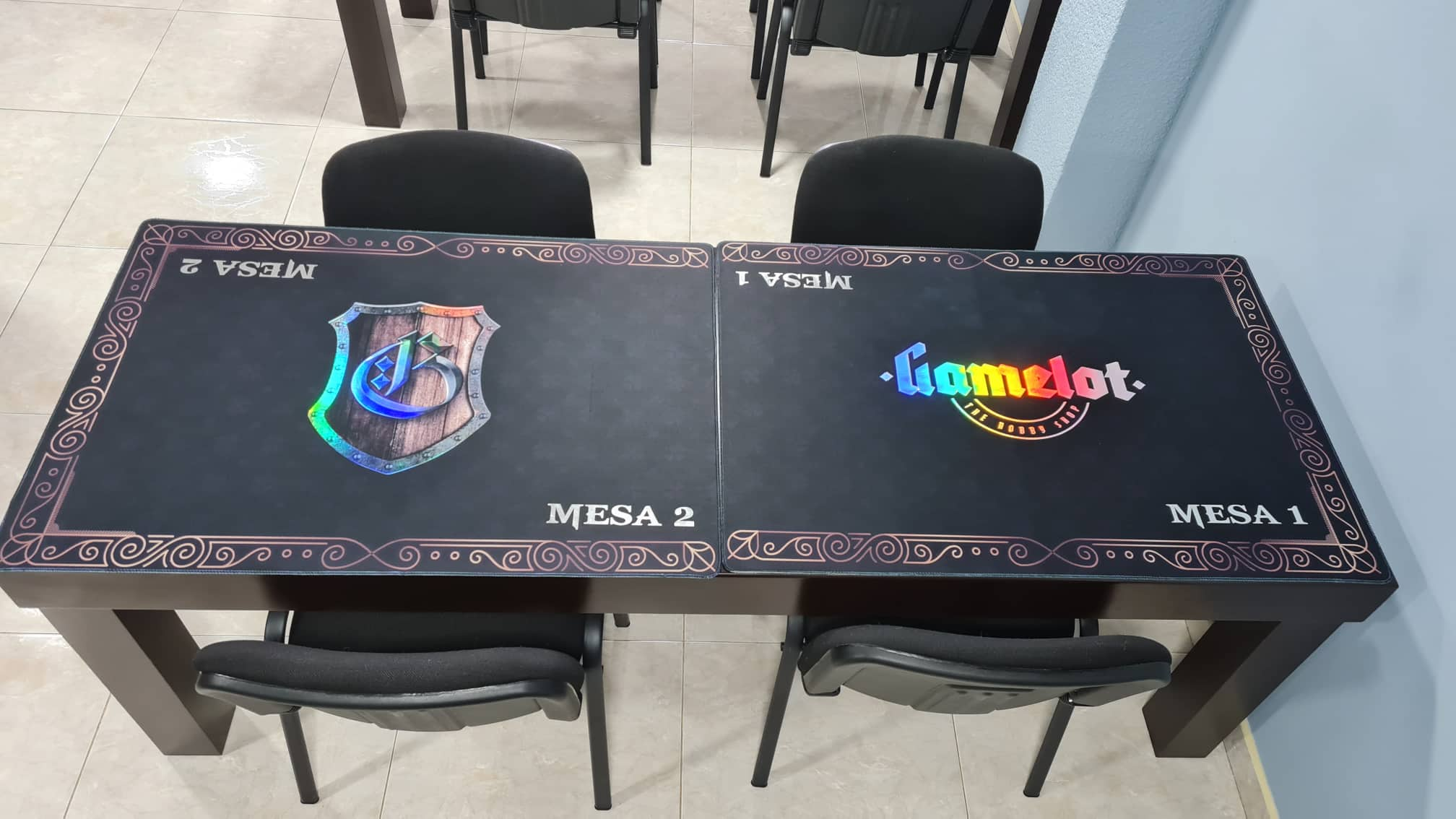 Another method of showing off your store's logo on your tables is to get your store name printed directly on the surface. For example, Dragon's Lair Comics & Fantasy in Houston, Texas features glossy tables in their play space, combining it with fun painted walls that tie their branding to the entire space.
3. Highlight Your Space Using a "Wow" Factor Centerpiece
A large centerpiece draws players' eyes right to your play space, so if you choose to invest in one for your play area, you want to be certain it matches your brand goals. You may consider bringing a local artist in for this, too, and have them paint a mural that covers one wall. Dueling Land in Aurora, Colorado combined custom printed tables with charging stations and a mural of their logo on the wall for a stunning result.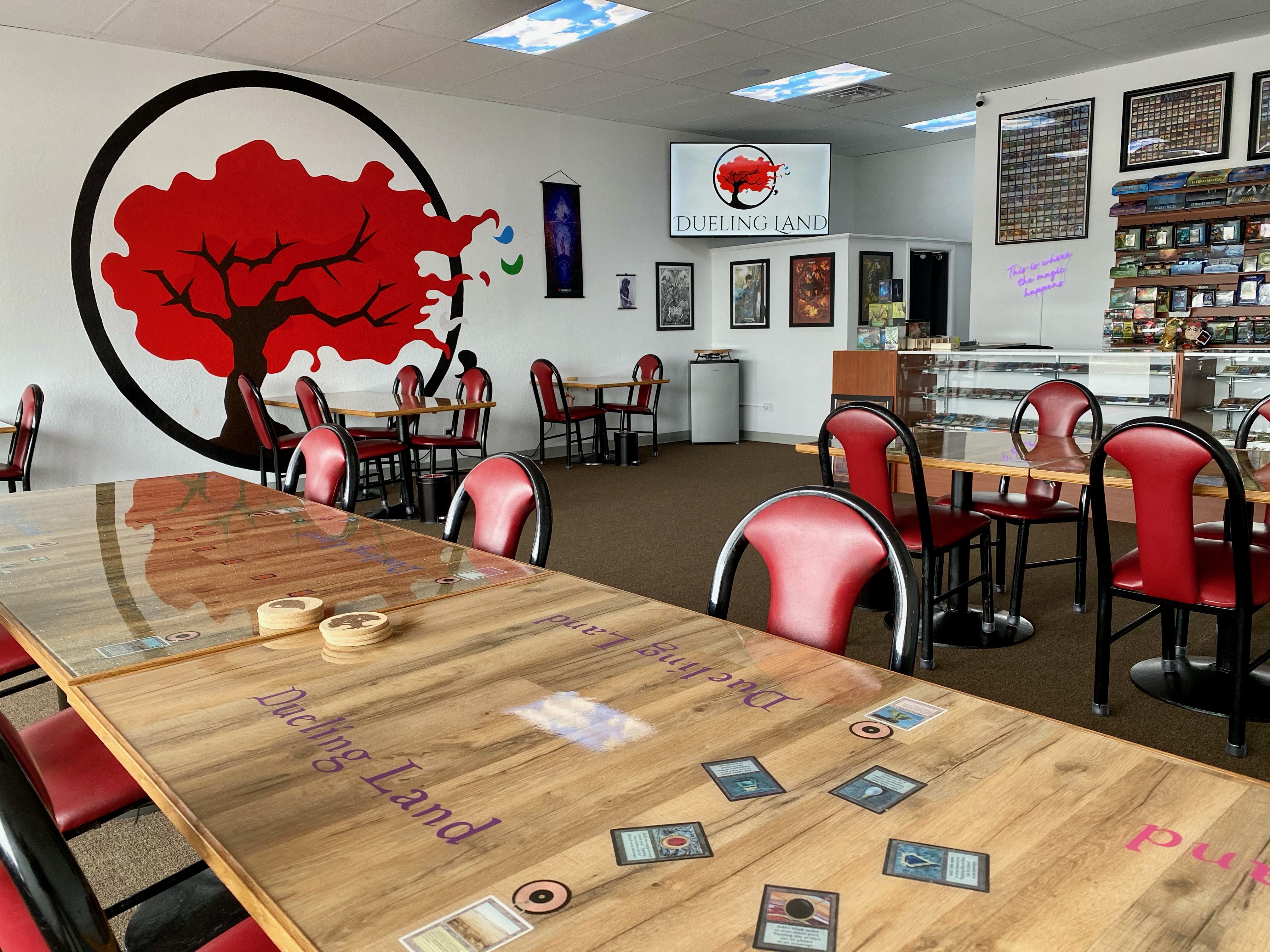 While a project of that size would take a long time to complete, it offers you the opportunity to be creative with your design. You can design the mural to include pieces from your store's history, offering a personal touch that offers an additional memorable touch to players.
Other ideas for a "wow" factor may be objects like large lighting fixtures, like the chandelier at Mox Boarding House in Seattle, Washington. No matter what you choose, the centerpiece should represent you and your brand.
4. Design for Comfort and Accessibility
Above all, consider the comfort of your players. A great experience feels great: if you can incorporate comfortable seating that aligns with your brand's colors, that serves to make the space even more memorable.
Be mindful of the overall flow of your play space, too—you'll want to be sure it's as accessible as possible to all your customers, without having any points where players have to stop or awkwardly maneuver around each other when they're finding their seats at the start of a round.
You have numerous options for elevating your play space, transforming it into the beating heart of your store and community. Take these tips into account as you kick off your own Path to WPN Premium, where the end goal marks you as one of the best game stores in the world. Unlock a suite of additional benefits for your WPN store and get on the Path to WPN Premium today!