The release of The Lost Caverns of Ixalan brings with it the return of a beloved creature type: Dinosaurs! Today we are eager to announce a new event offering that spins this theme into something fun for your players: Dino-Sized December!
Dino-Sized December stampedes mighty dinosaurs into planes across the Multiverse with unique and chaotic Draft or Sealed events. You can run as many Dino-Sized events as you like for the entire month of December; check out more details below and crack open Wizards EventLink to get your Dino-Sized December events scheduled!
Dino-Sized December Event Details
During a Dino-Sized Draft event, each player in a pod of 8 starts the Draft with four Draft Booster packs instead of the usual three. This extra round increases the available card pool for players by a significant margin, allowing for even more cool combos and synergies to come from deck building.
To run your Dino-Sized December events as Dino-Sized Sealed, you'll give players 6 packs—one from a variety of this past year's set releases, plus a seventh pack to make it dino-sized!
We encourage you to use Draft Boosters from any of the following releases to run this event:
Dominaria Remastered
Phyrexia: All Will Be One
March of the Machine (WPN Stores receive one Draft Booster Box free of charge)
The Lord of the Rings: Tales of Middle-earth™
Commander Masters
Wilds of Eldraine
The Lost Caverns of Ixalan
When scheduling any Dino-Sized December events, be sure to use the "Dino-Sized December" event template in Wizards EventLink. You can schedule the event as a Sealed Deck or Booster Draft event. For Limited format events that use product from multiple sets, we recommend selecting "Chaos" from the Set dropdown when scheduling your event.
Once your events are scheduled, you can download the social media image to begin promoting your events right away!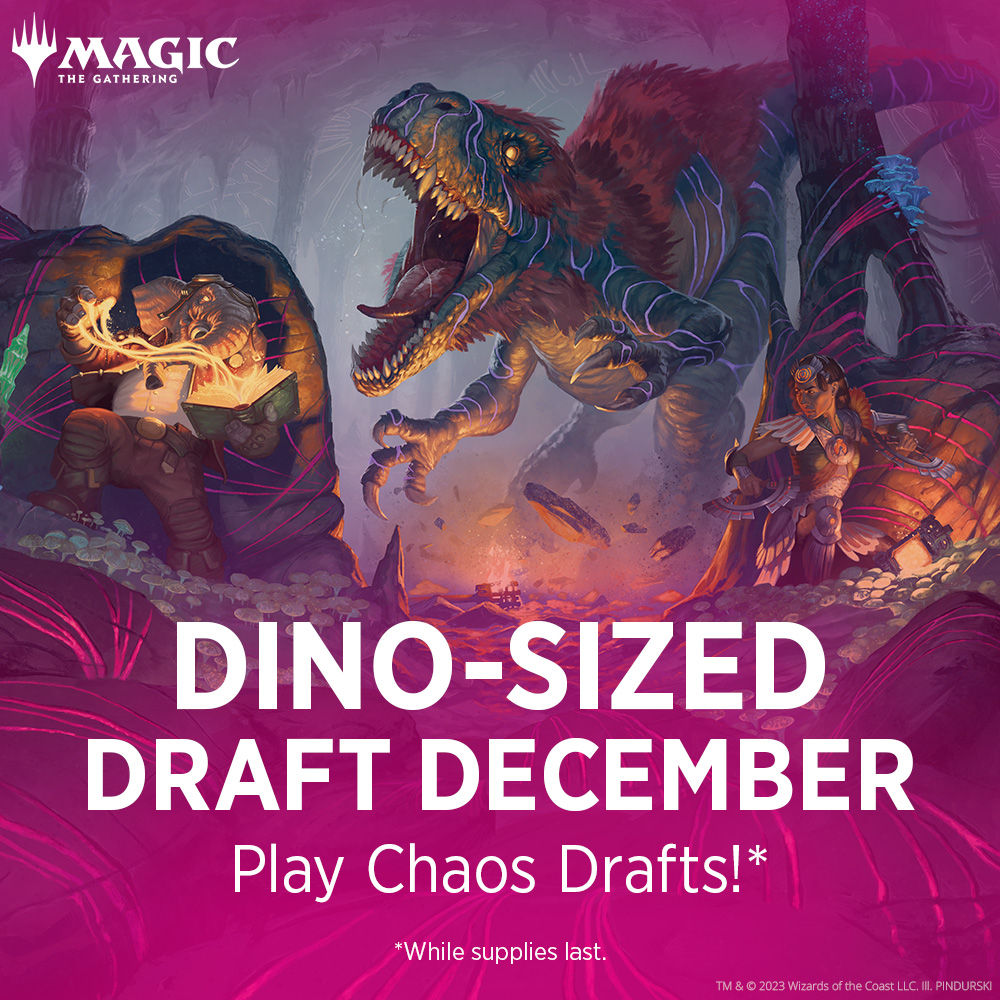 WPN Allocation Support
To support play for this event, we'll be sending one Draft Booster box of March of the Machine to WPN stores in North America, EMEA, and the following from the Asia-Pacific region:
Singapore
Malaysia
Indonesia
Philippines
Thailand
Vietnam
Brunei
Taiwan
Hong Kong
South Korea
China
WPN Premium locations who achieve their designation before October 31 will receive two Draft Booster boxes from March of the Machine.
Additional Draft Boosters you may need to support the event can be acquired through your preferred distributor.
This event can be just one amazing way to get all of 2023's set releases, Standard-legal and beyond, back into your players' hands again for a colossal Booster Draft or Sealed experience like no other. To take full advantage of this new event, schedule it today—the earlier, the better. That way, your players will have time to make plans to attend.