In a continued effort to explore sustainable goals for our stores, we are working with TerraCycle®—a company dedicated to finding solutions to recycle typically non-recyclable items—to kick off a Magic: The Gathering Booster wrapper recycling test.
This test is only available to North American WPN Premium stores at this time. Due to production timelines, all stores that achieved WPN Premium before March 7, 2022, will receive a Booster wrapper recycling box.
How Does Booster Recycling Work?
We are sending WPN Premium stores boxes that can be used to recycle Magic Booster wrappers. Please be aware that no other material can be recycled in these boxes. Each store in North America will be sent one box at this time.
Here's a preview of the box: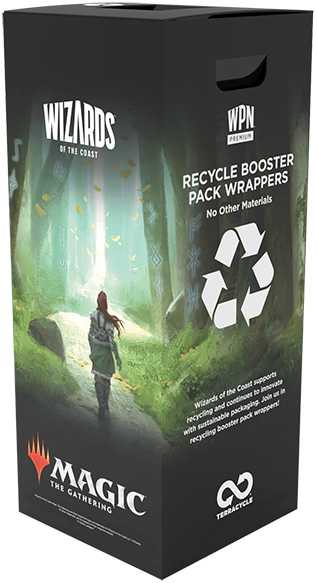 We expect to begin shipping the boxes in late March. Once you've filled yours with Booster wrappers, you won't have to pay to ship them back—simply send it back to TerraCycle using the prepaid label that arrives affixed to the box.
What is TerraCycle?
TerraCycle focuses on reducing waste worldwide. In 21 countries, they explore ways to recycle and collect typically non-recyclable items through national recycling platforms.
Many companies work with TerraCycle to take hard-to-recycle materials, such as ocean plastic, and turn them into new products. TerraCycle has diverted millions of pounds of valuable resources from landfills all over the world.
If you want to continue to explore TerraCycle services or if your store is not WPN Premium, you can use their Trading Card Packaging – Zero Waste Box.
Tips for Using Your TerraCycle Box
It's important to talk with your LGS community about what can and cannot be recycled in these boxes. Consider using additional signage to ensure only Booster or Promo Pack wrappers are recycled in the box.
We recommend putting them in a visible place in your store without obstructing vital walkways. Placing them with additional signage in your play space, for example, will help signal players where to toss their Booster wrappers when they're done drafting.
Your TerraCycle Booster wrapper box can hold thousands of Booster wrappers, and we hope that you and your community find it helpful in being more sustainable.
Wizards of the Coast is proud to partner with TerraCycle to offer this opportunity to our WPN Premium retailers in North America. We'll be in touch with stores participating in this test to gather feedback and continue exploring sustainability efforts.
Start your WPN Premium application today to give your store the opportunity to take part in future special initiatives.