The key to an effective singles display is creating a fixture that's easy to browse. After all, the more customers notice your cards, the more likely they are to buy them.
If you're looking for inspiration for your own singles display solutions, we're sharing our favorites using:
Wall displays


Jewelry cases
Wall Displays
Wall displays are perfect for singles because:
They can be placed at eye level


They don't take up valuable floor space
There are many types of wall displays available to suit your store's needs and aesthetic, from trading-card specific cases to custom-built solutions.
Trading Card Showcases
Hareruya Tournament Center Osaka in Osaka, Japan (population approximately 2.69 million), uses multiple "trading card showcases," wall-hanging fixtures designed specifically for showing off trading cards. These attention-grabbing fixtures make singles visible from all angles as customers approach the displays—the cases placed lower to the floor are angled up for easy viewing, too.
Custom-Built Showcase Wall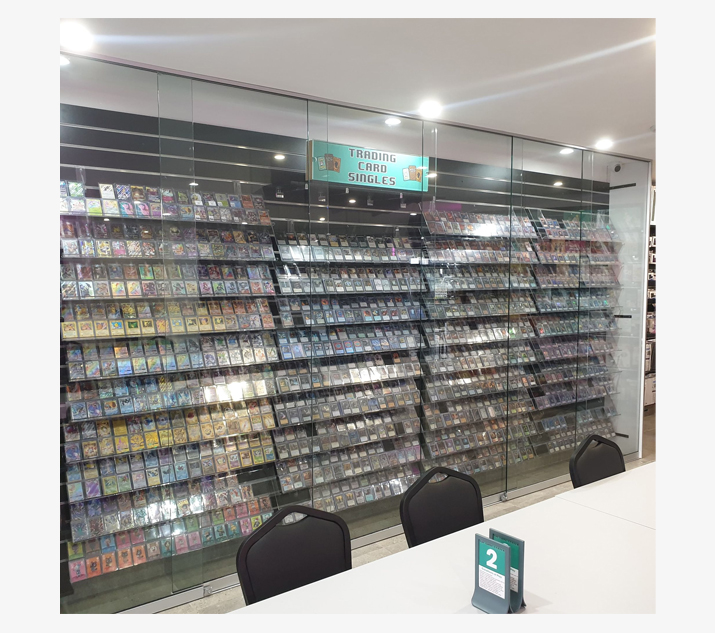 The Game Center Narellan in South West Sydney, Australia (population about 1 million), has an eye-catching custom trading card showcase wall to display their singles collection.
After installing slatwall panels, they added bookshelf fittings and t-rails to hold the cards. The result is a gorgeous display that lets customers take in the whole collection at once.
While wall-mounted singles displays are our favorite singles storage solution, they may not be the right fit for your store if you don't have available wall space. Jewelry cases can be a good alternative.
Jewelry Cases
Jewelry cases are great because:
They can store a lot of product


They work well on a high-traffic sales counter
But, creating an effective display in a jewelry case is a common challenge. When cards are flat, the case can look empty from a distance, and customers might miss them altogether.
In these examples, singles have been propped up and are visible straight on, encouraging customers to come and take a closer look.
Display Boards and Clamshell Cases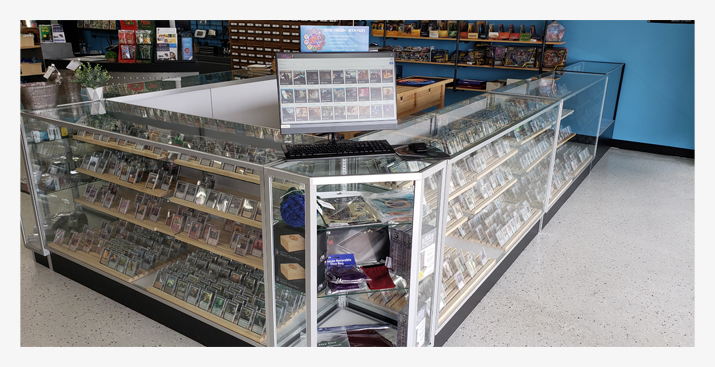 DZ Comics in Moore, Oklahoma (population approximately 60,000), uses jewelry cases with slotted wooden display boards so cards are easy to see on all levels of the case.
Not only is this large display easy to browse manually thanks to the display boards, but customers can also use the digital kiosk to search for available singles—it's a great way to make a large collection approachable.
Card Maxxx Singles Display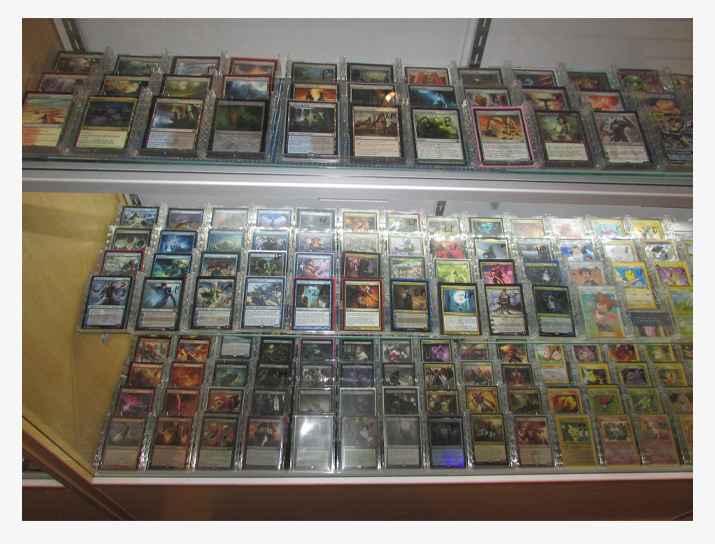 Backstage Games and Hobbies in Manistee, Michigan (population approximately 6,000), uses one of the few fully modular card displays available: Card Maxxx.
Card Maxxx card trays can be attached at variable angles and depths to fit your jewelry case and show off your collection from a distance. Solutions like these make the most of your case without hiding any of your cards.
The ideal easy-to-browse singles display is different for every store. Your Retail Development Specialist can help you create the perfect singles display for your space—just ask!